Zach Braff loves himself
February 19th, 2019 under Zach Braff. [ Comments:

none

]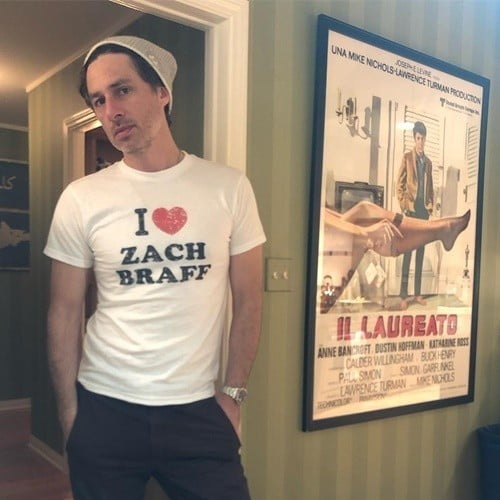 Zach Braff loves himself so much that he got a shirt that reads, "I ❤️ Zach Braff." It gets worse, then he put it on and had someone take a photo of him wearing it. Where are the men in scrubs when you need them?
Of course I am not serious and neither is he. That is why we love his sense of humor.

---
BTWF: Zach Braff in My Summer as a Girl
November 14th, 2018 under Before They Were Famous, Zach Braff. [ Comments:

none

]

Before Zach Braff scrubbed up as a doctor on Scrubs, he scrubbed up as a woman in My Summer as a Girl. How pretty was the 18-year-old in that 1994 telemovie?

---
Zach Braff had to wear pasties on the set of Alex, Inc
April 25th, 2018 under Conan O'Brien, Zach Braff. [ Comments:

none

]

Zach Braff is not used to filming in a freezing cold studio and his nipples really liked it. So much so, they had to give him pasties to hide just how excited and hard they are for that type of working condition.
You think that would be an embarrassing enough story for him to tell Conan O'Brien yesterday on the TBS talk show, but that was not the only thing keeping the makeup department busy on the set of Alex, Inc. He wore a pair of wicker underwear that is made to absorb sweat. Which it does a good job with, pee not so much. If a little dribble comes out, it will show. That is exactly what happened to him. Thus, he had one person putting pasties on his nipples and another person blow drying his pants dry.
And you thought you had a bad job. Suddenly, it does not sound so bad.
What is good is Alex, Inc, so you can tune in tonight at 8:30p on ABC to see if you can see his pasties under his shirt. I know I have a lot of fun looking for them on Alex, Inc, but I am weird that way. That and I enjoy watching a comedy that makes me laugh!

---
BTWF: Zach Braff for ESPN's Sunday NFL Countdown
March 28th, 2018 under Before They Were Famous, Zach Braff. [ Comments:

none

]

Before Zach Braff had a bromance with Donald Faison on Scrubs, he wanted to have a romance with the Dallas Cowboys Cheerleaders for ESPN's Sunday NFL Countdown. How cute is the 24-year-old in that 1999 commercial?

---
Alex, Inc's Elisha Henig is going to be a huge star
March 28th, 2018 under ABC, Zach Braff. [ Comments:

none

]

Alex, Inc begins broadcasting on ABC tonight at 8:30p and you are going to be podcasting about this show tomorrow.
Alex (Zach Braff) has the perfect job at a radio station, a beautiful wife (Tiya Sircar), 2 great kids Ben (Elisha Henig) and Soraya (Audyssie James), so you could say he is it all. One day, he realizes his job is not for him, so he quits. He decides to start his own podcast company with his cousin Eddie (Michael Imperioli) and his co-worker Diedre (Hillary Anne Matthews) who has a crush on him.
Now that he has a staff, all he needs is a place to work with them. Eddie finds the some space in a nerd factory with a bunch of other people who also think they have the next best thing. Staff down, office found; now he needs to find someone to invest in his company. That will be harder than he thought. Besides finding an investor, he needs to come up with a theme for his show. What is he going to talk about? Then when he figures that out, what is he going to say?
It sounded like a good idea when he decided to start a podcast, now he is not so sure. One of the hardest parts about the change is that he gets to spend less time with his family. Ronni is a busy lawyer and she has let Alex care of the kids. Now that he is working on his own, he has less time to do that. She is going to have to pick up some of the slack and she is not the best at this mothering thing. Their son Ben marches to the beat of his own drum and he is OK with that. For example on the season premiere, he decides to a magic trick for the school talent show. Sorry, but magic is rarely cool, can he change his classes opinion on that? Soraya is your typical second child who has seen it all, yet she has barely been on the planet. All in all, this cast have such great chemistry together, you would think they are a real family. Actually, all of the actors on this show play off of each other so well, you would think that have been working together for ages. You can tell they all have a genuine love for their costars.
That is just one of the many reasons for you to fall in love with this show. Actually, everything about it makes you fall in love with it. It has so much heart and humor, that it will make your hump days brighter.
Talking about bright, Elisha Henig's future is so bright he needs to wear shades. To read my interview with him, click here!

---