Bad Boys meets Coming to America
October 30th, 2019 under Eddie Murphy, Martin Lawrence, Strange Encounters, Tracy Morgan, Will Smith. [ Comments:

none

]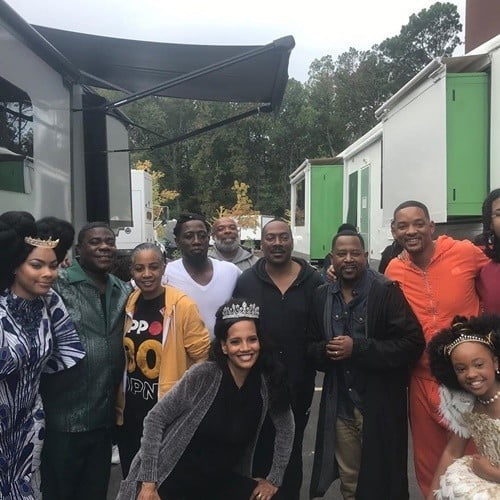 Bad Boys 3 and Coming to America 2 are both filming on the same lot and both casts met up for this epic photo. Imagine the movie all of these actors could make together!
Seriously could you get a funnier cast than Eddie Murphy, Tracy Morgan, Will Smith, Martin Lawrence and Wesley Snipes? It would be the Avengers movie of comedy. Tyler Perry, since this is at your studios, make it happen!
BTW where it is Arsenio Hall?
---
Will Smith and Martin Lawrence are Bad Boys for Life
September 4th, 2019 under Martin Lawrence, Will Smith. [ Comments:

none

]

It has been almost 25 years since we got to know the Bad Boys. 16 years since we have seen Will Smith and Martin Lawrence as Lowrey and Burnett. On January 17th, they will reprise their roles one final time. Now that they are both in their 50's, they will not be able to do those Michael Bay stunts for much longer.
Therefore, make sure to enjoy every minute of Bad Boys for Life like it is its last minutes because it is. After watching the trailer for the film, that looks like it will be something very easy to do.
---
BTWF: Don Cheadle on Fresh Prince of Bel Air
June 18th, 2019 under Before They Were Famous, Conan O'Brien, Don Cheadle, Will Smith. [ Comments:

none

]

Before Don Cheadle was a hotel manager on Golden Palace, he was in 10th grade for the 3rd time on Fresh Prince of Bel Air. He looks the same now as he did when he was 25 in that 1990 episode.
To hear what he told Conon O'Brien how green Will Smith was on the show's second episode, then click here!
---
Will Smith, is that a giant lamp on your crotch or are you happy to see me?
May 21st, 2019 under Ellen DeGeneres, In Your Pocket?, Will Smith. [ Comments:

none

]

Ellen DeGeneres thought it would be fun to play a new game with Will Smith called Rub My Lamp in honor of him playing the Genie in the live-action version of Alladin.
It already sounds pretty sexually explicit, right? Imagine how much worse it gets when they place a huge padded genie lamp over his crotch and tell everyone to rub it. Especially when it looks like it already has been rubbed, rubbed really good! It is up and ready to release the genie.
Can you believe this is airing during the daytime because it looks like something that would be on Skinemax?
UPDATE: Will Smith is afraid of mice, and Ellen wanted to help him get over his fear. To see how it worked out, then click here!
---
Did Alfonso Ribeiro just hint something Fresh Prince related is in the works?
May 9th, 2019 under Alfonso Ribeiro, Steve Harvey, Will Smith. [ Comments:

none

]

For years, whenever Alfonso Ribeiro was asked if we could get ever get a Fresh Prince of Bel-Air revival, he said no. Carlton is on Steve Harvey's show today and he explained why it would not happen.
The first reason is that Will Smith makes too much to do TV again. The second is that without James Avery, who passed away in 2013, it would not be the same. Then he told Harvey, "Now I won't say that there can't be a spinoff or a different kind of reboot or something like that." Then he added, "In terms of a true Fresh Prince of Bel-Air remake, yeah, that won't happen."
This is where it gets good. He put on that hinting voice and said: "But, I mean, but, I'll say, there's maybe, some things can happen." What those things are, we don't know. But that is the first glimmer of hope he has ever given us. Thus, it is OK to do a slow Carlton Dance but not a full-fledged one just yet.
---