Twins' Danny DeVito and Arnold Schwarzenegger get a new triplet
September 14th, 2021 under Arnold Schwarzenegger, Danny DeVito, Tracy Morgan. [ Comments: none ]
For nine years there have been rumors that we are getting a sequel to Twins called Triplets. Part of the rumor is that Eddie Murphy was going to play Danny DeVito and Arnold Schwarzenegger's brother. The latter is no longer the case. Their new brother is Tracy Morgan.
Ivan Reitman, who is producing the movie, explained how it all went down to Deadline. "Twins was quite successful, and some years after, this whole thing started with Arnold meeting Eddie Murphy, and the suggestion came from one of them," Reitman said. "It was, 'I should be a triplet, that could be a very funny comedy.' We started a script with Eddie, and after the success he had with Amazon Prime on Coming 2 America, he got himself booked up heavily. And we knew we were going to make it at the beginning of next year. I'd been good friends with Tracy Morgan for a long time and always thought he was one of the funniest men in the world. I thought he would make a terrific triplet, and we rewrote the whole script for him. Now, we'll go out and try and put the money together and get it made."
And they are slated to start making it in Boston in January.
I have to admit; I am intrigued. It will be interesting to see how Morgan and DeVito play off of each other.

---
Nothing comes between Danny DeVito and his peaches
September 5th, 2021 under Danny DeVito. [ Comments: none ]
Danny DeVito is back filming It's Always Sunny in Philadelphia. Do you know what makes his days sunnier? Peaches!
His co-star Rob McElhenney shared a video of how far they go to protect his friend's fruit. No one better take it or else. I don't know what that else is? But I would be afraid because there is a sign that says, "Danny DeVito's Please Don't Touch." While that's not scary, the lovable actor's face is as he eats Georgia's nectar.

---
BTWF: Danny DeVito on Starsky & Hutch
August 11th, 2021 under Before They Were Famous, Danny DeVito, Mila Kunis, Taxi. [ Comments: none ]

via Cozi TV
Before Danny DeVito was a dispatcher on Taxi, he was selling newspapers on Starsky & Hutch. He looks the same now as he did when he was 32 in that 1977 episode.

---
We are getting four more rounds of It's Always Sunny in Philadelphia
December 10th, 2020 under Danny DeVito, FX. [ Comments: none ]

FX announced today that it picked up It's Always Sunny in Philadephia for four more seasons. That will bring its total to 18, making it the longest-running live-action sitcom. Ozzie & Harriet was the previous title holder, and it ran for 14 seasons.

I wonder how many more seasons Rob McElhenney, Glenn Howerton, Charlie Day, Kaitlin Olson, and Danny DeVito can do this craziness for. I hope they go until at least 21. It should last long enough to celebrate being old enough to drink.

---
The cast of Taxi reunited!
February 19th, 2020 under Danny DeVito, Taxi. [ Comments: none ]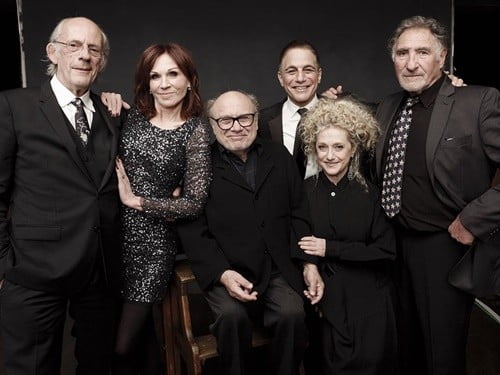 Tony Danza shared a few photos with his surviving castmates Christopher Lloyd, Marilu Henner, Danny DeVito, Carol Kane, and Judd Hirsch, and he did not say why the old gang got together. I don't care. I have not stopped crying happy tears since I saw them together again because Taxi is my all-time favorite show. I have been hoping for a revival of this show since they started bringing shows back.
Look at how great they look when they put on some nice threads! As good as they looked when Elaine sang Lullaby of Broadway from 42nd Street with them. You can watch that amazing number below. Not only that, you can see that they have not aged since that episode aired in 1980.
Since people don't take cabs anymore, why can't Alex bring them all together again to drive for his ridesharing company Sunshine? Since he was the only one who wanted to be a cab driver? Can you imagine what it would be like to see Louis and Reverend Jim still behind the wheel after 40 years? Gd help anyone crossing the street or walking on the sidewalk.
However, it was not about their driving skills; it was about their friendship and their antics. How I miss all the trouble, they got into. I have seen each episode over 100 times, and I still find something new to laugh at with each one.
If you have never seen Taxi, you can enjoy the series on Hulu and CBS All Access.

---