Reelz gets real about what got The Police to say I can stand losing you
May 3rd, 2020 under Reelz, The Police. [ Comments: none ]

The Police were one of the biggest bands of the early '80s, but they never saw the '90s as one. Tonight at 8p, Reelz follows their career from their start in 1977, the unbelievable rise to fame and what ultimately led to Breaking The Band.
Stewart Copeland was an established musician thanks to his brother Miles, who was one of the biggest managers of the time. The drummer was touring England when he met a school teacher named Sting. The two exchanged phone numbers and eventually formed the band with a third member.
That third member was not Andy Summers. He joined the band later on and The Police was born.
At first, they were worked well together, but then their egos got in the way. It got so bad they could not all be in the studio to record together. In fact, at one point Sting, buried one of Summers' demos.
By the time their final album Synchronicity came out, the writing was on the primary color wall. Playing Shea Stadium should have been a happy time for the trio. Instead, it was the realization it was over. After a few more dates, they parted ways for 20 years.
Then they reunited for one more world tour, but the friction was still there.
Now, they each have their own careers, but nothing they will ever do will top what they did as The Police.
I thought I knew a lot about the band, but I learned a lot about them I didn't know. It is amazing that three guys who made such beautiful music together did not have a beautiful relationship.

---
Sting, The Roots and Jimmy Fallon sing Don't Stand So Close To Me with at home instruments
April 10th, 2020 under Jimmy Fallon, The Police. [ Comments: none ]

Yesterday on The Tonight Show, Sting sang one of The Police's biggest hits with Jimmy Fallon and The Roots. Instead of using regular instruments, they all used ones you can find at home to perform Don't Stand So Close to Me.
I am sure their intention was to get the message out about not standing so close to other people. There is only one problem; the song is about a teacher trying to avoid an affair with one of his underage students. That is why the tune starts off with, "Young teacher, the subject of schoolgirl fantasy. She wants him so badly…"
That also explains why they used instruments found at home and not classroom ones like they usually do. That would be wrong on so many levels.
Now, let's talk about the instruments; my favorite one was Connect Four. To see what else they used, then click here!

---
Sting reveals if there is a real Roxanne
December 6th, 2019 under The Police. [ Comments: none ]

Sting released an album with reimagined versions of his greatest hits with The Police and solo work called My Songs, and he talked about the meaning behind some of them.
We probably would not be talking about Sting nor The Police had it not been for their first hit Roxanne about a prostitute working the red light district in Paris. The singer revealed he wrote the tune in 1977 while staying in a "very cheap hotel" in the City of Love.
He describes Roxanne as "a romantic song in a not very romantic setting." Was there a real romance behind those lyrics? He reveals, "I am very grateful for Roxanne. Who I invented." Then he added, "She changed my life."
If he was staying in a "very cheap hotel", then he probably could not have afforded Roxanne. Now, he could afford several Roxannes thanks to Roxanne.

---
Sting won't let a torn tendon slow him down
October 22nd, 2019 under The Police. [ Comments: none ]

Sting has been performing live for over 40 years and he is not going to let a torn tendon stop him from doing shows.
Late last week, he somehow (Tantric Sex?) tore his shoulder tendon and yesterday he had surgery to repair it. Most singers would be like, I am going to stay home (or in the hotel) and recuperate. Not Sting, he is going to do a Queen and the show will go on.
He will continue doing concerts in Europe for the rest of this month, and then he will be flying over to the States to do gigs next month.
Gordon Sumner did not say if he will be playing his guitar while he heals, but it does not look like he will be doing it in that contraption. Then again, who goes to see him to jam on his a guitar? We are going to hear him sing.
Granted, for me, after seeing him three times (once with The Police), I find his concerts very disappointing. I know, I am one of the few who hated his shows.
Having said that, I respect the crap out of him for going on with the show.

---
Sting cancels two more dates per doctor's orders
July 14th, 2019 under The Police. [ Comments: none ]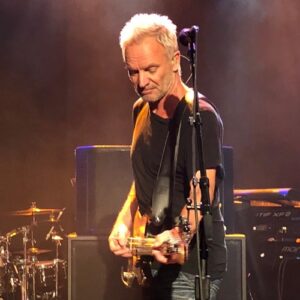 Sting has cancelled a week of dates in Europe and today we finally found out why. The singer has been "ailing from a viral throat infection." Since he cannot take antibiotics to fight it, he just has to wait it out. Because it is affecting his moneymaker, he needs to protect it.
Tonight's show in the Netherlands will be rescheduled, but tomorrow's night show in Bonn, Germany is cancelled. His next date in on the 22nd in Ubeda, hopefully, he will be free free of the infection by then.

---