Both John Davidson and Sting cancel concerts for medical reasons
July 10th, 2019 under Sick Bay, The Police. [ Comments: none ]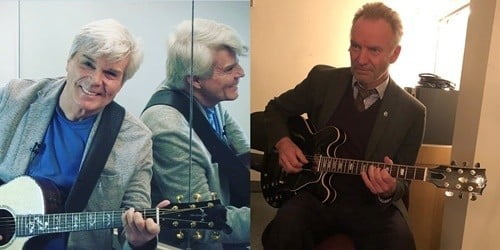 John Davidson and Sting are on the road this summer and both singers are forced to take a break from performing for their next few gigs per doctor's orders.
The Hollywood Squares' host, wrote today, "Some bad news: due to a gallbladder that's gone rogue, I will be having emergency surgery to have it removed, and my next 3 gigs have to be canceled. I feel terrible about this, but I'm in the hospital until it's out. I hope you'll come out to another show after this month, and my sincere apologies to the venues and attendees of The Guthrie Center, The Farmstand and Surflight Theatre."
While we know what is wrong with the 77-year-old, the Police singer has not revealed what is ailing him. All the 67-year-old's people said is, "It is with great regret that Sting's concerts previously scheduled for Thursday, July 11 at jazzopen in Stuttgart, Germany and Friday, July 12 at the Castle Garden in Slavkov u Brna, Czech Republic will be canceled. As reported earlier this week, Sting is under the weather and under doctor's orders, and was forced to also cancel concerts in Ghent, Belgium (Monday, July 8) and Munich, Germany (Wednesday, July 10). Sting sincerely regrets disappointing or causing any inconvenience to the fans."
Hopefully, both of them will be better very soon and back on tour soon delighting their fans. Although, personally I have never seen a good Sting concert and I have seen him 3 times, two-times solo and once with The Police. All three were huge disappointments to me.

---
Sting reunited with The Police in Jamaica
January 9th, 2018 under The Police. [ Comments: 3 ]

Sting is in Jamaica and he ran into something very familiar. The Police, not Andy Summers and Stewart Copeland, but a motorcycle that reads police.

I wonder if that is the same reaction Gordon Sumner would have if he was reunited with his old bandmates. I know that was my expression after I saw them in concert over a decade ago.

---
Caption Sting!
April 3rd, 2017 under Caption the Celeb, The Police. [ Comments: none ]

This photo of Sting has Caption Me written all over it, so go ahead and do it!

---
You'll never listen to Imagine and 9 other songs the same way!
March 8th, 2017 under Beatles, Britney Spears, The Police. [ Comments: none ]

Whenever I hear John Lennon's Imagine, I always think of as a song about Utopia and peace. Well, Matthew Santoro just shot that theory to Hell and back and then back to Hell and left it there. He says there have been rumors that the song is more about Communism. No Countries, no religions and no possession is the ideology of Communist Manifesto. And with that, I will never listen to that song ever again. At least not in the same way.
That wasn't the only Beatles songs he talked about in his 10 Songs with Creepy Hidden Messages Vlog. He also talks about Strawberry Fields Forever, Revolution 9, I'm So Tired and Blackbird. If you plays those songs backwards or in between the latter two, you will hear references to Paul McCartney being dead. A reference that is still very well known today. As we know Paul is not dead, but sadly John Lennon and George Harrison are.
Another Global sensation also making the list is Britney Spears. Did you know if play her first hit backwards, you will hear, "Sleep with me, I am not too young." Hit Me Baby One More Time because I can't believe that even though I heard it for myself. I guess she's not that innocent.
Metal songs also made the list. But what about the Classic Rock iconic diddy Hotel California. How did that get on there? Turns out people thinks they are singing about Devil worship. Read these lyrics without thinking of the tune, "This could be Heaven or this could be Hell" and "You can check-out any time you like, But you can never leave!" The band says it is about the music industry, but I don't know anymore.
The only thing I do know is Sting was stalking his ex when he wrote Every Breath You Take.
Well, the morale of this story is that kids are missing out records because you can't play an Digital Track or a CD backwards to hear a secret meaning.
I am off to listen to songs that don't have creepy secret meanings like Cyndi Lauper's She Bop and Boomtown Rats' I Don't Like Mondays. Going into my safe space.

---
Sting and his not so mini-me son!
February 7th, 2017 under The Police. [ Comments: none ]

Sting is known for tantric sex. If you have enough of it, then you are going to have a few kids. In fact, he has 6 of them and here he is with his oldest one Joe. Who is 40, BTW. Can you believe that the lead singer of The Police has a 40 year old son?
While the two don't look alike, they dress the same and have the same hair, so you know he is his dad's kid. Although the younger Sumner is a lot taller than his dad. Because of that, we got this sweet photo.

---