Sting reveals if there is a real Roxanne
December 6th, 2019 under The Police. [ Comments:

none

]

Sting released an album with reimagined versions of his greatest hits with The Police and solo work called My Songs, and he talked about the meaning behind some of them.
We probably would not be talking about Sting nor The Police had it not been for their first hit Roxanne about a prostitute working the red light district in Paris. The singer revealed he wrote the tune in 1977 while staying in a "very cheap hotel" in the City of Love.
He describes Roxanne as "a romantic song in a not very romantic setting." Was there a real romance behind those lyrics? He reveals, "I am very grateful for Roxanne. Who I invented." Then he added, "She changed my life."
If he was staying in a "very cheap hotel", then he probably could not have afforded Roxanne. Now, he could afford several Roxannes thanks to Roxanne.
---
Sting won't let a torn tendon slow him down
October 22nd, 2019 under The Police. [ Comments:

none

]

Sting has been performing live for over 40 years and he is not going to let a torn tendon stop him from doing shows.
Late last week, he somehow (Tantric Sex?) tore his shoulder tendon and yesterday he had surgery to repair it. Most singers would be like, I am going to stay home (or in the hotel) and recuperate. Not Sting, he is going to do a Queen and the show will go on.
He will continue doing concerts in Europe for the rest of this month, and then he will be flying over to the States to do gigs next month.
Gordon Sumner did not say if he will be playing his guitar while he heals, but it does not look like he will be doing it in that contraption. Then again, who goes to see him to jam on his a guitar? We are going to hear him sing.
Granted, for me, after seeing him three times (once with The Police), I find his concerts very disappointing. I know, I am one of the few who hated his shows.
Having said that, I respect the crap out of him for going on with the show.
---
Sting cancels two more dates per doctor's orders
July 14th, 2019 under The Police. [ Comments:

none

]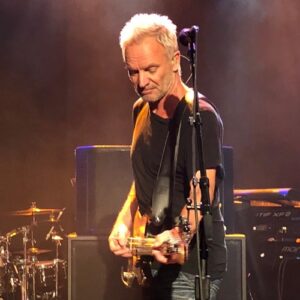 Sting has cancelled a week of dates in Europe and today we finally found out why. The singer has been "ailing from a viral throat infection." Since he cannot take antibiotics to fight it, he just has to wait it out. Because it is affecting his moneymaker, he needs to protect it.
Tonight's show in the Netherlands will be rescheduled, but tomorrow's night show in Bonn, Germany is cancelled. His next date in on the 22nd in Ubeda, hopefully, he will be free free of the infection by then.
---
Both John Davidson and Sting cancel concerts for medical reasons
July 10th, 2019 under Sick Bay, The Police. [ Comments:

none

]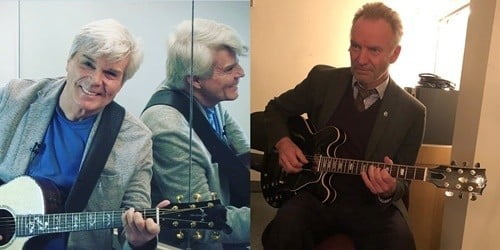 John Davidson and Sting are on the road this summer and both singers are forced to take a break from performing for their next few gigs per doctor's orders.
The Hollywood Squares' host, wrote today, "Some bad news: due to a gallbladder that's gone rogue, I will be having emergency surgery to have it removed, and my next 3 gigs have to be canceled. I feel terrible about this, but I'm in the hospital until it's out. I hope you'll come out to another show after this month, and my sincere apologies to the venues and attendees of The Guthrie Center, The Farmstand and Surflight Theatre."
While we know what is wrong with the 77-year-old, the Police singer has not revealed what is ailing him. All the 67-year-old's people said is, "It is with great regret that Sting's concerts previously scheduled for Thursday, July 11 at jazzopen in Stuttgart, Germany and Friday, July 12 at the Castle Garden in Slavkov u Brna, Czech Republic will be canceled. As reported earlier this week, Sting is under the weather and under doctor's orders, and was forced to also cancel concerts in Ghent, Belgium (Monday, July 8) and Munich, Germany (Wednesday, July 10). Sting sincerely regrets disappointing or causing any inconvenience to the fans."
Hopefully, both of them will be better very soon and back on tour soon delighting their fans. Although, personally I have never seen a good Sting concert and I have seen him 3 times, two-times solo and once with The Police. All three were huge disappointments to me.
---
Sting reunited with The Police in Jamaica
January 9th, 2018 under The Police. [ Comments:

3

]

Sting is in Jamaica and he ran into something very familiar. The Police, not Andy Summers and Stewart Copeland, but a motorcycle that reads police.

I wonder if that is the same reaction Gordon Sumner would have if he was reunited with his old bandmates. I know that was my expression after I saw them in concert over a decade ago.
---