This is how Tommy Shaw is getting ready to tour with Styx
June 27th, 2022 under Styx. [ Comments: none ]
View this post on Instagram
Styx is going back on the road next month to celebrate rocking out for 50 years, and Tommy Shaw is getting ready to play the guitar for the band. How is the singer preparing to strum? He is playing with something else that has a string attached to it. What is it? It is a Paddleball.
Remember that game we played as kids. You know, the one where our parents would laugh at us when we hit the ball against our heads and cried to them in excruciating pain? Well, Shaw better not do the same because the band's fans have waited long enough to see them live again.
If the Renegade wants us to keep on loving them, he won't do anything that will risk his chance of us being able to sail away with them.
Back to the beat of the Paddleball. Am I the only singing Mr. Roboto to the beat of the bouncing ball?
One last note, can we talk about how Shaw never ages? The 68-year-old looks the same as when joined the band in 1975.

---
Styx have been Renegades for 50 years
February 23rd, 2022 under 70s, Music, Styx. [ Comments: none ]
Styx have been making beautiful music for 50 years, and they are hoping to do it for 50 more.
They are not the only ones who hope this happens. Ever since they asked us to Come Sail Away with them, we have been Ridin' the Storm Out With them ever since. And we plan on doing so for as long as Mr. Roboto tells us to.
Because we Can't Fight This Feeling for how much we love them!
Oh, and this Lady is still crushing on Tommy Shaw. Can you believe he is 68? He looks just like he did when he joined the band in 75.

---
Remember Tommy Shaw!
June 4th, 2019 under Remember?, Styx. [ Comments: none ]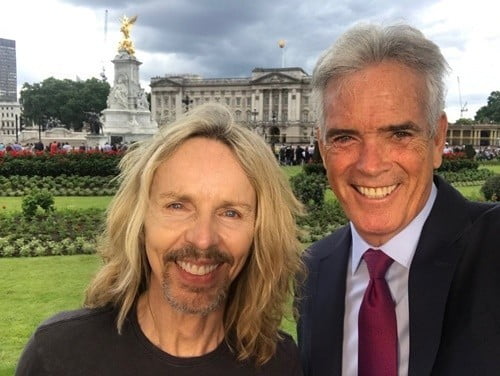 Tommy Shaw is in London performing with the Styx and he went to see an American who was visiting Buckingham Palace. Not the President, but his friend, John Roberts, from Fox News.
I do not remember the last time I saw the singer, but he looks better now than he did then. As in he never ages. Can you believe he is 65 years old? He sure as hell does not look old enough to collect social security.
Since he looks so good, I hope Supernatural finds a way to bring him and the band on the show for the final season. They have used so much of their music throughout its run, it is only fair. How cool would it be if they find a way to incorporate them singing Renegade live on the drama with something happening in the scene. Although, I can see them using Lady instead.

---
Jimmy Fallon and Paul Rudd perfectly recreate an awful Styx video!
April 30th, 2016 under Jimmy Fallon, Paul Rudd, Styx. [ Comments: none ]

Paul Rudd and Jimmy Fallon had too much time on their hands, so they recreated the Styx's 1981 music video for Too Much Time On My Hands. I guess in the early '80s they were still high from whatever stale drugs were left over from the '60s, so their music videos were trippy and not in a good way.
But in a way that 35 years later, the NBC late night host and the Ant-Man could copy it. When you watch it, you think there is no way that the original was that horrible. Then you watch the original one and you see that it was. Making us wonder, why did they hate Disco so much when Rock bands were coming up with stuff like this. Plus, it makes me sad because Tommy Shaw and Styx did a lot of brilliant music like Renegade, Come Sail Away, Mr Roboto and What If, and this kind of nullifies all of those classic works.

---
Sammy Hagar think all the big bands want him
May 3rd, 2011 under Styx, Van Halen. [ Comments: none ]

(photo from WireImage)


As we all know Sammy Hagar replaced David Lee Roth in Van Halen for a few years and now he is saying that they weren't the only band who wanted him to replace their lead singer. He told Forbes, "I was asked at one time to be in Mötley Crüe. I was asked at one time to be in Pantera by their mangers. I was asked to be in Velvet Revolver when Scott Weiland quit and went back to the Stone Temple Pilots. I was waiting to be asked to be in Led Zeppelin to say no, since they were the greatest band on earth and no could replace Robert Plant. I was asked to be in Aerosmith and I said no. Certain bands and certain front man singers are more difficult to replace than others. Steven Tyler and that band have stayed together for forty years and you don't want to walk into something like that. They had one moment years ago, when they replaced Joe Smith, but it's still always been Steven at the front of Aerosmith. You don't replace that. When I came into Van Halen, it was easy because Dave wasn't a great singer, but he was a good front man. We were all lucky that the fans accepted it and it got bigger. I would avoid bands that are going to break up pretty soon."
I think he has a better chance replacing Tommy Shaw in The Styx (no offense Tommy) than Vince Neil in Motley Crue, don't you agree?
My reaction when he told the world that he was abducted by aliens is the same to what he shared with Forbes…he has been drinking way too much of his Cabo Wabo.
I am not saying that he is a bad singer, he just isn't all that. I saw him live with Van Halen and a solo Vince Neil was the opening act and let me tell you I was left unimpressed.

---