The Dancing with the Stars 'stars' are…
September 13th, 2023 under Dancing with the Stars, How I Met Your Mother, Jason Mraz, The Brady Bunch. [ Comments: none ]
I don't know about you, but I was thinking that Dancing with the Stars was going to get some big names this season because of the strikes because of all of the actors who desperately need a paycheck. And I was wrong.
It is the same thing as most years: a bunch of who are yous? I mean, I am rooting for Jason Mraz because he makes me laugh on TikTok, and I love his music. But besides him and Barry Williams, aka Greg Brady, I don't really care about all of the reality stars they have the competition. Well, I can't wait to see how Mira Sorvino incorporates her Romy and Michelle dance into one of the nights.
But other than that, I will be wishing my junior high school alum Alfonso Ribeiro, good luck hosting the biggest dancing competition show in the US.
The "Stars" put on their dancing shows starting on September 29th on ABC.
To read descriptions of the Stars, because you are going to need it to see who they are, then click here!

---
The Brady Bunch house has a new owner
September 11th, 2023 under The Brady Bunch. [ Comments: none ]

via Compass Reality
The Brady Bunch house is the second most visited house in America (behind the White House), and now it has a new homeowner.
The house, whose exterior only was featured on the family sitcom, went on the market in 2018 and was bought by Discovery Networks. HGTV converted the famous home's inside to look like it did on the beloved series.
However, after A Very Brady Renovation, the renovated home sat vacant. So earlier this summer, they put it back on the market for $5.5 million.
Today, The Hollywood Reporter is reporting that it was sold to Tina Trahan for $3.2 million, 42% below asking. The new homeowner plans on using the home for charity events and as a luxury rental.
I wish her luck because her new neighbors might try to stop her from doing so.
Which I hope they don't. Because it is sincerely a magnificent experience to see it in person, I can still remember the first time my friend took me there, and I still get that magical feeling every time I go back. And since I live less than a mile away, I go to visit it all the time.

---
BTWF: Eve Plumb for Glad sandwich bags
July 25th, 2023 under Before They Were Famous, The Brady Bunch. [ Comments: none ]
Before Eve Plumb hated school because she was Marsha, Marsha, Marsha's younger sister on The Brady Bunch, she hated it because her sandwiches were stale because her mom didn't use Glad sandwich bags. How scrumptious was the 9-year-old in that 1968 commercial?

---
Would you pay $5.5 million for the renovated Brady Bunch house?
May 24th, 2023 under HGTV, The Brady Bunch. [ Comments: none ]
Back in 2018, The Brady Bunch house went up for sale. Not only did HGTV buy it, but they also renovated it to make the inside look like it did on the beloved sitcom.
We got to witness their hard work in the HGTV show A Very Brady Renovation. And as someone who went inside that house after they were finished, it was a work of art! I cried. My friend cried. We were in our childhood dream house.
Now, nearly five years later, Discovery is selling it for $5.5 million, $2 million more than what they paid for it. So I have one question for y'all, do you have $5.5 million you could give me? I would let you stay at the house! I mean, it would be the least I could do for giving me the money!
I don't have the cash. But if you do, then reach out to Danny Brown at Compass! He is the lucky realtor who gets to see the iconic house. Could you imagine getting that phone call?
I really hope a fan, like Lance Bass, buys it. And not someone who is going to tear it down, which is what they do in LA today.
If the latter is the case, I will chain myself to the house to make sure it doesn't get demolished.

---
Whatcha talkin' about Todd Bridges?
January 4th, 2022 under 70s, The Brady Bunch. [ Comments: none ]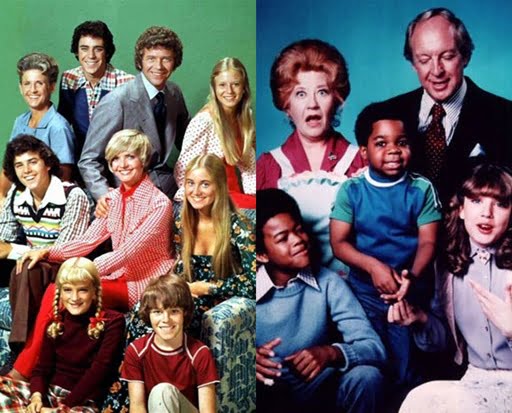 Did you ever watch Diff'rent Strokes and think this show is so much more risque than The Brady Bunch ever was? It was not.
What? Todd Bridges just revealed a secret about the show that made him famous. "A lot of our scripts were actually The Brady Bunch. We had the same executive producer," he wrote. "When I would watch the Brady Bunch I would say wow that was the Different Strokes episode. Talk about recycling ideas."
Now, I am off to rewatch both shows and see which episodes were recycled. We know the bicycle man episode was all Diff'rent Strokes.
OMG! Does that mean that Cindy Brady and Arnold Jackson are one in the same? And that Willis is Greg, Kimberly is Marcia, and Sam is cousin Oliver? Mind officially blown!

---