Whatcha talkin' about Todd Bridges?
January 4th, 2022 under 70s, The Brady Bunch. [ Comments: none ]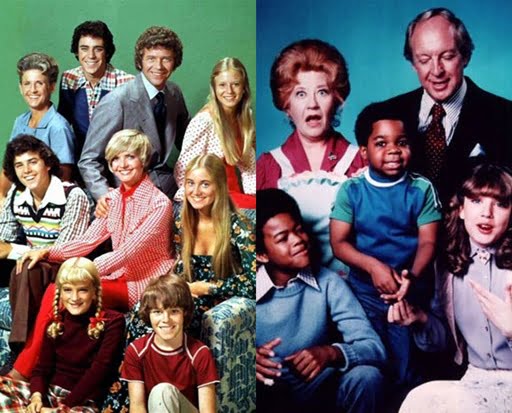 Did you ever watch Diff'rent Strokes and think this show is so much more risque than The Brady Bunch ever was? It was not.
What? Todd Bridges just revealed a secret about the show that made him famous. "A lot of our scripts were actually The Brady Bunch. We had the same executive producer," he wrote. "When I would watch the Brady Bunch I would say wow that was the Different Strokes episode. Talk about recycling ideas."
Now, I am off to rewatch both shows and see which episodes were recycled. We know the bicycle man episode was all Diff'rent Strokes.
OMG! Does that mean that Cindy Brady and Arnold Jackson are one in the same? And that Willis is Greg, Kimberly is Marcia, and Sam is cousin Oliver? Mind officially blown!

---
This is the closest we'll get to a Brady Bunch/Partridge Family collaboration
December 24th, 2021 under Danny Bonaduce, The Brady Bunch. [ Comments: none ]
Yesterday was a rainy day in Studio City, but it was not enough to deter Danny Bonaduce from going for a walk outside. His tour without his Partridge Family siblings took him to the house of his rivals, The Brady Bunch. Sadly, they weren't home. But if they were, I am sure they would've said to him to C'mon Get Happy with us because together, We Can Make the World a Whole Lot Brighter.
Too bad we never got a crossover episode between two shows. How groovy would it have been if Johnny Bravo opened up for The Partridge Family? Such a missed opportunity. Maybe we can get Danny to play the bass for The Brady Kids as Greg Brady sings I Think I Love You!
I am in '70s kid's heaven right now!
Were you Team Partridge or Team Brady? Because we all know you can only choose one family to adore.

---
A '70s kid's wet dream, it's Mindy Cohn and Eve Plumb!
October 25th, 2021 under The Brady Bunch, The Facts of Life, Wet dream. [ Comments: none ]
Back in the early '70s, kids loved Eve Plumb as Jan Brady on The Brady Bunch. Then at the end of it, we got to know Mindy Cohn on The Facts of Life. However, their two characters were never to meet.
But in real life, the two actresses met and are now friends who are "falling on the streets." Who else besides me wants to fall on the streets with them?
Now, can we talk about how great Plumb, 63, and Cohn, 55, look for the ages? So much so, I am wondering what it would've been like if one of the Brady girls went to Eastland Academy? Jo would've given them a lesson that even Mike and Carol Brady would not be able to handle.

---
Look it's Mrs. Cunningham and Cindy Brady
August 19th, 2021 under 70s, The Brady Bunch. [ Comments: none ]
Back in the '70s, every little kid wanted a mom like Mrs. Cunningham and a friend like Cindy Brady. However, the two never met because they were in different decades. Now that Marion Ross and Susan Olsen are both in 2021, we get to see what it would be like to hang out with the both of them.
While we won't personally be able to do it, Josh Gates got to do it on Josh Gates Tonight yesterday. I don't know about you, but I am so jealous of him.
Now that we got that out of the way, can we talk about the Happy Days matriarch never ages? Can you believe that she is 92 years young? We should all be like her when we get that old.
Want to feel old now? The youngest Brady Bunch star just turned the big 6-0 on the 14th. Shady Pines, I am coming your way

---
Bad Santa and Greg Brady
August 2nd, 2021 under Billy Bob Thornton, Strange Encounters, The Brady Bunch. [ Comments: none ]
Over the weekend Barry Williams went to see Billy Bob Thornton play with his band The Box Masters, and we got this photo to prove it.
I mean, who would believe that they are seeing these two polar opposites together. One is the naughtiest Santa Claus, and the other is so squeaky clean. But to save face, I am going to say Johnny Bravo took over, and he is the one that went to the concert and not Greg Brady.

---