Look it's Mrs. Cunningham and Cindy Brady
August 19th, 2021 under 70s, The Brady Bunch. [ Comments:

none

]
Back in the '70s, every little kid wanted a mom like Mrs. Cunningham and a friend like Cindy Brady. However, the two never met because they were in different decades. Now that Marion Ross and Susan Olsen are both in 2021, we get to see what it would be like to hang out with the both of them.
While we won't personally be able to do it, Josh Gates got to do it on Josh Gates Tonight yesterday. I don't know about you, but I am so jealous of him.
Now that we got that out of the way, can we talk about the Happy Days matriarch never ages? Can you believe that she is 92 years young? We should all be like her when we get that old.
Want to feel old now? The youngest Brady Bunch star just turned the big 6-0 on the 14th. Shady Pines, I am coming your way

---
Bad Santa and Greg Brady
August 2nd, 2021 under Billy Bob Thornton, Strange Encounters, The Brady Bunch. [ Comments:

none

]
Over the weekend Barry Williams went to see Billy Bob Thornton play with his band The Box Masters, and we got this photo to prove it.
I mean, who would believe that they are seeing these two polar opposites together. One is the naughtiest Santa Claus, and the other is so squeaky clean. But to save face, I am going to say Johnny Bravo took over, and he is the one that went to the concert and not Greg Brady.

---
Cousin Oliver reunites with his Brady Bunch cousins for a Lifetime Christmas movie
May 19th, 2021 under Lifetime, The Brady Bunch. [ Comments:

none

]
Since so many of us are getting the vaccine, Lifetime is giving us a Christmas present early. Today they announced that they have a Christmas movie coming out this year with several cast members from a show we grew up on, along with some other sitcom legends.
Blending Christmas stars Barry Williams (Greg), Christopher Knight (Peter), Mike Lookinland (Bobby), Susan Olsen (Cindy), and Robbie Rist (Cousin Oliver). Yes, for all of us who wondered what happened to Cousin Oliver, we will find out in a few months! That is enough reason to tune in.
If the Bradys are not enough for you, then Greg Evigan, one of My Two Dads, is on it, along with Beth Broderick, who is one of Sabrina the Teenage Witch's aunts. They will be joined by Telma Hopkins, who was bosom buddies with the Bosom Buddies and Nell on Gimme A Break.
For Gen Xers, this is like getting a White Christmas on December 25th in Los Angeles or Miami.
What is the telemovie about? "The holiday season is in full swing when Emma (Haylie Duff) learns that the resort where she used to spend Christmases with her family is being redeveloped. Her boyfriend Liam (Aaron O'Connell), hatches a plan to bring her to the resort one last time to propose! He secretly invites both their families to join them and Emma is delighted when she arrives to find the whole family bunch there. Of course, no holiday gathering is complete without drama, and soon the families are bickering over every detail! The added stress from trying to blend the two families eventually takes a toll on Emma and Liam, who start questioning their own relationship. Now just days before Christmas, the two families realize that they're going to have to work together in order to reunite Emma and Liam!"
So this what it means when we sing Joy to World during the Holiday Season because I am feeling it now!

---
There's a Brady Bunch connection to the Prince Harry/Meghan Markle interview
March 9th, 2021 under Oprah Winfrey, The Brady Bunch, The Princes of England. [ Comments:

none

]

There is so much that we have heard about Oprah Winfrey's interview with Prince Harry and Meghan Markle, but there is one thing we missed. Did you know there was a connection to The Brady Bunch during it?

The Duke and The Duchess, along with Winfrey, were sitting on chairs that are designed by Christopher Knight, aka Peter Brady. "To our pleasant surprise our wicker and acacia Burchett Outdoor Club Chairs were used for the Prince Harry and Meghan Markle interview with Oprah Winfrey," he wrote.

They are currently sold out on Amazon, but he hopes to have them available again soon.

I seriously love how random this little tidbit is. Something mundane but interesting that came out of the interview.

---
A tale of two Cindy Bradys!
November 7th, 2019 under The Brady Bunch. [ Comments:

none

]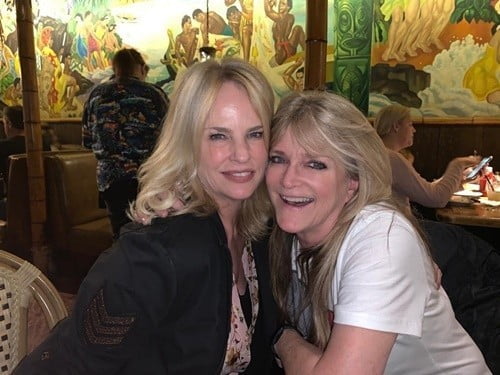 Susan Olsen played Cindy Brady in all of the Brady Bunch productions with the OG cast, minus A Very Brady Christmas in 1988. That is because she opted to go on her honeymoon instead.
Since the telemovie had to go on, they asked Charles in Charge's Jennifer Runyon to join the in crowd. Which she did.
Now almost 31 years later, we find out how the original Cindy feels about her replacement. Just as you would expect the younger Brady girl in curls to deal with it, they hugged it out!
Am I the only wants another Brady telemovie? All of the replacements can play the spouses of the siblings. How groovy would that be?

---