A tale of two Cindy Bradys!
November 7th, 2019 under The Brady Bunch. [ Comments:

none

]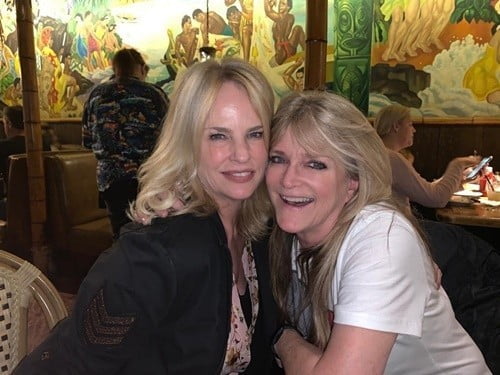 Susan Olsen played Cindy Brady in all of the Brady Bunch productions with the OG cast, minus A Very Brady Christmas in 1988. That is because she opted to go on her honeymoon instead.
Since the telemovie had to go on, they asked Charles in Charge's Jennifer Runyon to join the in crowd. Which she did.
Now almost 31 years later, we find out how the original Cindy feels about her replacement. Just as you would expect the younger Brady girl in curls to deal with it, they hugged it out!
Am I the only wants another Brady telemovie? All of the replacements can play the spouses of the siblings. How groovy would that be?

---
BTWF: Sofia Vassilieva in The Brady Bunch in the White House
October 2nd, 2019 under Before They Were Famous, The Brady Bunch. [ Comments:

none

]

Before Sofia Vassilieva was the oldest child on Medium, she was the youngest one in The Brady Bunch in the White House. Back in 2002 when she was 9 years, she was as cute as Cindy Brady. Which is probably why she got the part.

---
A Very Brady Renovation gets three spinoffs!
October 1st, 2019 under HGTV, The Brady Bunch. [ Comments:

2

]

Tonight on A Very Brady Renovation, the designers finished the renovation on the Brady Bunch house and made it look like the one we knew. Since they are finished that means the series is finished too.
Not so fast. Just like The Brady Bunch was not the end of the Brady Bunch, neither is tonight's episode. For the next two weeks, we are getting The Brady Brides of the HGTV series. As in A Very Brady Renovation: Behind the Build. We will get see even more in-depth how they turned a one-story, two-bedroom house into a two-story home with four bedrooms and a very groovy attic below.
Not only will we get to see more behind the scenes with Barry Williams (Greg), Maureen McCormick (Marcia), Christopher Knight (Peter), Eve Plumb (Jan), Mike Lookinland (Bobby) and Susan Olsen (Cindy), will transfix fans of the iconic television series as they work alongside HGTV's biggest renovation star experts Jonathan and Drew Scott (Property Brothers: Forever Home), Mina Starsiak Hawk and Karen E Laine (Good Bones), siblings Leanne and Steve Ford (Restored by the Fords), Jasmine Roth (Hidden Potential) and Lara Spencer (Flea Market Flip). We will also get a really nice surprise. Do you know how I mentioned The Brady Brides? Well, they had husbands and Mr. Marcia Marcia Marcia aka Jerry Houser and Jan's real-life George Glass aka Ron Kuhlman will make a special appearance on one of those two episodes.
Not only will we be getting more of the renovation, but we will also be getting The Brady Bunch Hour. No, they will not be singing and dancing again. However, they will be singing like a canary. As in during the 8-episode digital series Just Ask Brady, they will be spilling secrets as they answer fan's questions.
Wait, there is even more. Back in 1988, The Bradys got a Christmas movie and so will this show. Coming in December we will be getting another holiday special from The Bradys.
That's all for now. Although, there is one more series I would love to see from HGTV. Remember when Knight did Surreal Life? How about we do a Surreal Life like series with all the Brady kids living in their house. Who wouldn't want to watch that?

---
Cindy Brady in bed with her three brothers!
September 17th, 2019 under HGTV, The Brady Bunch. [ Comments:

none

]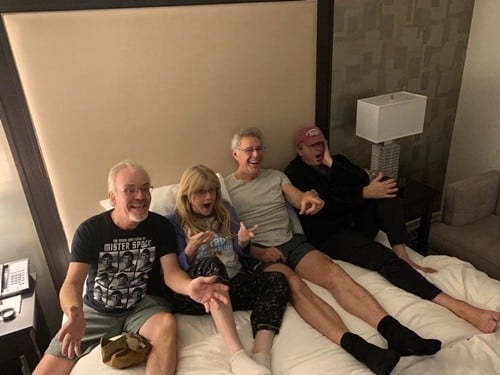 Fifty years ago, Susan Olsen, Barry Williams, Chistopher Knight and Mike Lookinland became brothers and sister for The Brady Bunch. Nearly five decades later they were reunited to renovate the inside of the exterior house seen of the sitcom.
A Very Brady Renovation is currently airing Monday nights at 9p on HGTV and some of the Bradys got together to watch it live. What better way to watch it then in bed. That is exactly what Bobby, Cindy, Greg and Peter did yesterday in NYC.
They might not be related by blood, but they have that special bond that only relatives have.
BTW How much are you loving the renovation show? The amount of work they did to make a soundstage exist in a real home is absolutely awesome. Each episode blows me away.

---
Is Lance Bass bitter he did not get the Brady Bunch house?
September 16th, 2019 under HGTV, Lance Bass, The Brady Bunch. [ Comments:

none

]

Last year, the Brady Brunch house went on sale for the first time in 45 years. Several high profile people but bids in and Lance Bass was very close to owning the house. However, HGTV was the ultimate winner.
The network brought in some of their biggest stars to renovate it. They turned it into a 4-part series about making the inside look just like it did on the show. A Very Brady Renovation airs Mondays at 9p.
Before we got to see all the hard work that they did, HGTV invited the *NSYNC singer to the home to see the transformation. Is he bummed he did not have the winning bid? Nope, he is "super excited" they got it because he knows "it's in good hands." That and he is also happy that someone else did not buy it and tear it down. Which is a very LA thing to do.
Now that he got that out of the way, it was finally time for him to tour the dream house. The first thing he said when he opened the door was, "This is incredible. This is perfect." Then when he got to Mike's den, he declared, "It looks so real that it looks fake."
As amazing as it is to see on television, it is even more incredible to see it in person. Like he said as he was checking out the groovy digs, "This is one of the happiest days of my life." I know that feeling because that is exactly how I felt.
I am happy he is not bitter about it all. It truly was bought by the right people who did the iconic home justice.
Make sure to tune into tonight at 9p to see how they were able to recreate a sound stage in a house 50 years after someone designed it on the Paramount lot. Not only do you get to see the renovation, but the Brady kids are part of it. Who doesn't love seeing Barry Williams, Maureen McCormick, Christopher Knight, Eve Plumb, Mike Lookinland and Susan Olsen together again? I love it, but then again I love everything Brady!

---