Did Shannen Doherty diss her BH90210 castmates?
June 13th, 2019 under Beverly Hills 90210 / Melrose Place, Shannen Doherty. [ Comments: none ]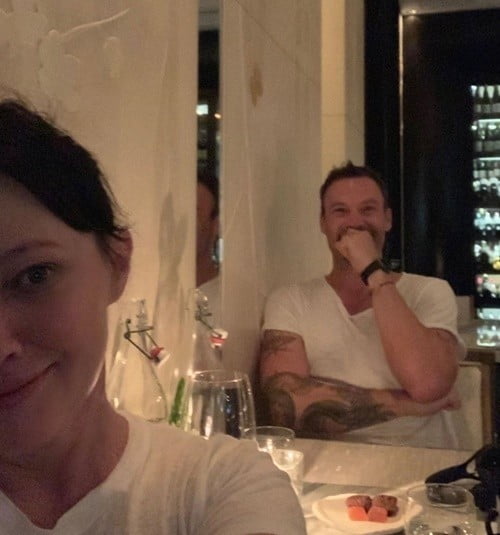 Shannen Doherty posted a photo of herself eating dinner with Brian Austin Green in Vancouver where they are shooting BH90210. Along with the picture she said, "Might be one of my fave dinner companions. @arent_you_that_guy #bribri not a fake bone in him and I love that. He's real and authentic all the time."
I might be reading too much into it, but doesn't it sound like she is saying her other BH90210 castmates are not that? I mean we all suspect that she does not get along with Tori Spelling and Jennie Garth. Thus, it would make sense that Jason Priestley and Ian Ziering, who were with this spinoff since the beginning, would side with the two girls over her. I would pick Shannen over them.
Anyways, if you think about it, it is all so high school. Which is exactly what Beverly Hills, 90210 is all about. Boy, I am glad I do not live near my old high schools and have to see my classmates. I don't miss being all that BS. Most of which I stated, but still.

---
Shannen Doherty moves back into the 90210
April 26th, 2019 under Beverly Hills 90210 / Melrose Place, Shannen Doherty. [ Comments: none ]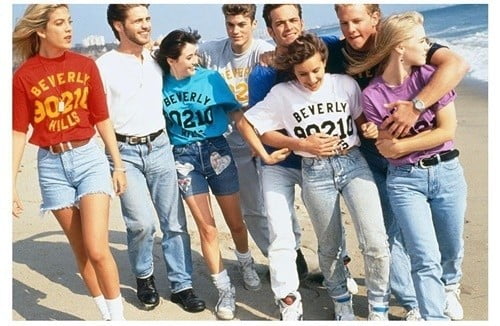 Back in March, Fox announced that they picked up 90210 with most of the original cast members from Beverly Hills, 90210. The only two who were missing were Shannen Doherty and Luke Perry. We know that Dylan will not be in it, but today we found that Brenda is back with her classmates Jason Priestley, Jennie Garth, Ian Ziering, Gabrielle Carteris, Brian Austin Green and Tori Spelling.
Or as I would like to say the bitch is back and now we have a reason to watch the docudrama that is not a reboot. Instead, the actors are playing themselves trying to get a revival made. How they thought they could do that without Doherty is beyond me. She is the most interesting one of them all. Which finally makes the 6-episode event interesting to watch this summer on Fox.

---
Paramount Network is finally airing Heathers unless…
October 4th, 2018 under Paramount+, Shannen Doherty. [ Comments: none ]

Paramount Network was going to air Heathers in March, and then the Parkland shooting happened on Valentine's Day. It was then rescheduled to run for July, but then there was another deadly school shooting. Finally, in July, they decided they were not going to air the remake of the 1989 movie.
Or so we thought. Today, Shannen Doherty announced the postponed, postponed, cancelled show will be airing 9 of its 10 episodes beginning on October 25 and ending on the 29th.
Why the change of heart? They heavily edited the episodes, so it will be suitable for air during these times. Let's just hope and pray there is not another reason to postpone/cancel the show again. Because that would be mean there was another school shooting and we never need another one of those.
No word if they will go ahead with the second season that was almost completed in the writing room.

---
Shannen Doherty reveals a marker test came back elevated
April 4th, 2018 under Shannen Doherty. [ Comments: none ]

Shannen Doherty has been very open about her battle with cancer which is not in remission and she just shared a recent update on her health. She went in for some tests and one did not come back the way she was hoping.

She said, "Test and results. One Tumor marker test came back good. Other… elevated." Then she explained what that means, "Just means I get monitored and another test. But even after that call, I'm staying positive and taking stock of my life. It certainly helps put things in perspective and reminds you of what you learned thru the cancer journey. And I sometimes, need a refresher. As I've said before, cancer changes your life in ways no one could ever imagine."

Then she let us know that just because the test came back elevated, and that does not mean the cancer is back. It could be all sorts of things. Let's pray for her that it is one of those other things.

UPDATE: Shannen Doherty announced today that she is still cancer free. The marker that came back elevated is not the same one as her cancer. Her PET scan came back clean, which means she is still in remission.

She says that she needs to be more responsible when sharing information. But I think it is the doctors who need to be more careful. They gave her hours of stress for no reason at all. I wish they were better at giving results. Don't they realize they are, literally, playing with people lives.

---
Shannen Doherty asks the obvious reboot question
January 29th, 2018 under Shannen Doherty, The CW. [ Comments: none ]

Last week, The CW announced that they ordered a pilot for a Charmed reboot and one of the stars took to Twitter to express her displeasure for it. Holly Marie Combs Tweeted, "While some may not get why I take issue with the network that didn't want to renew Charmed 12 years ago 'reimagining' it now let me just say I understand it perfectly. Also this kinda stuff given all that Rose and Alyssa have done lately…um no. Just No."

Then her co-star and TV sister asked a very obvious question that many of us pondered. Shannen Doherty wrote, "So curious… if it was not a reboot and just was a show about sisters and family dynamics with super natural powers…. thoughts?"

Why do networks insist on calling a show a reboot when the only thing it has in common with the original is the names of the characters are the same. Would we like Dynasty more if they just made a show about spoiled rich people? How about MacGyver, well I never got the passed the pilot. And so on. Why not just make a show with kind of the same premise and give everyone new names? I don't know about you, but I am sick of reboots that have nothing with the original.

There is a huge difference between reimagining a show and going way off the rails of one. How do you feel about reboots that have nothing to do with the original?

And don't get me started on the trend of turning big screen movies into television shows.

---