BH90210 ends its season, Harvey gets arrested on Suits
September 11th, 2019 under Beverly Hills 90210 / Melrose Place. [ Comments:

none

]

Tonight at 9p, BH90210 finishes up its season on Fox. Just like the docuseries is wrapping up the season, the episode starts off with them wrapping up production of the pilot for their revival.
Now that they are wrapped, it is time for the wrap party. More secrets will come out, some you won't even see coming. At least I didn't.
After the party, it is time to wait and find out if their revival or The OC's, yep The OC, will be picked up for a season. Now, the filthy rich kids from Beverly Hills are battling out with the rich kids from Orange County and there will only be one winner. Who will it be? The originals or the copycats?
While they wait to see who is declared the winner, Tori Spelling finds a way to get her hands on the results of the focus group. Let's just say the audience reaction is not nice. Can they handle the criticism? Of course not.
That is why this limited series was so much fun to watch. Who needs camp when you can watch this campy summer show?

Also at 9p but over on USA Network, it is time for one of Suits final 3 episodes. Since the show is wrapping up, they are tying up some loose strings.
Andrew Malick (Usman Ally) is ready to take on Harvey (Gabriel Macht) and Sean Cahill (Neal McDonough) one more time. Malick is so convinced he has the two of them, that he gets them both arrested. As they are being interrogated, he pits them against each other. Will either one of them sing or will they remain loyal to each other?
While they are in jail, the lawyers back in the firm will try to get them out. Well, everyone but Faye (Denise Crosby) who is still up to her dirty tricks. Donna will put her in her place. Because she is Donna (Sarah Rafferty) and that is what Donna does.
Once this is all resolved, they have a set up for next week's episode. One that makes me wonder where they are going with that thought? When all I can think about it is why does this show have to end? WHY?
---
Secrets come out on BH90210
September 4th, 2019 under Beverly Hills 90210 / Melrose Place. [ Comments:

none

]

Last week when we left off of BH90210, the set for the revival was on fire. Tonight at 9p on Fox, Jason Priestley, Shannen Doherty, Jennie Garth, Ian Ziering, Gabrielle Carteris, Brian Austin Green and Tori Spelling have to figure out who is stalking them and set the fire. Until they do, production is halted.
The seven of them go into a room and try to see who from their past would want to do this to them. They realize there are a lot of people it could be. Then Spelling has a revelation and they are off to see their former castmate. That is right, we are getting a blast from the past. Who could it be? I cannot tell you, but it is nice to see them again.
Last week, Green found out he has a son and he is trying to deal with all of that. While Carteris and Christine Elise, and Ziering and the head writer acted on their feelings for each other and now they have to sign a consent form. Fox has a new rule, they cannot keep their relationships quiet. Will they be able to keep their relationships secret until they sign on the dotted line?
Not only is Green dealing with his son, but he also had to prep for a love scene with Spelling. Something that is really awkward for the two former lovers who are married to other people now. To make matters worse, they have a network rep monitoring their every move in bed. Talk about killing the mood. Or does it?
Those are just a few of the things that happen tonight. One last thing that happens is Doherty has the funniest scenes in the episodes. I cannot imagine this show without her because she really makes the show special.
You don't want to miss a single second because it is all setting up for next week's season finale.
---
Did Ian Ziering just reveal who is stalking BH90210?
September 1st, 2019 under Beverly Hills 90210 / Melrose Place. [ Comments:

none

]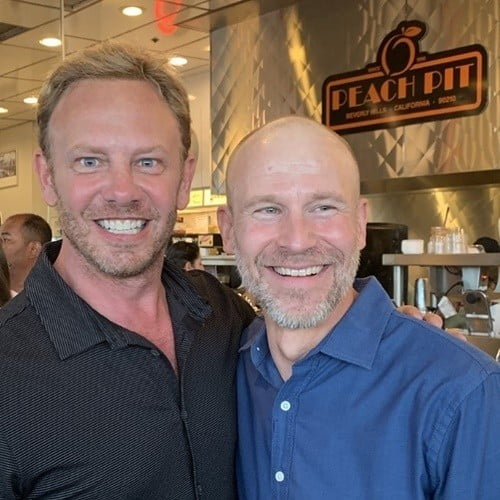 One of the subplots on BH90210 is that someone is stalking all of the cast members. It has gotten so bad that on the last episode, someone burned down the set. That person had a message for Shannen Doherty, Jason Priestley, Brian Austin Green, Gabrielle Carteris, Jennie Garth, Tori Spelling and Ian Ziering that read something like don't pretend I am not here.
Who sent them that threat? We do not know. Or do we? Steve Sanders shared a photo of him with Scott Scanlon aka Doug Emerson. We assumed Emerson would not be part of the show because his character died in season 2 of Beverly Hills, 90210. However, that was only on the fictional show. BH90210 is a fictional version of real-life and not an updated version of the fictional show. Does that make sense?
Anyways if Ziering did spoil the series' big mystery, then fans will be wishing for him to experience a Sharknado. Those are real things, right? The concept of BH90210 has me all confused about what is real and what is fake on television.
The last episode before the season finale airs this Wednesday at 9p on Fox.
---
Is Jason Priestley really 50?
August 29th, 2019 under Are they really their age?, Beverly Hills 90210 / Melrose Place. [ Comments:

none

]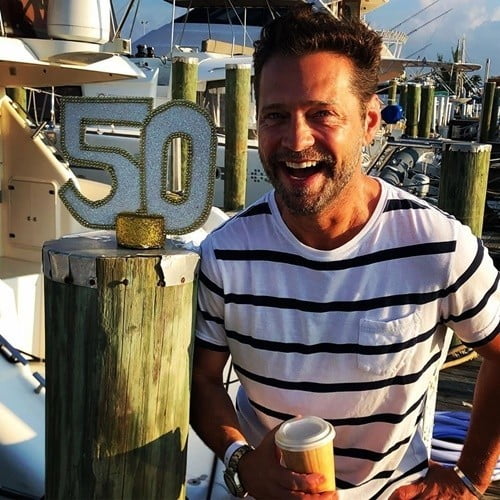 Today is Jason Priestley's 50th birthday. Can you believe it? He is still as hot as he was when he played Brendan Walsh the first time on Beverly Hills, 90210. Which is technically the only time.
Priestley is one of those men who gets better with age. A lot better.
---
BTWF: Jason Priestley in The New Adventures of Beans Baxter
August 28th, 2019 under Before They Were Famous, Beverly Hills 90210 / Melrose Place. [ Comments:

none

]

Before Jason Priestley went to West Beverly High in Beverly Hills, 90210, he was in a fraternity on The New Adventures of Beans Baxter. How funny is it that he played a college student when he was 17 in 1987 and a high school student when he was 21 in 1990?
---