Brian Austin Green got Jason Priestley a motorized scooter for his 50th!
December 9th, 2019 under Beverly Hills 90210 / Melrose Place. [ Comments:

none

]

Earlier this year, Jason Priestley turned the big 5-0, and Brian Austin Green got him the perfect gift. Brandon Walsh won't be strutting down the halls of Beverly Hills, 90210 anymore; he will be riding down the halls of Shady Pines, 91505 in his motorized scooter.
At least after he gets out of the hospital because he got into a nasty accident with that thing. The actor might be old, but he is not old enough to master the scooter just yet.
What did BAG think of this video of his friend enjoying his gift? He wrote, "I love that it literally falls apart when he falls. :))) Thank you Amazon." I second that, thank you, Amazon!
---
A mini Melrose Place reunion!
November 26th, 2019 under Beverly Hills 90210 / Melrose Place. [ Comments:

none

]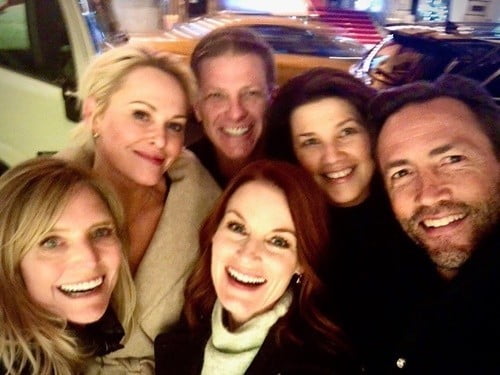 Back in the '90s, Doug Savant and his wife Laura Leighton, Josie Bissett, Daphne Zuniga, Courtney Thorne-Smith and Andrew Shue all lived together in Los Angeles at Melrose Place. However, yesterday they met up at The Polo Club in New York City to talk about their old address.
Was that all they talked about? None of them said. This makes me wonder if the Friends' upcoming unscripted reunion is going to open the door to more shows having one. Could that be what they were discussing? Or maybe since Fox cancelled BH90210, the network might want to try it again with MP2.0? Would you watch them again? Especially since they have not aged a day in over 20 years.
Seriously, I cannot remember the last time I saw Allison Parker and Billy Campbell. Now that I have, I want and need more of them.

UPDATE: To find out what brought them together, then click here!
---
Brian Austin Green reveals that BH90210 was cancelled
November 7th, 2019 under Beverly Hills 90210 / Melrose Place. [ Comments:

none

]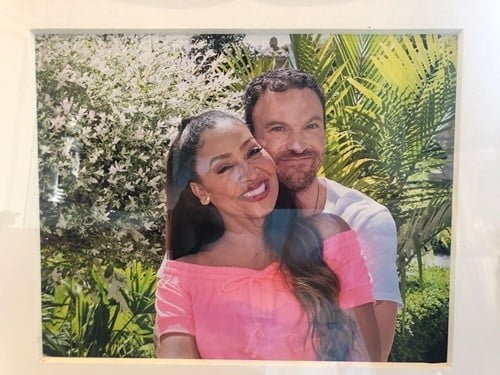 Brian Austin Green posted the above photo with La La Anthony and said, "Thank you for being a great wife :))" That sounds pretty cryptic as in BH90210 was cancelled.
According to BAG, it is. When a fan asked him when will we know if the show got picked up for another season, he told them "no more. Sorry."
As much as I wanted to love the show, it had a lot of problems. It was just too choppy, so it never felt like you knew what was going on. Then you wondered if you cared if you did know what was going. It was fun, but it could have been better.
---
Ian Ziering takes a chainsaw to his marriage
October 31st, 2019 under Beverly Hills 90210 / Melrose Place. [ Comments:

none

]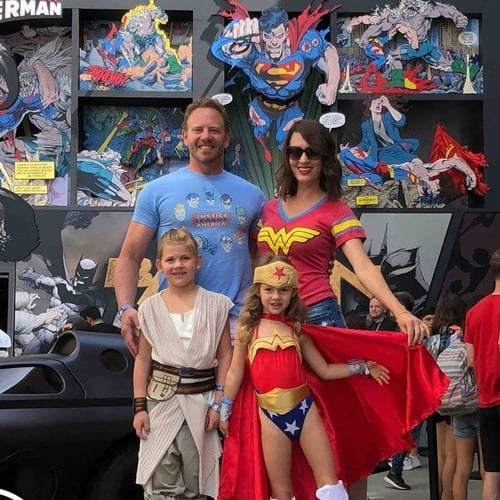 Ian Ziering and his wife, Erin, announced on social media that they have decided to end their 9-year marriage. Rather than let the rumors spread, they both explained what went wrong.
It is with a heavy heart that I tell you Erin and I are splitting up. With our hectic work schedules we could not be busier, and over the last few years have grown apart. She is one of the most incredible women I have ever met and the best mom to our kids. It has come to my attention that things are being written and said to sensationalize a situation that is simply not sensational. Any quote attributed to me is completely false and solely meant by haters to undermine our intention to continue to get along, protect and raise our daughters, and be examples of successful co-parents. We ask that you respect our privacy at this difficult time as we focus on what is important to us, our girls.
Peace and love,
Ian
The couple have 2 daughters, Mia, 8, and Penna, 6. This is the Sharknado star's second marriage.
Ziering's marriage ending is a lot like what happened to Steve Sanders on the BH90210 spinoff. Which makes you wonder which marriage ended first? Is it life imitating art or art imitating life?
---
BH90210 ends its season, Harvey gets arrested on Suits
September 11th, 2019 under Beverly Hills 90210 / Melrose Place. [ Comments:

none

]

Tonight at 9p, BH90210 finishes up its season on Fox. Just like the docuseries is wrapping up the season, the episode starts off with them wrapping up production of the pilot for their revival.
Now that they are wrapped, it is time for the wrap party. More secrets will come out, some you won't even see coming. At least I didn't.
After the party, it is time to wait and find out if their revival or The OC's, yep The OC, will be picked up for a season. Now, the filthy rich kids from Beverly Hills are battling out with the rich kids from Orange County and there will only be one winner. Who will it be? The originals or the copycats?
While they wait to see who is declared the winner, Tori Spelling finds a way to get her hands on the results of the focus group. Let's just say the audience reaction is not nice. Can they handle the criticism? Of course not.
That is why this limited series was so much fun to watch. Who needs camp when you can watch this campy summer show?

Also at 9p but over on USA Network, it is time for one of Suits final 3 episodes. Since the show is wrapping up, they are tying up some loose strings.
Andrew Malick (Usman Ally) is ready to take on Harvey (Gabriel Macht) and Sean Cahill (Neal McDonough) one more time. Malick is so convinced he has the two of them, that he gets them both arrested. As they are being interrogated, he pits them against each other. Will either one of them sing or will they remain loyal to each other?
While they are in jail, the lawyers back in the firm will try to get them out. Well, everyone but Faye (Denise Crosby) who is still up to her dirty tricks. Donna will put her in her place. Because she is Donna (Sarah Rafferty) and that is what Donna does.
Once this is all resolved, they have a set up for next week's episode. One that makes me wonder where they are going with that thought? When all I can think about it is why does this show have to end? WHY?
---