Did Shannen Doherty diss her BH90210 castmates?
June 13th, 2019 under Beverly Hills 90210 / Melrose Place, Shannen Doherty. [ Comments:

none

]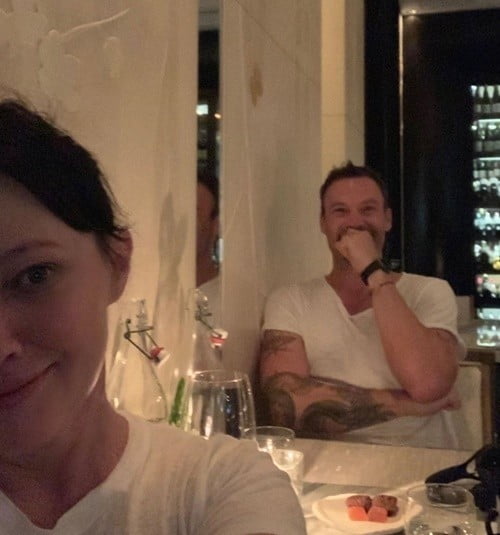 Shannen Doherty posted a photo of herself eating dinner with Brian Austin Green in Vancouver where they are shooting BH90210. Along with the picture she said, "Might be one of my fave dinner companions. @arent_you_that_guy #bribri not a fake bone in him and I love that. He's real and authentic all the time."
I might be reading too much into it, but doesn't it sound like she is saying her other BH90210 castmates are not that? I mean we all suspect that she does not get along with Tori Spelling and Jennie Garth. Thus, it would make sense that Jason Priestley and Ian Ziering, who were with this spinoff since the beginning, would side with the two girls over her. I would pick Shannen over them.
Anyways, if you think about it, it is all so high school. Which is exactly what Beverly Hills, 90210 is all about. Boy, I am glad I do not live near my old high schools and have to see my classmates. I don't miss being all that BS. Most of which I stated, but still.
---
BTWF: Gabrielle Carteris for Carefree
June 6th, 2019 under Before They Were Famous, Beverly Hills 90210 / Melrose Place. [ Comments:

none

]

Before Gabrielle Carteris had a lot of embarrassing moments on Beverly Hills, 90210, she was not embarrassed to use Carefree pads for her periods. How cure was the 26-year-old in that 1987 commercial?
---
Tori Spelling shares two BH90210 spoilers
June 5th, 2019 under Aaron/Candy/Tori Spelling, Beverly Hills 90210 / Melrose Place. [ Comments:

none

]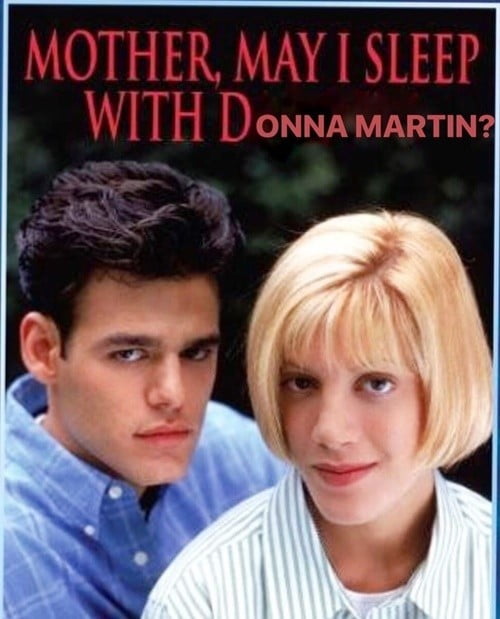 Even though Brian Austin Green and Tori Spelling are married to actors, Fox is not casting their actual spouses as their partners in BH90210 spinoff. Instead, Green is hitched to La La Anothony and Spelling is sleeping with Ivan Sergei again on the show.
But wait you wanted David and Donna together again and not with other people? Spelling said, "Don't worry! Donna & David fans WON'T be disappointed 😘"
Are you confused by all of this? BH90210 is not a revival, it is a spinoff. The actors are playing themselves trying to sell a revival of Beverly Hills, 90210. Does it make sense now? Nope, it will when the 6-episode event debuts on August 7th.
---
Tiffani-Amber Thiessen will not be a part of BH90210
June 3rd, 2019 under Beverly Hills 90210 / Melrose Place, Tiffani-Amber Thiessen. [ Comments:

2

]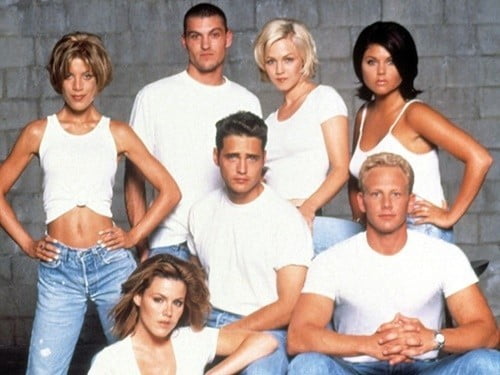 Even though Tiffani-Amber Thiessen is not one of OGs of Beverly Hills, 90210, she feels like one. Which makes you will wonder if she will join Fox's event series BH90210 with the original six.
Entertainment Tonight caught up with the actress over the weekend and asked her just that. She told them she will not be going back to her old zip code. However, she has a good excuse. She has an acting career outside the show and she is busy filming the third season of Netflix's Alexa & Katie. That sitcom is taping until September, so she would not even be available until after most of the show's episodes have already aired. BH90210 debuts on August 7th.
Will you miss Valerie Malone hanging with her second group of high school friends.
---
Is BH90210 in trouble?
May 17th, 2019 under Beverly Hills 90210 / Melrose Place. [ Comments:

none

]

BH90210, the mockumentary with the cast of Beverly Hills, 90210 trying to get a revival made, just lost its showrunner and several writers even though it just started filming. A source told Variety, "The dispute was over interference from two of the show's lead actresses, while another noted that the writers were unhappy with one of the executives overseeing the project." However, the network did not confirm either theory.
When I heard about the mass exodus behind the scenes, I have to admit I thought Ian Ziering was at fault. Yet, it sounds like he is in the clear and maybe Tori Spelling or Jennie Garth and Shannen Doherty are the reason.
Either way, even though they have a new showrunner in charge does not mean the 6-episode event series that debuts on August 7th is out of the woods. Which to me means that a show that was going to be pure awfulness is going to be even more awful. That is a good thing.
---