Tori Spelling shares two BH90210 spoilers
June 5th, 2019 under Aaron/Candy/Tori Spelling, Beverly Hills 90210 / Melrose Place. [ Comments:

none

]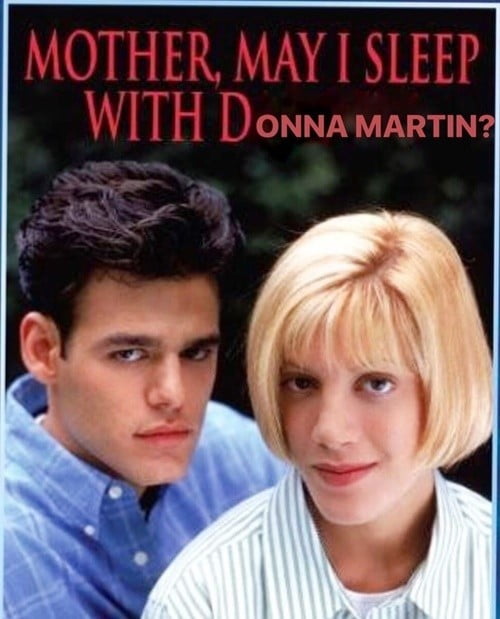 Even though Brian Austin Green and Tori Spelling are married to actors, Fox is not casting their actual spouses as their partners in BH90210 spinoff. Instead, Green is hitched to La La Anothony and Spelling is sleeping with Ivan Sergei again on the show.
But wait you wanted David and Donna together again and not with other people? Spelling said, "Don't worry! Donna & David fans WON'T be disappointed 😘"
Are you confused by all of this? BH90210 is not a revival, it is a spinoff. The actors are playing themselves trying to sell a revival of Beverly Hills, 90210. Does it make sense now? Nope, it will when the 6-episode event debuts on August 7th.
---
Is this how Tori Spelling is going to earn money?
April 11th, 2018 under Aaron/Candy/Tori Spelling. [ Comments:

none

]

There have been rumors for years that Tori Spelling is hurting for cash. Well, now it looks like she found a way to earn a quick buck…and it is legal.

What is it? For $50, you can get her to record a video message saying whatever you want. All you have to do is go to BookCameo.com, fill out the information and pay the money. Then just sit back and wait for a reply.

For her is a great deal, she can record 10 of them in a half hour and she just made a quick $500. Not bad for a day's work. Imagine what she can do with all of that money?
---
Who wore the ugliest Christmas sweater: Dean McDermott or Terry Crews?
December 26th, 2017 under Aaron/Candy/Tori Spelling, Better than..., Terry Crews. [ Comments:

none

]

Ugly Christmas sweaters have become as much of a holiday tradition as giving gifts themselves. Several celebrities wore them over the season and yesterday I found my best and worst.

Dean McDermott wore one with Santa Claus having a plumber's butt. While Terry Crews was wearing one that I can see a grandmother wearing to a Church function. Therefore, I love McDermott's because Kris Kringle has a cute butt. When it comes to Crews well it suits him, but not for me. What do you think?
---
Did Tori Spelling confirm baby #6?
November 22nd, 2017 under Aaron/Candy/Tori Spelling. [ Comments:

none

]

Earlier this week, there were rumors that Tori Spelling was expecting her 6th child with Dean McDermott and I think she kind of hinted that it might be true. Yesterday when she posted her family Christmas card, she also wrote, "So excited for our 2017 holiday card… I just couldn't wait to show off our growing family!" Why would you say growing family unless you were pregnant? Right?

So are Liam, Stella, Hattie, Finn and Beau going to be big brothers and sisters next year? Only time will tell.
---
Caption Tori Spelling and Dean McDermott!
September 28th, 2017 under Aaron/Candy/Tori Spelling, Caption the Celeb. [ Comments:

none

]

This photo of Tori Spelling and Dean McDermott has caption me written all over it, so go ahead and do it.
---