Dean McDermott is a prettier woman than Tori Spelling
July 2nd, 2020 under Aaron/Candy/Tori Spelling. [ Comments:

none

]

Dean McDermott and his son Jack have been separated for a while due the coronavirus pandemic. Now that the two of them can be reunited, Tori Spelling decided to throw her stepson a Pride party in their backyard.

One of Jack's dream is to see his dad in drag, so Spelling made it happen. She dressed her husband up like Donna Martin from Beverly Hills, 90210, and he looks prettier than her.

Maybe he can join RuPaul's Drag Race because I think he would win. What do you think?

To watch a video from the party, then click here!

---
BTWF: Dean McDermott in Friday the 13th: The Series
July 2nd, 2020 under Aaron/Candy/Tori Spelling, Before They Were Famous. [ Comments:

none

]
Before Dean McDermott thought it was scary to deal with sharks in a tornado in The Last Sharknado: It's About Time, he dealt with something even scarier in Friday the 13th: The Series. He looks the same now as he did when he was 22 in that 1989 episode.

---
What makes Tori Spelling and Dean McDermott's sex 'fantastic'?
August 8th, 2019 under Aaron/Candy/Tori Spelling. [ Comments:

none

]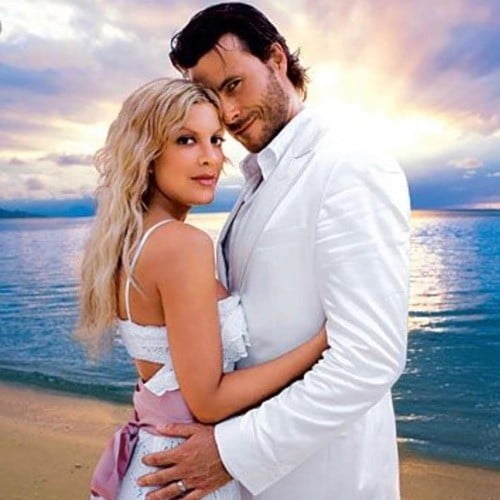 Dean McDermott is not shy when it comes to his sex life with Tori Spelling. Recently on his podcast, Daddy Issues, he talked about something that made his daily (yes daily) love making even more "amazing." The couple, who have been married for 13 years and have 5 kids have started using CBD oil lube and it has made things "fantastic" in the bedroom.
Why? His co-host Adam Hunter explained why. He said, "It's great, you just put it on, and the vagina gets tighter, and then you last longer." After 5 kids, they need all the help they can get down there.
I just did not need to know what they do. Now, I am picturing them going at it doggie style.

---
WNYW's Rosanna Scotto asked Tori Spelling about her reported financial woes
August 7th, 2019 under Aaron/Candy/Tori Spelling. [ Comments:

none

]

Tori Spelling and Jennie Garth are doing press to promote BH90210 and yesterday they stopped by WNWY to talk about their new show.
On the Beverly Hills, 90210 spinoff, the actors play exaggerated versions of themselves. Which means they take on Tori Spelling's reported financial problems. Therefore, it seemed like a fair question for Rosanna Scotto to ask the actress.
As soon as the anchor asked her if she really does have financial problems, you could feel the chill in the air. And I am not talking about the air conditioner being on full blast.
Donna Martin says she can pay bills and the media loves to talk about her not being able to do so. Which is why they wrote it into the series.
After that question, the interview went downhill from there. It looked like Garth wanted to walk out. Especially after they showed a clip from the Fox show that puts her in a poor light.
As they were wrapping up the interview, Scotto apologized for asking that question. Spelling said she has a tough skin and it is OK. But is it?
We will see if they do a sit down with her for season 2. If there is a season 2. Who am I kidding? Of course, there will be one. However, you have to watch the first one that debuts on Fox tonight at 9p.

---
The boys had to stop a fight between Shannen Doherty and Jennie Garth
August 6th, 2019 under Aaron/Candy/Tori Spelling, Andy Cohen, Beverly Hills 90210 / Melrose Place, Shannen Doherty. [ Comments:

none

]

Back when Shannen Doherty and Jennie Garth were filming Beverly Hills, 90210, they hated each other so much they were thicslose to getting into a physical fight.
Yesterday, when Garth and Tori Spelling were on Watch What Happens Live with Andy Cohen, a viewer wanted to know what was the worst fight that Garth and Doherty ever got into when they were working on the show. Kelly Taylor said that Brenda Walsh lifted up her skirt and in response, they took their fight outside. The boys followed them out and held them back so that it did not go too far. Which is a shame because the story would be even better if they did.
Why does Garth say they fought so much? Both of them are fiery Arieses who don't back down.
Where was Spelling at the time? She said that she was shaking in her dressing room because she was so upset over their fight. When things were not as serious as this altercation, she was the peacekeeper because she loved them both.
Do you love them both? Or are you Team Shannen like me? Who is actually Team Jennie?
Another reason why I am not Team Garth, when asked if she still talks to her What I Like About You co-star Amanda Bynes, she says no. Then she said she felt more like her mother than her sister when they were making that show. She looked it!
When they were asked who were the best kissers on the show, they each had a different answer. Spelling said Brian Austin Green, of course. While Garth said that Priestley is because he is a sloppy kisser. She is into that sort of thing.

---