Dean McDermott is back in the holiday card
November 22nd, 2022 under Aaron/Candy/Tori Spelling. [ Comments: none ]
Dean McDermott was missing from his family's holiday card last year, but today he was back in it with Tori Spelling, their five kids, and his son from his first wife.
So, is the couple back together? Spelling wrote, "It's my favorite time of year! And like every year, SimplytoImpress.com did it again and delivered on my favorite family tradition – custom holiday cards. And this year is extra special. We're ALL together! ❤️"
Even though they are together in the card, physically, they are apart again. That is because McDermott said, "I'm in Canada filming again, BUT I made the Christmas Card shoot this year!!!"
Hopefully, they can be back in the same city again soon. It has been a long time since we saw them on a reality show.

---
Dean McDermott reunites with his first ex-wife?
October 25th, 2022 under Aaron/Candy/Tori Spelling. [ Comments: none ]
Dean McDermott and Tori Spelling have been coy about their relationship status for a long time. Are they still married, or are they getting divorced as he did from his first wife, Mary Jo Eustace?
On that note, he and Eustace each posted a photo together and said, "Reunited??? #Ex's&Uh-oh's."
While Eustace tagged Spelling, the 90120 star liked McDermott's post.
What is going on? We are just left to imagine. So imagine what you think it is and share your thoughts with me because I want to know.

---
Did Tori Spelling steal Charo's look?
October 19th, 2022 under Aaron/Candy/Tori Spelling, Charo. [ Comments: none ]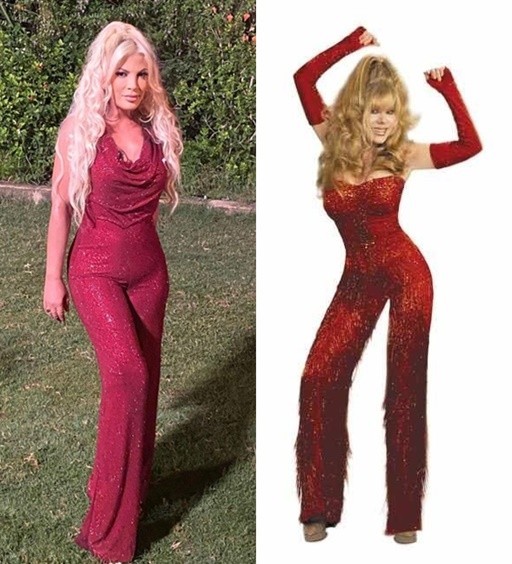 Tori Spelling grew up with Charo because her father created The Love Boat and the Entertainer when she appeared on that series.
So, I guess, in a way, it inspired Spelling's future style. At least it did here because the actress wore a red bodysuit, and her hair just like Charo.
It is like we get Charo, but as her look for less.

---
Tori Spelling shows off her new boobs
August 1st, 2022 under Aaron/Candy/Tori Spelling. [ Comments: none ]
Tori Spelling's 20-year-old boobs were expired and dangerous to her health. Therefore, she finally got new ones put in earlier this year.
Since she is Tori Spelling, she had a party for their debut, which she called Booby Bash 2022.
What do you think? I think they look the same. She still has that indentation in between her cleavage.

---
Did Tori Spelling admit that she gets fillers and Botox?
January 28th, 2022 under Aaron/Candy/Tori Spelling. [ Comments: 1 ]
Tori Spelling shared a makeup-free photo with a confession on it. She revealed that "Numbing cream on. Contrary to what people think. It's been 8 months since I've done anything to my face. Yup, no Botox, no filler, no laser, no facials."
But don't worry, she isn't going to go nine months without getting anything done. Today, she is going to get lasered.
I don't know about you, but I want to see the post photos with her face looking beet red.

---