TNMT: Mutant Mayhem gets a series and a sequel
July 26th, 2023 under Seth Rogen, Teenage Mutant Ninja Turtles. [ Comments: none ]
TMNT: Mutant Mayhem is coming to theaters a week from today. However, Paramount is not waiting to see how it does at the Box Office to announce that the Teenage Mutant Ninja Turtles will not only be getting a sequel but also a 2-season animated series on Paramount+.
According to Variety, Micah Abbey, Shamon Brown Jr., Nicolas Cantu, and Brady Noon will reprise their roles as Donatello, Michelangelo, Leonardo, and Raphael. The show will also bridge the gap between the two movies.
Ramsey Naito, president of Paramount Animation & Nickelodeon Animation, said, "Reinvigorating this franchise has been years in the making, and we are thrilled to continue expanding the beloved 'Teenage Mutant Ninja Turtles' universe and bringing new adventures to families and fans."
Run faster than a turtle on Mutant Mayhem to see the animated feature that finally stars teens in the lead role. I hear it is the best TMNT adventure since the original. And how awesome was the OG series?
Seriously, please support this movie because these teens got screwed out of promoting their first big movie due to the SAG-AFTRA strike. Let them feel the love they can't get because they are supporting their fellow actors and fighting against AMPTP.
And hopefully, they get to work soon on the upcoming series and sequel because the strike will be over.
And I also hope that they get fed better pizza when they are in the studio voicing their characters because those food combinations are nastier than pineapple on a pizza.

---
Cowabunga, the TMNT: Mutant Mayhem trailer is here!
May 31st, 2023 under Movies, Seth Rogen, Teenage Mutant Ninja Turtles. [ Comments: none ]
For the first time in Teenage Mutant Ninja Turtles' history, the turtles are going to be played by actual teenagers: Micah Abbey, Nicolas Cantu, Shamon Brown Jr., and Brady Noon. Yet, the animated feature brought to us by Seth Rogen, an eternal teen, looks like something people of all ages can enjoy.
After years of being sheltered from the human world, the Turtle brothers set out to win the hearts of New Yorkers and be accepted as normal teenagers through heroic acts. Their new friend April O'Neil helps them take on a mysterious crime syndicate, but they soon get in over their heads when an army of mutants is unleashed upon them.
Seriously, don't you want to get slimed by their mutant mayhem on August 2nd? TMNT: Mutant Mayhem is the action animated movie we have been craving, and now we are going to get it in two months!

---
The cast of Super Mario Bros Movie sing the theme song with Jimmy Fallon and the Roots
March 10th, 2023 under Chris Pratt, Jack Black, Jimmy Fallon, Seth Rogen. [ Comments: 1 ]
Did you know that The Super Mario Bros Movie has a theme song? Well, it does. And yesterday on The Tonight Show, Chris Pratt, Jack Black, Seth Rogen, Anya Taylor-Joy, Fred Armisen, Keegan-Michael Key, and Charlie Day sang it acapella with Jimmy Fallon and The Roots.
I never thought that the song we hear when we play Super Mario Bros could be sung by humans. But it can. And I love it! So much so that I am dancing to it as I write this.

---
Teenage Mutant Ninja Turtles starring actual teenagers!
March 6th, 2023 under Seth Rogen, Teenage Mutant Ninja Turtles. [ Comments: none ]
The Teenage Mutant Ninja Turtles are back, and they are not your parents' turtles. That is because Micah Abbey, Nicolas Cantu, Shamon Brown Jr., and Brady Noon weren't even born when your parents were watching TMNT. This means for the first time in their history, the green superheroes are being played by actual teenagers.
Because of that, I can't wait to see TMNT: Mutant Mayem when it comes out on August 4th. Especially since the latest film is being brought to us by permanent teenager Seth Rogen, you know he is going to take them to places where they have never been before. And that will make the film so much fun! Cowabunga, dudes!

---
Prime Video is turning into a Sausage Party
October 26th, 2022 under Prime Video, Seth Rogen. [ Comments: none ]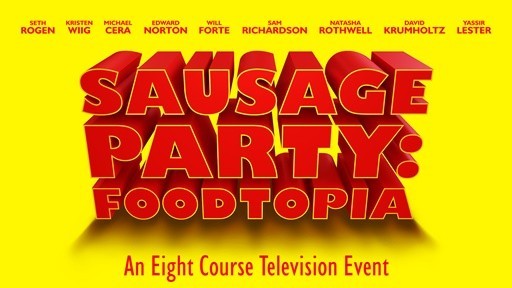 Did you watch the 2016 movie Sausage Party and think this would make a great series? Well, you are not alone. Prime Video thought the same thing, so they are giving its own show in 2024.
Sausage Party: Foodtopia will include the film's stars Seth Rogen, Kristen Wiig, Michael Cera, David Krumholtz, and Edward Norton, with the additions of Will Forte, Sam Richardson, Natasha Rothwell, and Yassir Lester voices.
I can't wait to watch it with my nieces. Although, by 2024, they will be old enough to get the jokes. Damn it. Can't the animators draw faster?

---