The cast of Super Mario Bros Movie sing the theme song with Jimmy Fallon and the Roots
March 10th, 2023 under Chris Pratt, Jack Black, Jimmy Fallon, Seth Rogen. [ Comments: 1 ]
Did you know that The Super Mario Bros Movie has a theme song? Well, it does. And yesterday on The Tonight Show, Chris Pratt, Jack Black, Seth Rogen, Anya Taylor-Joy, Fred Armisen, Keegan-Michael Key, and Charlie Day sang it acapella with Jimmy Fallon and The Roots.
I never thought that the song we hear when we play Super Mario Bros could be sung by humans. But it can. And I love it! So much so that I am dancing to it as I write this.

---
Teenage Mutant Ninja Turtles starring actual teenagers!
March 6th, 2023 under Seth Rogen. [ Comments: none ]
The Teenage Mutant Ninja Turtles are back, and they are not your parents' turtles. That is because Micah Abbey, Nicolas Cantu, Shamon Brown Jr., and Brady Noon weren't even born when your parents were watching TMNT. This means for the first time in their history, the green superheroes are being played by actual teenagers.
Because of that, I can't wait to see TMNT: Mutant Mayem when it comes out on August 4th. Especially since the latest film is being brought to us by permanent teenager Seth Rogen, you know he is going to take them to places where they have never been before. And that will make the film so much fun! Cowabunga, dudes!

---
Prime Video is turning into a Sausage Party
October 26th, 2022 under Prime Video, Seth Rogen. [ Comments: none ]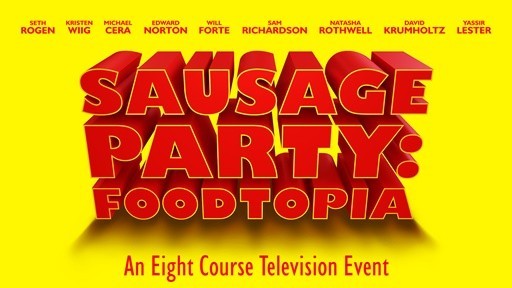 Did you watch the 2016 movie Sausage Party and think this would make a great series? Well, you are not alone. Prime Video thought the same thing, so they are giving its own show in 2024.
Sausage Party: Foodtopia will include the film's stars Seth Rogen, Kristen Wiig, Michael Cera, David Krumholtz, and Edward Norton, with the additions of Will Forte, Sam Richardson, Natasha Rothwell, and Yassir Lester voices.
I can't wait to watch it with my nieces. Although, by 2024, they will be old enough to get the jokes. Damn it. Can't the animators draw faster?

---
Seth Rogen reveals he is balding
February 8th, 2022 under Seth Rogen. [ Comments: none ]
Seth Rogen did one of the Wired The Web's Most Searched Question, and someone asked what color his hair is. He said that "it is greyish, brownish with more and more skin color poking through."
Then the actor said he has accepted he is losing his hair, and when the time comes, he will go bald. He is not going to hide it like other actors who try to do that.
I am already picturing what he would look like, and it is so him. I can totally see him with a Larry David, making pottery, and a joint hanging for his lips. Do you see it too?

---
Seth Rogen and Paul Rudd share their good times together with Lay's
February 2nd, 2022 under Junk Food, Paul Rudd, Seth Rogen. [ Comments: none ]
Seth Rogen and Paul Rudd have been friends for a really long time. Because of that, they have shared a lot of good times together. And they are sharing those good times with Lay's potato chips for a Super Bowl commercial.
The best part is that we got to see Rogen's wedding, and it is one that will haunt us for the rest of our lives!

---