Oh no, they are cloning Chris Pratt
May 27th, 2022 under Chris Pratt. [ Comments: none ]
If you thought that one Chris Pratt was not enough, then you are in luck because there are now four of him, thanks to Jurassic World Dominion.
And we thought the film was just cloning dinosaurs. It turns out they are also doing the actors. Because as Pratt says, "It takes a village of me's to be me."
Of course, the producers didn't really make copies of him; they are just using body doubles. However, I find it interesting that all of his stand-ins are all a lot taller than him. Just saying.

---
The Parks & Recreation special is as delightful as the show
April 30th, 2020 under Amy Poehler, Chris Pratt, Megan Mullally and Nick Offerman, Rob Lowe. [ Comments: none ]

Tonight at 8:30pp on NBC, the cast of Parks & Recreation comes out of their five-year retirement to inform us about COVID-19. The half-hour scripted special is a creative way to teach everyone what do and what not to do during this pandemic. They make learning how to protect yourself from Coronavirus fun.
Leslie Knope (Amy Poehler)! Ron Swanson (Nick Offerman)! Tom Haverford (Aziz Ansari)! Ann Perkins (Rashida Jones)! April Ludgate (Aubrey Plaza)! Andy Dwyer (Chris Pratt! Ben Wyatt (Adam Scott)! Chris Traeger (Rob Lowe)! Donna Meagle (Retta)! and Garry Gergich (Jim O'Heir)! They all get together tonight, but due to social distancing, they are all apart. How are the married couples going to do that? You just have to see how they explain it. That and to see what everyone else in Pawnee is up to after all of these years.
The episode starts off with Leslie talking to her husband, Ben, on Facetime. When she gets off the phone with him, it is time for her to start her phone chain. Her first call is to Ron, and he is thrilled to see her. Well, as thrilled as Ron can get. When he gets off the phone with her, it is time to move on to the next person. Then the chain keeps on going until someone has to talk to Gary.
In between phone calls, they appear on TV shows because Leslie wants the townspeople to know some of the dangers of being home all the time can have on a person's mentality.
Eventually, they all get on Zoom and we get the best moment from the enjoyable episode. The type of episode you can and should watch with your whole family. You don't have to be a fan of the show to adore tonight's special.
Show creator Mike Schur says it only took 45 minutes to get everyone on board to do it. What got them all to say yes so quickly? He says, "Like a lot of other people, we were looking for ways to help and felt that bringing these characters back for a night could raise some money,"
The show is raising money for Feeding America's COVID-19 Response Fund. State Farm and Subaru of America will each make matching donations of $150,000, while NBC and Parks & Rec will match $500,000 in donations up until May 21st.
What more do you need to watch?

---
Does this mean Chris Pratt is going to be Governor of California?
June 9th, 2019 under Chris Pratt. [ Comments: none ]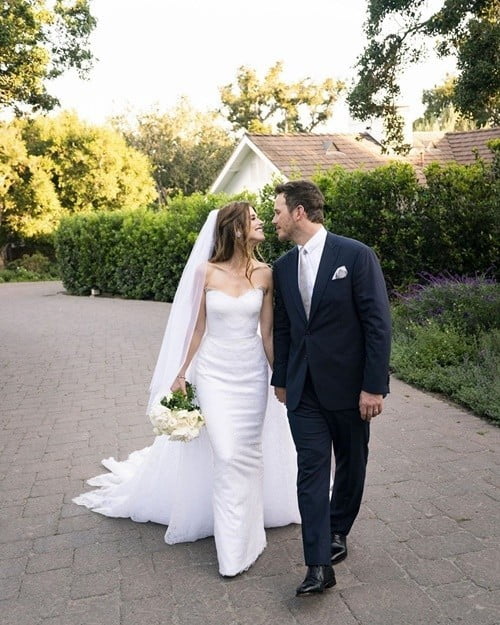 Chris Pratt and Katherine Schwarzenegger got married yesterday in Montecito, California in front of friends and family including his 6-year-old son Jack with Anna Faris according to People.
The newlyweds shared the same message of social media, "Yesterday was the best day of our lives!
"We became husband and wife in front of God, our families and those we love. It was intimate, moving and emotional. We feel so blessed to begin this new chapter of our lives. We are so thankful to our families and our friends who stood with us and grateful to Mr. Giorgio Armani who created a once in a lifetime dress for Katherine to wear
and for me, the perfect suit. This morning we feel nothing but blessed."
The couple started dating about a year ago and got engaged in January.
The last time an actor married a Kennedy, he, her father Arnold Schwarzenegger, became governor of California.

---
James Corden goes to Space Camp with Will Arnett and Chris Pratt
January 21st, 2019 under Chris Pratt, James Corden, Will Arnett. [ Comments: none ]

You don't have to be an astronaut to go to Space Camp, you just have to play one on the big screen. That is what Will Arnett, Chris Pratt and Elizabeth Banks are going to do The Lego Movie 2: The Second Part.
Since they really did not go to Space, James Corden thought it would be fun to take them Space Camp for his Late Late Show. How did they do? I think the only way those four will get on a rocket for real is if it is a fake one for a movie like Pratt in Guardians of the Galaxy and Passengers.
They might be able to harmonize Elton John's Rocket Man perfectly, but that does not make them rocket men.

---
Does this mean Chris Pratt will be Governor in California?
January 14th, 2019 under Chris Pratt. [ Comments: none ]

Chris Pratt proposed to Katherine Schwarzenegger and she said… Well, here is what he said, "Sweet Katherine, so happy you said yes! I'm thrilled to be marrying you. Proud to live boldly in faith with you. Here we go! 💍🙏♥️"

She is marrying a man like her father, Arnold Schwarzenegger because Pratt is also a comedic action star. Which makes you wonder if someday, he too will become a governor of California like his future father in law? After all, he is marrying a Kennedy like Arnold did.

The two were first seen together in June. This will be his second marriage, he was previously married to Anna Faris and they share a son together, 6-year-old Jack.

---