Does this mean Chris Pratt is going to be Governor of California?
June 9th, 2019 under Chris Pratt. [ Comments:

none

]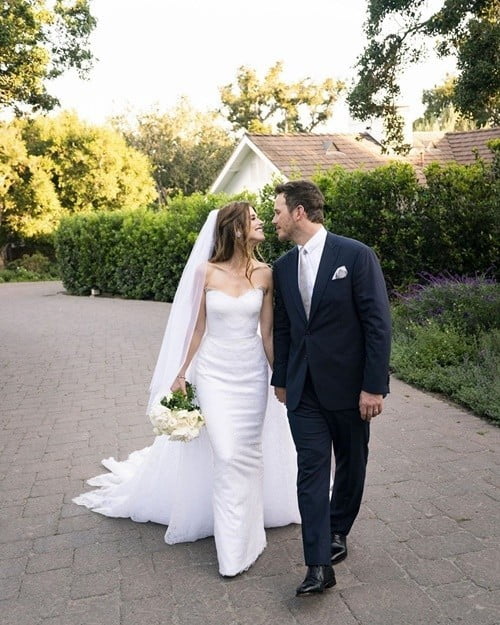 Chris Pratt and Katherine Schwarzenegger got married yesterday in Montecito, California in front of friends and family including his 6-year-old son Jack with Anna Faris according to People.
The newlyweds shared the same message of social media, "Yesterday was the best day of our lives!
"We became husband and wife in front of God, our families and those we love. It was intimate, moving and emotional. We feel so blessed to begin this new chapter of our lives. We are so thankful to our families and our friends who stood with us and grateful to Mr. Giorgio Armani who created a once in a lifetime dress for Katherine to wear
and for me, the perfect suit. This morning we feel nothing but blessed."
The couple started dating about a year ago and got engaged in January.
The last time an actor married a Kennedy, he, her father Arnold Schwarzenegger, became governor of California.
---
James Corden goes to Space Camp with Will Arnett and Chris Pratt
January 21st, 2019 under Chris Pratt, James Corden, Will Arnett. [ Comments:

none

]

You don't have to be an astronaut to go to Space Camp, you just have to play one on the big screen. That is what Will Arnett, Chris Pratt and Elizabeth Banks are going to do The Lego Movie 2: The Second Part.
Since they really did not go to Space, James Corden thought it would be fun to take them Space Camp for his Late Late Show. How did they do? I think the only way those four will get on a rocket for real is if it is a fake one for a movie like Pratt in Guardians of the Galaxy and Passengers.
They might be able to harmonize Elton John's Rocket Man perfectly, but that does not make them rocket men.
---
Does this mean Chris Pratt will be Governor in California?
January 14th, 2019 under Chris Pratt. [ Comments:

none

]

Chris Pratt proposed to Katherine Schwarzenegger and she said… Well, here is what he said, "Sweet Katherine, so happy you said yes! I'm thrilled to be marrying you. Proud to live boldly in faith with you. Here we go! 💍🙏♥️"

She is marrying a man like her father, Arnold Schwarzenegger because Pratt is also a comedic action star. Which makes you wonder if someday, he too will become a governor of California like his future father in law? After all, he is marrying a Kennedy like Arnold did.

The two were first seen together in June. This will be his second marriage, he was previously married to Anna Faris and they share a son together, 6-year-old Jack.
---
The reason why Thandie Newton did not need a merkin for Westworld
May 28th, 2018 under Chris Pratt, Graham Norton, HBO Max. [ Comments:

none

]

Thandie Newton was on The Graham Norton Show last week and he wanted to know why she refused to wear a merkin for her nude scenes in Westworld. She told him, unlike most actresses she did not need one because she does not alter anything down there. Translation, she has a "full '70s bush" down there. Since it is a period show, she needed to be au naturel in her lady parts. Meaning no wax, no Brazilians, no landing strips and definitely no vajazzling.
That was not the only reason for her hairy cat. Believe it or not, it takes 45 minutes to put on a crotch wig. She just wanted to get home to be with her 2-year-old son instead of having someone put on the fake hair where there is no real hair. Can anyone blame her? Imagine the conversations you have with the people putting it on you. So what did you eat for lunch? Fish?
Due to her confession, Chris Pratt also revealed something about himself. Ladies, he is pro-bush, and I am not talking about the former presidents. Therefore, if you want to date him, make sure your bottom looks like his top.
---
Chris Pratt and Chris Stapleton have the time of their lives
December 5th, 2017 under Chris Pratt. [ Comments:

none

]

Chris Pratt hosted Jimmy Kimmel Live yesterday, since the host was off to be with his 7-month-old son who had his second successful heart transplant.
Anyways, the Everwood star decided to give the show a lift by singing a duet with Chris Stapleton. Not just any ordinary song, (I've Had) the Time of My Life with Chris Stapleton. Shockingly it actually worked as their voices harmonized as one. Now, how did it go when they recreated that infamous lift from Dirty Dancing which was seen as that song was playing in the beloved film? It is something you have to see to believe and even then you might not believe it.
---