The Boys spinoff Gen V looks bloody awesome
July 24th, 2023 under Prime Video. [ Comments: none ]
They say good things come to those who wait. And we are getting a good thing because we have been waiting patiently for the delayed The Boys spinoff Gen V.
Godolkin University is America's only college exclusively for young-adult superheroes (run by Vought International). From the world of The Boys comes Gen V, which explores the training of the first generation of superheroes to know about Compound V, and that their powers were injected into them rather than God-given. These young, competitive heroes put their physical and moral boundaries to the test, competing for the school's highly coveted top ranking. They quickly come to learn that ambition comes with sacrifice, and the difference between right and wrong is not as clear as they once believed. When the university's dark secrets come to light, the students must come to grips with what type of heroes they are going to become.
The series stars Jaz Sinclair, Chance Perdomo, Lizze Broadway, Shelley Conn, Maddie Phillips, London Thor, Derek Luh, Asa Germann, Patrick Schwarzenegger, Sean Patrick Thomas, and Marco Pigossi.
Gen V comes to Prime Video with its first three episodes on September 29th.

---
With Love's Vincent Rodriguez III reveals how he prepares for shirtless scenes
June 14th, 2023 under Crazy Ex-Girlfriend, Prime Video. [ Comments: none ]
Vincent Rodriguez III is no stranger to topless scenes, thanks to Crazy Ex Girlfriend and With Love.
Therefore, he knows how to prepare for one. And now he is sharing his secret to making sure his six-pack abs look like a 12-pack. What is it? He does several push-ups right before he films the sexy scene.
Want to know if it works; then you can watch the second season of the romantic comedy on Prime Video now. I've seen it, and it does!

---
Jury Duty's Ronald Gladden finally got the hug he needed
May 10th, 2023 under FreeVee, Prime Video, Ryan Reynolds. [ Comments: none ]
In case you missed it. FreeVee did a show called Jury Duty which was an 8-episode prank show on one person. That person was Ronald Gladden, and he believed he was serving on a jury even though it was the weirdest case with the craziest scenarios that the producers could come up with. To make it more believable, everyone was an actor except him, including James Marsden, who played himself.
Well, the filming has been over for a while, but Gladden still feels like the cameras are watching him. So much so, he has trust issues.
When Ryan Reynolds heard his story, he knew he was the person to help the juror trust people again. So the actor asked the non-actor to do a Mint Mobile commercial with him. And then Deadpool gave him the hug he so desperately needed. Hopefully, that hug helped Gladden trust people again. I know I would if he hugged me like that, I would be trusting of everyone.

---
Amazon Freevee is looking for the GOAT of reality shows
May 1st, 2023 under FreeVee, Prime Video. [ Comments: none ]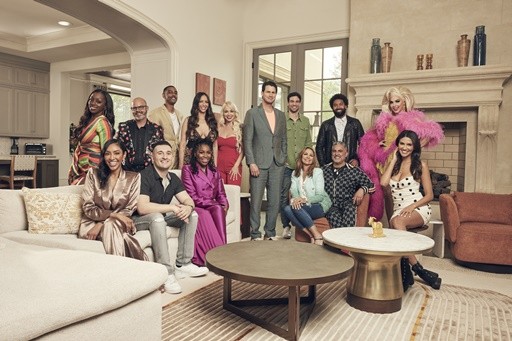 Amazon Freevee has invited 14 reality show contestants to compete on The GOAT to determine who is the greatest of all time.
The contestants will live in GOAT Manor, along with host Daniel Tosh. While they are there, they will face a series of mental, physical, and social challenges. By the end of the competition, there will be only one winner holding the rose with a lit tiki torch. And that person will be a lot richer.
Here are the 14 contestants trying to prove they are The GOAT:
Tayshia Adams (The Bachelor franchise)
Joe Amabile (The Bachelor franchise, Dancing with the Stars)
Kristen Doute (Vanderpump Rules)
Reza Farahan (Shahs of Sunset)
CJ Franco (FBoy Island)
Wendell Holland (Survivor)
Teck Holmes (The Real World, The Challenge)
Justin Johnson/Alyssa Edwards (RuPaul's Drag Race)
Paola Mayfield (90 Day Fiancé)
Da'Vonne Rogers (Big Brother, The Challenge)
Joey Sasso (The Circle, Perfect Match)
Jason Smith (Holiday Baking Championship)
Lauren Speed-Hamilton (Love Is Blind)
Jill Zarin (The Real Housewives of New York City)
Who do you think is the GOAT? Since I don't watch any one of those shows, I don't know who any of them are.
The reality show is filming in Atlanta and will debut later this year.

---
The Marvelous Mrs. Maisel begins her final set today, and what a set it is
April 14th, 2023 under Prime Video. [ Comments: none ]
The Marvelous Mrs. Maisel begins her final bow on Prime Video today, and the comedy gives a performance that is worthy of a standing ovation.
The season premiere picks up shortly after the last season left off, and our favorite female comedian has gone missing after she said goodbye to Lenny Bruce. She is alone in the freezing cold temperatures of NYC, and no one knows where she is. And since it is the first episode of the season, you know she will come home because otherwise, that is the end of the show.
And that is as much summarizing as I will do like that and sum up the season as a whole. The show makes a big change this go around. They have added flashforwards to every episode. So we will see what happens to everyone in the future.
We find out what Miriam (Rachel Brosnahan) and Joel's (Michael Zegen) kids, Esther and Ethan, are like as adults, in spite of their family.
But you don't care about them as much as everyone else. But I am not going to tell you about their future because, spoiler alert!
What I will tell you is that Midge gets a job as a writer on Gordon Ford's (Reid Scott) late night talk show. She took the job so she could get on the show. However, there is a rule that no employee of the show can be on it. But she doesn't care, and she will do whatever she can to do standup on the program.
She will get her manager Susie (Alex Borstein), to work her magic to make it happen. And Susie will try, but she has her other clients too. She is so busy with them she will make Midge take one of them to the airport. And how can Midge say no to Susie?
Midge also can't say no to her parents (Tony Shalhoub and Marin Hinkle). They are busy with their jobs. Although, Rose is having problems with her matchmaking service that only Frank (Erik Palladino) and Nick (John Scurti) can fix.
As much as Joel will like to fix his parents (Kevin Pollak and Caroline Aaron), he won't be able to do it. No one can fix them.
And you know what doesn't need fixing? This season. It is the show's best one yet. There will be a wedding, a roast, standup, bad choices, laughs, tears, and so much more. All leads to the final scene, which is the perfect end for a series that brought us so much joy.
Seriously, it is the best series finale in a really long time. Unfortunately, that episode doesn't air on May 26th. So until then, you can watch the first three episodes today and a new one every Friday until we get that final goodbye.

---