Dolly Parton and Garth Brooks are finally working together
March 29th, 2023 under Dolly Parton, Garth Brooks and Trisha Yearwood, Prime Video. [ Comments: none ]
Dolly Parton and Garth Brooks are two of the biggest names in Country music. But they have never worked together until now. On May 11th, they are going to host The 58th Academy of Country Music Awards on Prime Video.
Brook said of his co-host, "Anyone with Dolly Parton makes a fantastic couple."
"I am thrilled to return to host the ACM Awards, this time with my friend Garth," said Parton. "While I've had the pleasure of spending time with him throughout the years, I can't believe we've never had the chance to work together."
And I am sure every artist in that auditorium can't believe their two icons are going to be up on the stage hosting the show.
Parton said she is going to debut a single from her Rock album at the show. But I would rather she did a duet with Brooks. Although, if it is Rock, maybe it should be with Chris Gaines. Remember him?

---
Kim Basinger is ready to relive 9 ½ Weeks
March 17th, 2023 under Prime Video. [ Comments: none ]
Back in 1986, everyone was obsessed with the erotic movie 9 ½ Weeks with Kim Basinger and Mickey Rourke. It opened a whole new world of sexuality for so many couples.
And now, a new generation can do the same because Daily Mail is reporting that Prime Video is remaking the film as a 10-part series with Kim Basinger.
However, the actress won't be reprising her role. Instead, she will be playing a college professor. And that totally sucks because she could still play the temptress.
The series is expected to begin filming this summer. Hopefully, it will be just as sexy. If they tone it down, then they shouldn't remake it because it should be all about taboo sex.

---
The Marvelous Mrs. Maisel goodbye tour begins on April 14th
March 2nd, 2023 under Prime Video. [ Comments: none ]
We know that The Marvelous Mrs. Maisel is ending this season, but we didn't know when we were going to see those final episodes. Now, we do.
Prime Video will debut three episodes on April 14th, and then we will get one a week until the series final on May 26th.
What can we expect? After burning bridges and being cut from tour, Midge Maisel persisted through Season Four, rebuilding her career and reputation. The final moments of the season culminated with Midge leaving Carnegie Hall reinvigorated and ready to weather any blizzard. After an epiphany in front of The Gordon Ford Show's snowy billboard, Midge is ready to "Go forward" and fight for her ascent to stardom – equipped with her quick wit and sharp tongue, and nothing else to lose.
In the fifth and final season, Midge finds herself closer than ever to the success she's dreamed of, only to discover that closer than ever is still so far away.
Since this is their last chance to go as big as they want, I think they are going to go enormous. And I can't wait to watch every second of the mishigas.

---
The Power will make you afraid of teenage girls
February 23rd, 2023 under Prime Video. [ Comments: none ]
My niece just turned 14, and I am already scared of her moods that change at the drop of a hat.* However, think of how much worse it would be if she had the power to make electricity with her hands. One tantrum, and I would be dead.
The Power, which debuts March 31st on Prime Video, is going to show us what that would be like.
The series is our world, but for one twist of nature. Suddenly, and without warning, teenage girls develop the power to electrocute people at will. The series features a cast of remarkable characters from London to Seattle, Nigeria to Eastern Europe, as the Power evolves from a tingle in teenagers' collarbones to a complete reversal of the power balance of the world.
As someone who was a teenage girl, I can tell you we don't need that power. However, we would love it. Mom, can I stay out all night with the guy I just met? Dad, can I have a car even though I don't have my driver's license? Teacher, you want to fail me? If I didn't get the response I wanted, I would turn on my electrifying hands until I did.
So, in other words, I cannot wait to watch The Power!
*I am lying for effect, and I love my niece, who is tolerable for her age!

---
Prime Video is turning into a Sausage Party
October 26th, 2022 under Prime Video, Seth Rogen. [ Comments: none ]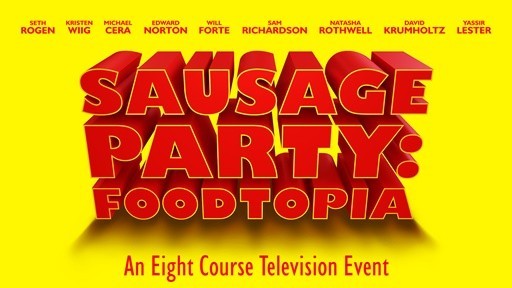 Did you watch the 2016 movie Sausage Party and think this would make a great series? Well, you are not alone. Prime Video thought the same thing, so they are giving its own show in 2024.
Sausage Party: Foodtopia will include the film's stars Seth Rogen, Kristen Wiig, Michael Cera, David Krumholtz, and Edward Norton, with the additions of Will Forte, Sam Richardson, Natasha Rothwell, and Yassir Lester voices.
I can't wait to watch it with my nieces. Although, by 2024, they will be old enough to get the jokes. Damn it. Can't the animators draw faster?

---