Sometimes it is just Black and White
June 5th, 2019 under Jack Black. [ Comments:

none

]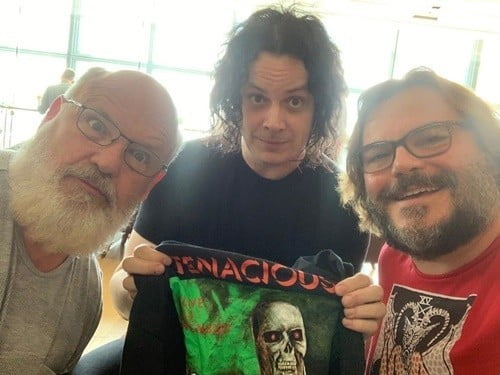 Jack Black and Jack White are both musicians, so you would think that the two of them would have crossed paths several times over. Believe it or not, they finally just met in living color. Although, you would think with those two it would just be black and white.
The two Jacks should become a duet and call themselves…Tenacious Stripes. What did you think I was going to say?
---
Jack Black sings in his sleep
March 21st, 2019 under Jack Black. [ Comments:

none

]

Some people talk in their sleep, others sleepwalk or eat, but Jack Black sings in his. The actor is back on the set of Jumanji and he took a much-needed nap between scenes.
When Karen Gillian heard some strange singing going on in the tent, she went inside to investigate what was going on. Then she realized it was Black, so she took out her phone to document what was going on. Because if there is no video of it, did it really happen.
Once her camera was recording, she wanted to see if he took requests. He wasn't feeling The Rolling Stones, so it didn't hurt for someone to throw out another band. That person said Culture Club and he started singing Do You Really Want to Hurt Me?. Then the sleeping actor wanted to know if that song was from Boy George's band. After he got the affirmation that it was, he made the cutest smile.
As my dad would say, even his sleep, he is on.
BTW I hope no one tells The Rock or Kevin Hart about this because you know that they will find ways to prank him as he sleeps sing.
---
BTWF: Jack Black in Demolition Man
August 29th, 2018 under Before They Were Famous, Jack Black. [ Comments:

none

]

Before Jack Black demolished people in Nacho Libre, he was sort of seen in Demolition Man. He looks the same now as he did when he was 23 in that 1993 movie.
---
Is Jack Black really 49?
August 28th, 2018 under Are they really their age?, Jack Black. [ Comments:

none

]

Today is Jack Black's 49th birthday and he is spending it laying out in the sun, drinking white wine. It is his day, he can do it however he wants.

Especially because he does not look nor act his age. Would we have it any other way?

Doesn't he look sexy posing like that? So hot!
---
Nick Jonas and Jack Black's Jumanji theme song gets a music video
December 18th, 2017 under Jack Black, Jonas Brothers, The Rock. [ Comments:

none

]

For weeks, we have been hearing how Nick Jonas and Jack Black wrote a theme song for their movie Jumanji also starring The Rock, Karen Gillan and Kevin Hart. Today, they released the music video for it and well, I do not know what to say about it. So I will just go with what DJ posted on Instagram:
When @jackblack and @nickjonas told us that they wrote the theme song for #JUMANJI and even shot a music video… I thought 'this is gonna be some Grammy-type sh!t'. Turns out it was the other kind of sh!t 💩. But honestly, as producer of the movie…. I kinda liked it. I mean I'm not gonna pull our @gunsnroses Welcome to the Jungle theme song, but this song ain't complete dog sh!t either."
OK, maybe I will go with what Gillan and Kart said because that is some elephant-size 💩 that is better serving as a theme song for Pitfall, the game that Black did a commercial for in the '80s. And yet, like DJ, I kind of liked it too.
When it comes to how Jonas feels about this tune, he Tweeted, "I would certainly put this in some of my finest songwriting work. #proud #jumanji #iwritesongsitswhatido." Considering how bad the Jonas Brothers songs are, he might be spot on. But is that really saying anything?
What did you think of Jumanji: Jumanji? Do you think they should stick with Jumanji: Welcome to the Jungle? Are you going to see the movie when it comes out on Wednesday?
---