Wait, Supermarket Sweep is not filmed in a real supermarket?
October 1st, 2020 under ABC, Leslie Jones. [ Comments: none ]

On October 18th, Supermarket Sweep is back on ABC with Leslie Jones as the host. Since the show has not done any new episodes since 2003, they had to find a new supermarket to hold the sweep in. Well, as you can see, it is not a real supermarket, it is on a set.
Today, ABC released a video of them building the shopping store for the game show. Sadly, we learned that there is a reason why they say everything in Hollywood is fake.
The next thing I will find out, is that Superstore is not shot in an actual big box store. Oh wait, I know the answer to that one. It isn't. And Big Brother is not filmed in a real house. See nothing in real.
What is real is that it is really cool to see them create the supermarket on a soundstage. Even if reality TV is fake. Welcome to LA!

---
Leslie Jones shares how she found out she landed SNL
January 31st, 2020 under Leslie Jones, Seth Meyers. [ Comments: none ]

Leslie Jones was on Late Night yesterday, and Seth Meyers wanted to know where she was when she found out that she was joining Saturday Night Live. That was when she told him the wild story of how it happened. You know it is going to be good when she lets out a huge laugh before she tells it.
She went in all cocky, thinking she was at the top of her game. Which at the time, she was for what she was doing. After spending a week watching how they did the show, she really wanted to be part of it.
When the week was over, she went back to LA and waited for their call. Well, not really. She went on her with her normal routine. As she was driving to get her nails done, she kept getting calls from a 212 number. She thoought they were going to tell her she didn't get the job. As soon as she parked, she decided to pick up the call. The voice, on the other end, told her that Lorne Michaels was on the phone for her. Michaels told her, he wanted her to start out as a writer because he did not know what to do with her just yet.
Then when they got off the phone, she got out of her car and ran around the parking lot, screaming like a maniac. The security guard stopped her to find out what was wrong with her. She told him she got SNL, and he wanted to know if it was a disease.
Jones can make any boring story exciting. Just likeb she does on her standup special that is on Netflix now

---
Leslie Jones will spend her Saturday Nights at the Supermarket
August 28th, 2019 under Leslie Jones. [ Comments: none ]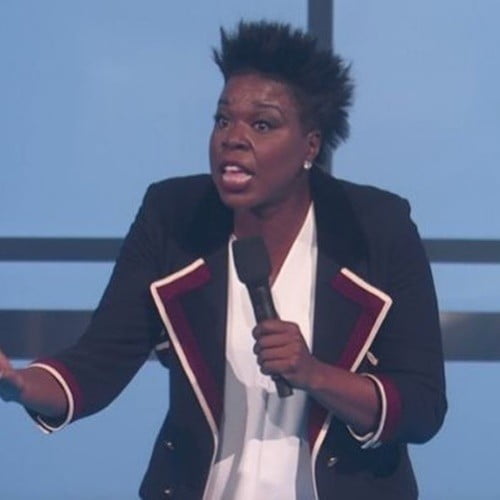 Less than 24 hours ago, we found out that Leslie Jones was leaving Saturday Night Live. Today, we found out what she will be doing next. Deadline Hollywood reports that she has signed on to host the reboot of Supermarket Sweep.
The show, that has been rebooted several times over the last 50 years, does not have a home yet. However, there are several networks who are interested in winning it. I just see all the execs running through the supermarket trying to get as many hams as possible to win the show. If you don't get that reference, then you missed out on the awesome game show.
I cannot wait to see what they do with it. Maybe, now that I am old enough, I will try out for the show. Who wants to be my partner?

---