Andrew Rannells spills the tea on his diner with Patti LuPone and Glenn Close
June 25th, 2020 under Andrew Rannells, Andy Cohen, Glenn Close, Jon Hamm, Patti LuPone. [ Comments: none ]

A few weeks ago, when Patti LuPone was on Watch What Happens Live, she talked about the fateful night she had with Andrew Rannells, Jon Hamm, and her sworn enemy Glenn Close.
The two legendary actresses do not get along because LuPone was slated to play the lead in Sunset Boulevard, but they gave the role to Glenn Close instead. Needless to say, since then Lupone has not been a fan of Close's.
So what happened when the two ladies got close to each other on a night out in Manhattan. According to LuPone, she warned her friend Jon Hamm that he better not f*ck her.
That was towards the end of that night, a night we all wish we could have been a fly on the wall. While we were not, Rannells was. Yesterday, when he was on WWHL, he gave some more details to Andy Cohen about what happened inbetween their chance meeting until the threat.
He says the three of them were out at a restaurant, and they went to talk to some friends. When they got back to the booth, Close was sitting there all by herself. The three joined her and chatted for a while. Since both divas are ladies, they acted civilly towards each other. However, you could feel the tension between them.
He probably felt it because LuPone kept saying to him that Close better not try to f*ck Hamm or that she would lose it. No one lost anything that night, but Rannels had a night he will never forget.
I can't wait to hear what Hamm has to say about it. He better ham it up for the cameras!
I also hope that some big Broadway producer casts LuPone and Close in a revival of Whatever Happened to Baby Jane. Ryan Murphy would have the next Feud unfold before our very eyes.

---
Patti LuPone threatened Jon Hamm about f*cking Glenn Close!
April 28th, 2020 under Andrew Rannells, Andy Cohen, Glenn Close, Jon Hamm, Patti LuPone. [ Comments: none ]

Patti LuPone was on Watch What Happens Live yesterday and she was spilling the tea to Andy Cohen. The actress said that Barbra Streisand is 50 years too old to play Gypsy, the time she destroyed a dressing room when she got fired from a play in London, and what she thought of playing Madonna's mother in Evita.
My favorite spilled tea is when she talked about how Glenn Close crashed her get together with Jon Hamm and Rannells. The three of them were having drinks in Manhattan when Close came over and sat next to the Mad Men star. After the Fatal Attraction star left, LuPone said to Hamm, "If you f*ck her, I will never speak to you again." With that stern warning, he did not go home with her. Which is a good thing because who wants her rabbit soup.
Talking about vengeance, why is LuPone so hasty towards Close? My friend Michael gave me the deets. Close was starring as Norma Desmond in Sunset Boulevard in Los Angeles, and she was a huge hit. So much so, they asked her to do the role on Broadway. There was only one problem, LuPone was already offered the role. Therefore, LuPone found out she was fired in the papers, and because of that, she is not a fan of Close.
I think the two should kiss, makeup, and star in a Broadway rendition of Whatever Happened to Baby Jane. I would pay a lot of money to see that pairing.

---
Who doesn't want to be part of this Conga Line?
December 2nd, 2019 under Dylan McDermott Dermot Mulroney, Patti LuPone. [ Comments: 1 ]

I don't know about you, but I cannot remember the last time I was part of a Conga Line. However, Dylan McDermott can tell you the last time he had his hands on someone's shoulders and who was shaking their tuchas in front of him.
It was Thanksgiving with Patti LuPone, Nathan Lane and Joe Mantegna leading the way. No matter how hungry you are, there is always time for a Conga. Come on, shake your body baby, do the Conga.
Now, I remember the last time I did the group dance, I was in Miami at a Christmas party. We were all having a blast. That and we were all drinking the special egg nog.
This holiday, get your friends and family to join in and do a Conga Line or the Bunny Hop. It will break whatever tension is going on. Let's be honest; there is always tension that needs to be broken up during the holidays!

---
A mini Life Goes On reunion
November 20th, 2019 under Patti LuPone, Uncategorized. [ Comments: none ]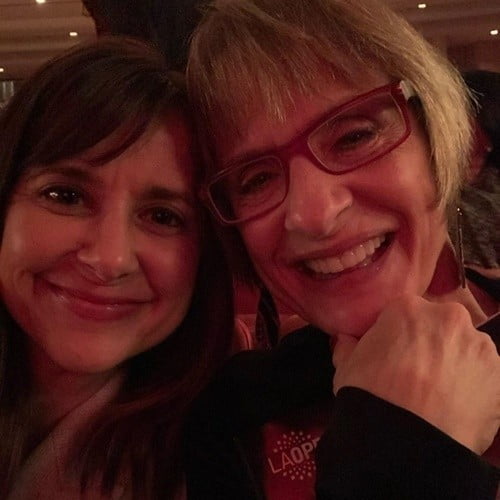 Back in 1989, Kellie Martin was hired to play Patti LuPone's daughter on the family drama Life Goes On. Thirty years later, they look just as close. So much so, I can't understand why they don't bring it back for a revival. Who doesn't want to see where the Thatchers would be today? I want to know how Corky is doing.
If no one will give us a revival, how about airing repeats in syndication?

---
Madonna is not high flying adored by Patti LuPone
May 10th, 2017 under Andy Cohen, Madonna, Patti LuPone. [ Comments: none ]

Before Madonna played Evita in the 1996 movie, Patti LuPone originated the role on Broadway in 1979. Yesterday, while the legendary actress was on Watch What Happens Live someone called in and asked her if Madge and her ever had a conversation about playing the same iconic role.
Lupone said that the two of them spoke only once and all the singer said to her was, "I'm taller than you." Then Andy Cohen asked his guest what she thought of the taller actress in Evita. This is where it gets good, oh so very good. LuPone told him, "I was on the treadmill, you know when MTV had videos, right, and I saw I believe it was Bueno Aires and I thought it was a piece of sh!t." Then she continued on, "Madonna is a movie killer. She is dead behind the eyes, she cannot act her way out of a paper bag, She should not be in film or on stage." Don't cry for Madonna because it is true. Did you see Swept Away? That is one of the worst movies ever made, like Top 5 worst movies ever made.
LuPone wasn't all negative about her because she also said, "She is a wonderful performer for what she does, but she is not an actress. Bang!" Madonna definitely felt that bang, we felt that bang.
Ob la di, ob la da life goes on, and it goes on so much better thanks to LuPone's brutal and accurate honesty. Can anyone deny that what she said isn't the truth?

---