Seth Rogen, is that you?
May 10th, 2021 under Mötley Crüe, Pamela Anderson, Sebastian Stan, Seth Rogen. [ Comments: none ]
We know that Lily James and Sebastian Stan are playing Pamela Anderson and Tommy Lee in the Hulu movie based on their marriage. Now, we are seeing what Seth Rogen looks like as the electrician who sold their infamous sex tape. At least I think it is Seth Rogen because he is unrecognizable.
I normally never say this, but he needs to grow back his beard ASAP. Without one is not a good look on him.
To see what James and Stan look like as Pam & Tommy, then click here!

---
Pamela Anderson tries to bribe Donald Trump into pardoning Julian Assange
December 8th, 2020 under Donald Trump, Pamela Anderson. [ Comments: 1 ]

It has been alleged that people tried to bribe the White House with large sums of money for a pardon. Pamela Anderson decided to use her special skills to get Donald Trump's attention.

The actress put on a bikini and asked him to pardon her friend Julian Assange. Did it work? We find out in the next 43 days. That's right, in 43 days, he will finally be out of the White House for good. It cannot come soon enough.

---
Pamela Anderson shows off airport chic!
July 22nd, 2020 under Pamela Anderson. [ Comments: none ]

Back in the olden days, 2019, we went to the airport dressed in jeans, a t-shirt, and sneakers. That is so last year.

In 2020, we have new accessories added to our wardrobe when we travel. Now, we are all donning masks when we get on the plane. Most of us just wear a cloth one, but Pamela Anderson is more fashionable than us. She is showing off the plastic face shield that goes with everything and gives her even more protection from those evil COVID-19 particles. Doesn't she look fabulous? You can get your own at any Lowe's, Staples, or you can order it on Amazon.

---
Pamela Anderson's latest marriage lasted 12 days
February 1st, 2020 under Pamela Anderson. [ Comments: none ]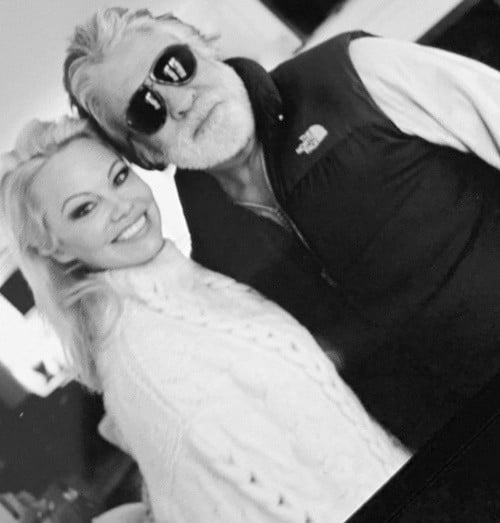 Pamela Anderson has had so many quickie marriages, it is hard to keep track of them all. She was married to Tommy Lee, Kid Rock, Rick Salomon, twice, and now Jon Peters. The actress secretly married the latter on January 20th and she announced today that the marriage is over.
She told The Hollywood Reporter, "I have been moved by the warm reception to Jon and my union. We would be very grateful for your support as we take some time apart to re-evaluate what we want from life and from one another. Life is a journey and love is a process. With that universal truth in mind, we have mutually decided to put off the formalization of our marriage certificate and put our faith in the process. Thank you for respecting our privacy."
The two previously dated over 30 years ago. I wonder who will be the 5th bad boy she says I do and how short their marriage will last.

---
Imagine what Kim Kardashian and Pamela Anderson talked about?
September 11th, 2017 under Pamela Anderson, The Kardashians. [ Comments: none ]

Pamela Anderson and Kim Kardashian are more known for not wearing any clothes than for actually wearing any. The two women are also known for their sex tapes, posing for Playboy and multiple husbands. Therefore, imagine what the two of them talked about when they were in an elevator together during New York Fashion Week? I think the Baywatch Beauties face says it all! Don't you?

---