Pamela Anderson's latest marriage lasted 12 days
February 1st, 2020 under Pamela Anderson. [ Comments:

none

]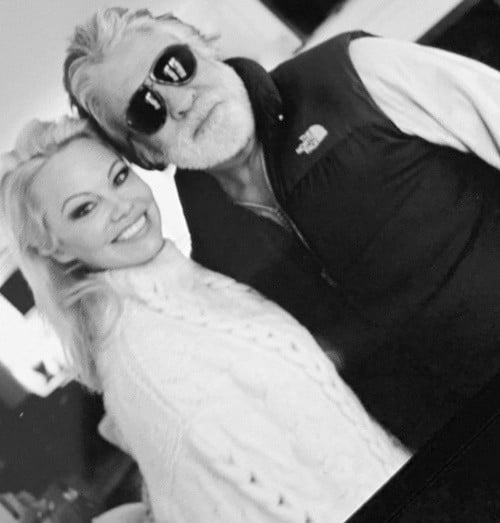 Pamela Anderson has had so many quickie marriages, it is hard to keep track of them all. She was married to Tommy Lee, Kid Rock, Rick Salomon, twice, and now Jon Peters. The actress secretly married the latter on January 20th and she announced today that the marriage is over.
She told The Hollywood Reporter, "I have been moved by the warm reception to Jon and my union. We would be very grateful for your support as we take some time apart to re-evaluate what we want from life and from one another. Life is a journey and love is a process. With that universal truth in mind, we have mutually decided to put off the formalization of our marriage certificate and put our faith in the process. Thank you for respecting our privacy."
The two previously dated over 30 years ago. I wonder who will be the 5th bad boy she says I do and how short their marriage will last.
---
Imagine what Kim Kardashian and Pamela Anderson talked about?
September 11th, 2017 under Pamela Anderson, The Kardashians. [ Comments:

none

]

Pamela Anderson and Kim Kardashian are more known for not wearing any clothes than for actually wearing any. The two women are also known for their sex tapes, posing for Playboy and multiple husbands. Therefore, imagine what the two of them talked about when they were in an elevator together during New York Fashion Week? I think the Baywatch Beauties face says it all! Don't you?
---
Is Pamela Anderson starting to look her age?
March 7th, 2017 under Pamela Anderson. [ Comments:

none

]

Pamela Anderson is a few months away from turning 50, and yet the mother of two normally doesn't look anywhere near her age. Yesterday, she went to a fashion show at Paris Fashion Week, and she dressed demurely from head to toe. Meaning the thick eyeliner, darker makeup and flowing hair were all tamed for a softer appearance. It might make her appear a little older than normal, but it also makes her absolutely gorgeous. Like old school Hollywood. An image she should incorporate more often because it really suits her.
---
Pamela Anderson like you've never seen her before
October 23rd, 2016 under Pamela Anderson. [ Comments:

none

]

We are used to seeing Pamela Anderson with barely any clothes on to not having any clothes on, but here she is wearing more fabric on her than she wore during her whole run on Baywatch. Why is she looking like a lawyer she hires when she is divorcing one of her many husbands? We don't know, but it looks good on the anti-Porn activist. I don't get that either, no one does.
---
Pamela Anderson bathing suits up for the Baywatch movie!
April 21st, 2016 under Pamela Anderson, The Rock. [ Comments:

none

]

Pamela Anderson threw The Rock a life preserver today because she agreed to do his Baywatch movie. Like David Hasselhoff, who also does a cameo in it, she can't reprise her role because someone else is playing her part. At this point we don't know who she is playing or what she is doing, but I am sure it will be something memorable. Anytime you have Pamela Anderson and Baywatch together, you know it is going to be exciting.
Now that two of the original cast members have filmed scenes for the big screen version of Baywatch, who else would you like to see run in slow motion over to the feature?
---