Netflix is no longer hungry for the Santa Clarita Diet
April 27th, 2019 under Drew Barrymore, Netflix, Timothy Olyphant. [ Comments:

none

]

Santa Clarita Diet was a scrumptious show, but it was not yummy enough for Netflix to order a fourth season. The streaming service cancelled the show that was a different take on the Zombie story. Drew Barrymore ate some bad clams and she became a member of the walking dead. Instead of using her hunger for bad, she ate bad people. Her husband, Timothy Olyphant was very supportive of her in all ways. Except one, and that was become a Zombie too. That is until something happened and she has no choice to get a taste of him and that was the end of the show. In a way it felt like a natural conclusion, and yet I wanted more.
If Netflix keeps cancelling the shows I watch, I can't justify (no pun) paying the extra dollar. Especially when there are so many options coming out in the next year.
---
Who's a better kisser to Adam Sandler, Drew Barrymore or Jennifer Aniston?
April 26th, 2019 under Adam Sandler, Ellen DeGeneres, Friends (cast), Netflix. [ Comments:

none

]

Adam Sandler was answering Ellen DeGeneres' burning questions and she wanted to know which of his leading ladies is a better kisser, Drew Barrymore or Jennifer Aniston? Since he only plays a schmuck in movies, he rightfully answered that question by saying Chris Rock. Rock was not the answer to the previous question, so I guess the Water Boy did not want to leave the Diva out. Well, Rock is not as big as a Diva as David Spade according to Sandler. The more you know.
Another reason why Sandler might not have answered the question is that he has a Netflix movie coming out with Aniston on June 14th. If he said Barrymore that would not have been the only Murder Mystery in Jen's life.
To see the trailer for Murder Mystery, then click here!
---
Santa Clarita Diet's third season is very charming!
March 29th, 2019 under Drew Barrymore, Netflix, Timothy Olyphant. [ Comments:

none

]

Santa Clarita Diet is back for a third season on Netflix today and it is so delicious. You don't have to be a Zombie to want to eat up this show.
The season premiere picks up the next day and Sheila (Drew Barrymore) and Joel Hammond (Timothy Olyphant) are dealing with the repercussions from the night beforehand. You know when their cop neighbor (Natalie Morales) finds them burying a body and holding Gary's (Nathan Fillion) talking head in the desert. Thankfully, she is a religious person and gets a sign, a huge explosion, and thinks that Sheila is a prophet. Therefore, Anne wants to help them now. But the couple cannot tell her Sheila is a Zombie. It is better for Anne if she just thinks that Sheila is invincible.
Talking about that explosion, Sheila and Joel's daughter, Abby (Liv Hewson) and her BFF Eric (Skyler Gisondo) are the ones who caused it. This season, they will have to do everything in their power not to be caught by the FBI who suspects them. All while trying to help her parents not get caught in general. That is a lot for any high school student to handle and yet they are much more mature than their parents.
If only trying to keep those secrets was all they had to deal with, but it is not. The Knights of Serbia have to come to Santa Clarita and they want to kill all the Zombies. Guess who is on their list? Sheila! She and Joel have to find a way to keep her secret from them as they try to find a way to kill her.
Then there is Ron (Jonathan Slavin), he wants to live forever too. Therefore, he comes up with a way to do it. What happens when he is one of the undead? He does things that will cause a lot of problems for everyone because he is Ron.
These are just a few of the many crazy things that happen this season on the endearing show, and you don't want to miss a single minute of it.
Did I mention Ball Legs is let out of the freezer and starts to run free? That will cause them to have a lot of explaining to do. Also, Linda Lavin has a great role in the series and it is her best role since Alice.
One more thing, pay attention to each episode because it all comes together for the season finale. It is a brilliant mapping of events and people that all lead to one moment that ties the whole season together.
Plus, a great final moment that sets up for next season. Which we better get Netflix.
---
Here's the dirt how Machine Gun Kelly transformed into Tommy Lee
March 28th, 2019 under Mötley Crüe, Netflix. [ Comments:

none

]

Machine Gun Kelly plays Tommy Lee in the Mötley Crüe biopic The Dirt on Netflix. Like the drummer, Colson Baker also has a shirt of tattoos. His ink is not like Lee's, so the makeup department had to cover it up everyday for the four month that they filmed the movie. Therefore, they put on a darker colored foundation on to hide his tats and then put a lighter one on to match Lee's paler skin. When they were done, you couldn't see any of Baker's markings.
But what about the infamous scene with the rocker running around the hotel with just his underwear? Baker had to sit in the chair even longer so that they could apply those tattoos over the two layers of makeup.
If you watched the movie, then you would be none the wiser that he had to go through all of that to look the way he did.
When it comes to the film, it was too sterilized for me. It felt like a Lifetime movie with nudity and cursing. That and there was too much narration. Let the story tell itself. Having said all of that, it is worth the watch whether you are a fan of Crüe or not.
---
Did Dame Helen Mirren diss Netflix?
March 19th, 2019 under Helen Mirren, Netflix. [ Comments:

1

]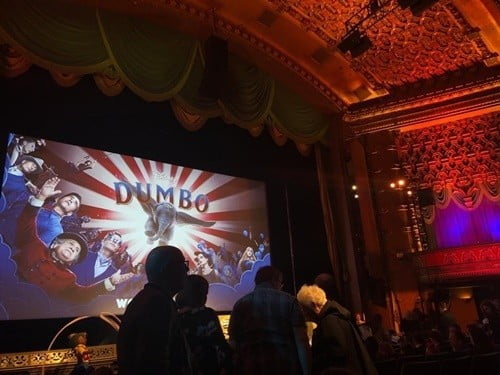 Dame Helen Mirren has a new movie in theaters this week and that is exactly where she saw Dumbo. Before the lights went down and the curtain went up, she said, "Netflix is great don't get me wrong but there is nothing like being in a beautiful theater waiting for the movie to begin with an audience, popcorn at the ready."
Can anyone argue with her? There are some movies that play better in a theater than at home. They need that experience with the powerful sound system that brings the sounds alive and an audience to laugh or cry with you. Personally, I prefer older movie theaters to newer ones. I love how dark they get and uncomfortable the seats are. They let you know that you are not at home, but in a place where movies are meant to be enjoyed.
I just wish they were cheaper. Who can afford to go to the movies these days? Which is why we see more of them on Netflix than in theaters.
---