Will & Grace says goodbye again on April 23rd
March 26th, 2020 under Debra Messing, Megan Mullally and Nick Offerman, Sean Hayes. [ Comments: none ]

We have known for a while that Will & Grace was ending again this season, and today we found out when it's sexond series finale is going to air. NBC announced that Will Grace and Jack and Karen will say goodbye to each other again on April 23rd.

Before, their final episode debuts, we will get a 30-minute retrospective hosted by Eric McCormack at 8:30p. It will feature clips from both runs along with comments from superfans like Norman Lear and Elton John.

Then at 9p, it is time for the finale "It's Time," with the apartment packed up, Will (Eric McCormack) is determined to not reminisce about his life in the city or his ex, McCoy (guest star Matt Bomer). Grace (Debra Messing), on the verge of giving birth, keeps having false alarms of going into labor. At the behest of Stan, Karen (Megan Mullally) goes to the top of the Statue of Liberty to get closure with her ex-husband. Jack's (Sean Hayes) dream of taking a bow on a Broadway stage becomes a very real possibility. Minnie Driver and Brian Jordan Alvarez guest star.

I wonder if in a few years, when they bring the show back for a third time if they will make Will and Grace's children disappear again?

I don't know about you, but I am sad to say sayonara to the sitcom again.

---
Has the Will & Grace cast changed a lot in 20 years?
December 20th, 2019 under Debra Messing, Megan Mullally and Nick Offerman, Sean Hayes. [ Comments: none ]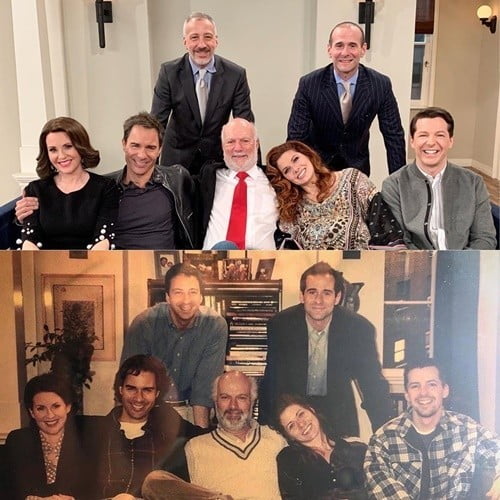 Back in 1998, Debra Messing, Eric McCoirmack, Megan Mullally and Sean Hayes got the job of a lifetime when they landed their roles on Will & Grace.
Twenty-one years later, they are still playing the same parts. However, not for much longer. That is because the sitcom is coming to an end.
Before they say goodbye, they shared a photo from the beginning of the show's run and one as they prepare to tape their last episode for a long time. In the two decades, neither the cast nor director James Burrows nor creators Max Mutchnick and David Kohan have aged a day. They just got better haircuts!

---
Will & Grace will honor I Love Lucy with Lucie Arnaz
November 25th, 2019 under Debra Messing, Lucille Ball, Megan Mullally and Nick Offerman, Sean Hayes. [ Comments: 6 ]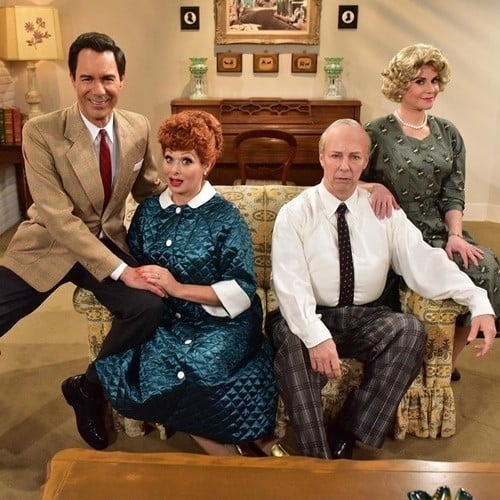 Anyone who watches Will & Grace can tell that Debra Messing has been heavily influenced by Lucille Ball. Well this week, she and the cast of the NBC sitcom will be filming an episode that will be paying tribute to I Love Lucy.
According to Entertainment Weekly: Messing, Sean Hayes and Megan Mullally will each play Lucy in a different dream sequence while Eric McCormack will recreate Ricky Ricardo. The mag says that, "Messing gets to play Lucy in a 'Vitameatavegamin' scene, Hayes will assume the title role in the chocolate factory, and Mullally will recreate the memorable grape stomping moment."
The sitcom got the go-ahead to do it from Lucie and Desi Arnaz, Jr. with the former appearing on the special episode. We do not know what she will be doing, but she teased us with, "A very special guest star, playing a very fun role … Any guesses??" I have none.
While I cannot tell you what she will be doing on the show, I can tell you it will air sometime in the Spring before the sitcom signs off for a second time.
UPDATE: Lucie Arnaz shared a photo from the set in makeup. To see if you got the answer right, then click here!

---
Did Debra Messing confirm her feud with Megan Mullally with this post?
November 8th, 2019 under Debra Messing, Megan Mullally and Nick Offerman. [ Comments: 5 ]

Debr@ Messing posted some photos for the Will & Gr@ce set @nd @ @lmost everyone from the show but one person. Th@t person is Meg@n Mull@lly. That seems to confirm the rumors of them feuding.
Grace wrote, "Last Night was a barrel of laughs with friends new and old. 5 episodes left of #willandgrace! I'm going to to savor every last minute of it! @ddlovato @theofficialsuperstar @eric_mccormack @seanhayes @nbcwillandgrace @therealjamesburrows @kohanian @nbcwillandgrace."
She included her 2 guest stars, Demi Lovato and Molly Shannon, her co-stars Eric McCormack and Sean Hayes, the sitcom's network handle twice, the director James Burrows and the Executive Producer David Kohan. However, no mention of Mullally. Which makes it seem as though she will not savor every last minute with the only other female lead on the revival. Which is really sad. You would think after working together, on and off, for 21 years, nothing could come between them, but it did. It happens to all of us. However, we wanted them to be friends forever.

---
Megan Mullally misses two episodes of Will & Grace
October 25th, 2019 under Debra Messing, Megan Mullally and Nick Offerman. [ Comments: none ]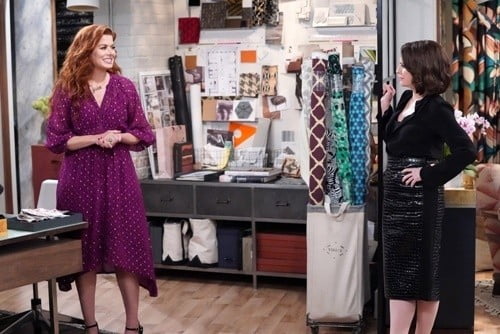 Will & Grace began its final season yesterday and Megan Mullally was barely in the episode. In fact, she only was seen with the whole main cast for the final scene. Other than that she shot her scenes at Grace's office and only interacted with Eric McCormack via FaceTime.
Normally, we could have overlooked it, but there have been rumors that Debra Messing and Megan Mullally no longer get along when the cameras are not rolling. Therefore, you have to wonder if the two of them do not want to work together for the sitcom's final 18 episodes.
Now, we might have even more proof of that. TV Line is reporting that Mullally skipped two episodes. We don't know why, so we are just left to assume why and it is related to the rumored feud.
Which is sad because it would be nice if they could have ended the show as the friends who were able to bring their show back for 3 more seasons.

---