Debra Messing lets her go natural!
April 23rd, 2019 under Debra Messing. [ Comments:

none

]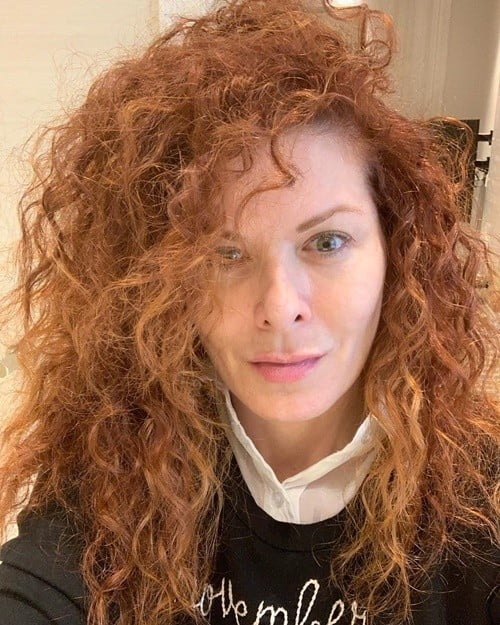 Whenever you see Debra Messing, her natural curls are always perfect. Anyone who has curly hair, like me, will tell you that is very rarely the case. The other day, the actress was like all of us mop tops and let her locks do whatever they wanted. Since they were free, they went wild. Giving her the hairdo that so many women in the '80s paid for with a perm, hairspray, a diffuser, mouse and hairspray.
Now let's talk about her face being all naturel too. Without makeup, the 50-year-old looks half her age. She looks even younger than she did when she started out on Will & Grace the first time.
---
Is Will Jack's soulmate? Find out on Will & Grace tonight!
January 31st, 2019 under Chelsea Handler, Debra Messing, Sean Hayes. [ Comments:

none

]

It has been 20 years since we got to know Will (Eric McCormack) and Jack (Sean Hayes) and we have always thought they are soulmates. Tonight at 9:30p on NBC's Will & Grace, after drinking some special chocolate milk, they have an epiphany. They are each other's soulmate. How long will that revelation last?
They are not the only ones who enjoyed the special chocolate milk, so does Karen (Megan Mullally). She just signed her divorce papers and the drink causes her to say goodbye to her marriage to Stan in a very Karen way. All I will say is Mullally can sing!
Meanwhile, Grace (Debra Messing) gets a visit from her newly single sister. Janet (Mary McCormack) won't be single for too long because she hooks up with Grace's client (Chelsea Handler). That causes the feuding sisters to have a sweet heart to heart.
Tonight's episode is really sentimental and yet it is still very funny. Every episode Hayes finds a way for me to do a spit take, and on this one, they all make me do one, Let's just say it involves butterflies. It is a must not miss, so do not miss it.
---
Debra Messing will do anything to get her hands on a Golden Globe
January 7th, 2019 under Debra Messing. [ Comments:

1

]

Debra Messing was nominated for a Golden Globe yesterday, but she did not win one. She was so determined to go home with an award, that she stole Patricia Arquette's statuette. The Will & Grace star almost got away with it. What she did not realize is that the dead still talk to Arquette and told the Medium actress exactly where her trophy was. Thus, Arquette took the gold in the 2-yard dash and got her gold back.

While Messing went home as a triple loser for the night. But at least she gave it a good try.
---
The many faces of Minnie Driver and Debra Messing
August 30th, 2018 under Debra Messing, Speechless, The Many Faces of. [ Comments:

none

]

Minnie Driver is back filming Will & Grace this week. During a break, the actress and Debra Messing had some selfie fun. They took several photos together making many different faces that leave us speechless with joy.

They sitcom stars showed us not only can they make us laugh with their acting, but they can also do it with their faces. Which is very important for comedic actors.

Will & Grace is back on NBC October 4th and Speechless returns the following night on ABC.
---
Debra Messing is having a bad hair day
August 8th, 2018 under Debra Messing. [ Comments:

none

]

We are used to seeing Debra Messing with curly or wavy hair, but today she showed off a new look. One that anyone with curls knows not to do. That is brush your locks when they are dry. Why? Because you look like you stuck your finger in a live electrical socket and lost. That or a lion who has not been able to get his frizz under control.

Since I have very curly hair, I know her pain. In fact, I will share this photo with friends so they know why I don't brush my mane after I leave the house.
---