Jimmy Fallon reworks the Saved By the Bell theme song with the core four
December 15th, 2020 under Jimmy Fallon, Mario Lopez, Mark-Paul Gosselaar, Saved by the Bell/City Guys, Tiffani-Amber Thiessen. [ Comments: none ]

Remember when Jimmy Fallon reunited the core four from Saved By the Bell back in 2015 on The Tonight Show? Well, he did it again yesterday.
Tiffani-Amber Thiessen, Mario Lopez, Elizabeth Berkley, and Mark-Paul Gosselaar each had their own special part in Fallon's new take of the theme song. I don't know about you, but that got me so excited. Mostly because you can tell they were all having fun representing who their characters were on the beloved '90s sitcom.

---
Mark-Paul Gosselaar gets his Zack Morris on
March 12th, 2020 under Mark-Paul Gosselaar, Saved by the Bell/City Guys. [ Comments: none ]

When Peacock announced that they were bringing back Saved By the Bell, Mark-Paul Gosselaar and Tiffani Amber Theissen said that no one told them about it. Well, someone finally got around to telling them about it because they are both getting ready to tape an episode for the revival.

Since the show ended, Gosselaar went back to his dark roots. That is right. His carpet did not match the drapes back then. Well, we don't want to see Zack Morris as a brunette, so yesterday he got his hair lightened for the show.

Now, the Zack Morris we know and love is back for a Zack Attack. Hubba hubba. Didn't they say that on the show?

Isn't it amazing how different he looks as a blonde? Is it wrong that I want him to stay that way? I am sure the producers of mixed-ish won't mind?

In case you are wondering, his ABC show has already wrapped production on season one. Hopefully, that means he can keep this look until it comes back. If it comes back. It will. I think.

---
Why Mark-Paul Goselaar is not so excited about the Saved By the Bell news
September 19th, 2019 under Mark-Paul Gosselaar, Peacock, Saved by the Bell/City Guys. [ Comments: 1 ]

On Monday, NBC announced that their new streaming service Peacock is doing a Saved By the Bell reboot with Mario Lopez and Elizabeth Berkley. They also said that Zack is the Governor now and he is shutting down low-income schools.
Later that night, Variety spoke to Nark-Paul Gosselaar about it at and asked him how feels about the revival. He told them, "I read it in the trades just like everybody else this morning." Then added, "I haven't been approached," and that he was a little taken off guard with the news. He had no idea they were this far along with the project.
Gosselaar understands that he might not be a part of the show because he is starring in the ABC sitcom Mixed-ish, who owns the streaming site Disney+, there might be a conflict for him to do something on a competitor's show. If both of them could come up with an agreement, then he would do the reboot. That is if they ask him.
If I were him, I would tell his castmates screw you. Well, I would use other words. I mean how messed up is it that they did not even tell him this was a done deal. Not knocking the rest of the cast, but out of all of them, he is doing the best. He and Tiffani-Amber Theissen are the only ones who are still acting in gigs. They don't need the show like the other ones.
However, they still should have told him. At least, the Beverly Hills, 90210 cast kept their co-stars in the loops.
Do we really want a SBTB reboot without Zack Morris and Kelly Taylor? Granted we don't know if Theissen is available to be part of it because she has a show on Netflix, another streaming site. Or if they even told her about it.
I always thought these four were tight and would only do the reboot together. I guess they are not as tight as I thought.
BTW Is just me or does he seem kind of hurt that he did not know about the show?

---
Is this how the Saved By the Bell 30th reunion would look?
April 22nd, 2019 under Mario Lopez, Mark-Paul Gosselaar, Saved by the Bell/City Guys. [ Comments: none ]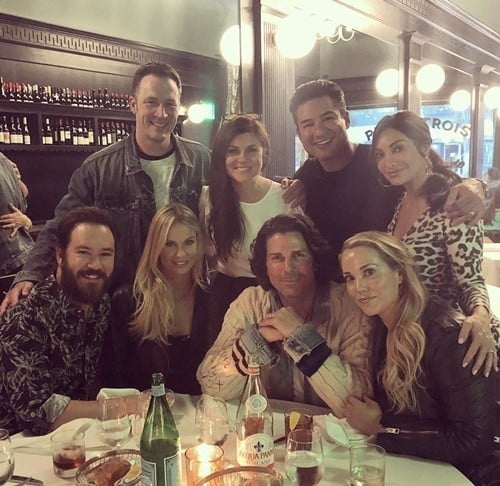 Even though Zack and Kelly, and Slater and Jessie dated at Bayside High, you knew they were not going to wind up together at the end of the day. Even if you really wanted them too. And we did.
In real life, as we know none of the actors hooked up after the show ended. However, they are all still friends. Over the weekend, Mark-Paul Gosselaar, Tiffani Amber Thiessen, Mario Lopez and Elizabeth Berkley all got together with their spouses and ate dinner. Which makes think this would be a great idea for a reunion special to celebrate their 30th anniversary. Feeling old?
Now that you called Shady Pines to tour the grounds, would you tune in to watch your favorite high school friends from the '90s reunite but have different partners? I know I'm So Excited to see them together again.
Since Lark Vorhees and Dustin Diamond are not there, maybe they are the ones that actually got married and lived happily ever after.

---
Are Mark-Paul Gosselaar and Mario Lopez down for Saved By the Bell again?
March 26th, 2019 under Mario Lopez, Mark-Paul Gosselaar, Saved by the Bell/City Guys. [ Comments: none ]

It seems like every show with kids from the '90s is coming back as a reboot, so what about Saved By the Bell. Yesterday, when Mark-Paul Gosselaar was on Extra, a fan wanted to know if he and Mario Lopez are up for reviving their show.
Slater did not want to put it on his slate because it is a little hard to do since they are not in high school anymore. Then he thought that maybe it could be about their kids going to Bayside.
MPG had a different approach, "I've always answered it, also, I think we're open to the idea." That is when Lopez agreed. Someone get Peter Engel on the phone with NBC and let's make this happen ASAP. We need their cheesiness back in our lives.

---