Bayside's girls are still friends after all of these years
September 21st, 2021 under Saved by the Bell/City Guys, Tiffani-Amber Thiessen. [ Comments: none ]
It has been 32 years since Elizabeth Berkley, Lark Voorhies, and Tiffani Amber Thiessen got to know each other at Bayside High School. You would think after all of this time; they would not be as close. However, just like Saved By the Bell, their friendship will go on forever.
That was why Jessie Spano wrote, "These ladies… what a gift to get to work together again. We have a special history that is beyond… we worked hard together as kids to make a show that people still love, we did high school together and our parents all looked out for us too as we were minors when we started. It was a safe place to grow up and now we get to take those sweet roots and fly together as women. Don't you love those connections that have history where you just get right to it with no explaining? It's so comforting and we can't wait to share some magic with you when season 2 comes out! ❤️❤️❤️"
I am sure they will still be as close 32 years from now, and we will still be watching SBTB in syndication on our glasses.

---
Tiffani-Amber Thiessen is saved by the coffee
March 29th, 2021 under Tiffani-Amber Thiessen. [ Comments: none ]
It is Monday, and none of us are ready to face the week until we have had our coffee. Tiffani-Amber Thiessen is no different than you and me.
Here is the actress getting ready to face the day before putting her face on. Even without makeup, she is still gorgeous.
'
Can you believe she is 47? She doesn't look it, not even close.

---
Jimmy Fallon reworks the Saved By the Bell theme song with the core four
December 15th, 2020 under Jimmy Fallon, Mario Lopez, Mark-Paul Gosselaar, Saved by the Bell/City Guys, Tiffani-Amber Thiessen. [ Comments: none ]

Remember when Jimmy Fallon reunited the core four from Saved By the Bell back in 2015 on The Tonight Show? Well, he did it again yesterday.
Tiffani-Amber Thiessen, Mario Lopez, Elizabeth Berkley, and Mark-Paul Gosselaar each had their own special part in Fallon's new take of the theme song. I don't know about you, but that got me so excited. Mostly because you can tell they were all having fun representing who their characters were on the beloved '90s sitcom.

---
Tiffani-Amber Thiessen is every parent
July 20th, 2020 under Tiffani-Amber Thiessen. [ Comments: 3 ]

Every since the coronavirus pandemic took over our lives, parents around the country have been spending 24/7 with their kids. They will do anything for a break from the madness.
This weekend Tiffani-Amber Thiessen and her husband Brady Smith got just that. How did they react to her parents taking Harper and Holt? They couldn't stop dancing.
How did they spend the time alone? I am assuming they did what any parent in their position would do. They slept until the kids came home!

---
Tiffani-Amber Thiessen will not be a part of BH90210
June 3rd, 2019 under Beverly Hills 90210 / Melrose Place, Tiffani-Amber Thiessen. [ Comments: 2 ]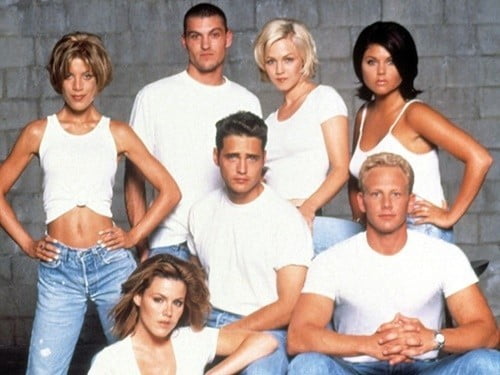 Even though Tiffani-Amber Thiessen is not one of OGs of Beverly Hills, 90210, she feels like one. Which makes you will wonder if she will join Fox's event series BH90210 with the original six.
Entertainment Tonight caught up with the actress over the weekend and asked her just that. She told them she will not be going back to her old zip code. However, she has a good excuse. She has an acting career outside the show and she is busy filming the third season of Netflix's Alexa & Katie. That sitcom is taping until September, so she would not even be available until after most of the show's episodes have already aired. BH90210 debuts on August 7th.
Will you miss Valerie Malone hanging with her second group of high school friends.

---