Lucy Hale is the new Jenny McCarthy
November 26th, 2019 under Billy Porter, Lucy Hale, Ryan Seacrest. [ Comments: none ]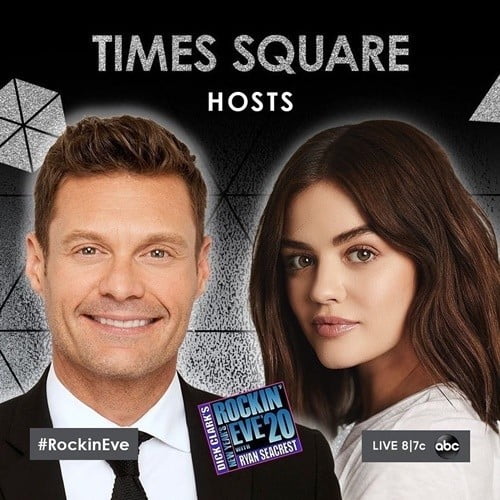 New Year's Eve got a little bit happier this year because we will not have to listen to Jenny McCarthy's annoying voice on New Year's Rockin' Eve. Who is going to be standing next to Ryan Seacrest on December 31st? Lucy Hale will be freezing her pretty little a$$ off with him at Times Square.
While they will be in NY, the epitome of NYE, Billy Porter, will be welcoming in 2020 in New Orleans for ABC as Ciara does the same in Los Angeles.
The musical acts are yet to be announced but do they really need anyone else but Porter? I can watch him for four hours straight. He is a quadruple threat!

---
Proof Sarah Hyland and Lucy Hale are not the same person
August 14th, 2019 under Lucy Hale, Not The Same Person, Sarah Hyland. [ Comments: none ]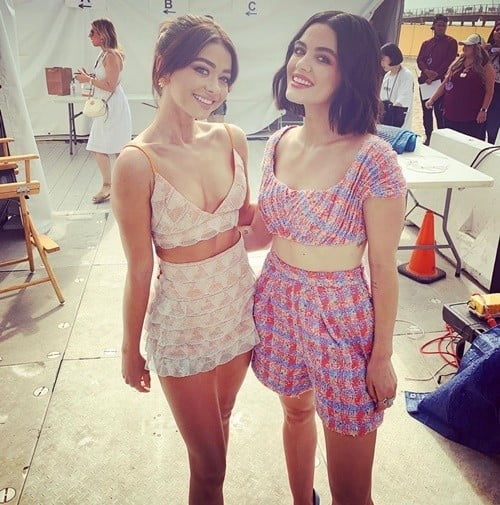 Sarah Hyland and Lucy Hale are both petite brunette actresses with huge eyes in their 20s, so you can understand why some people might think they are the same person. However, they are not. Don't believe me. Here is the Modern Family actress with the one from Pretty Little Liars.
Here is a fun game, can you guess which one is which? Now that you know that they can both be in the same place at the same time.

---
Hot Links!
October 8th, 2018 under Hot Links!, Lucy Hale. [ Comments: none ]
Who tried to drop kick Fred Durst? – Dlisted
Lucy Hale wearing leggins – Nip Slip
Who quit Shameless now? – Screenrant
Who is playing Barbie now? – Farandulista
Mark Ruffalo looks very different – The Blemish
Debra Messing trapped in an elevator with Donald Trump – Celebitchy

---
Hot Links!
August 27th, 2018 under Hot Links!, Lucy Hale. [ Comments: none ]
Guess who used to have long flowing hair? – Dlisted
Lucy Hale's camel toe – The Nip Slip
Pink's TMI photo of Carey Hart – Celebitchy
Kourtney Kardashian's bikini is too small – GCeleb
Why do people hate The Big Bang Theory? – ScreenRant
Shocking celebrity marriages you didn't know about – Pajiba

---
Life Sentence sentenced to death
May 8th, 2018 under Lucy Hale, The CW. [ Comments: none ]

Even though Stella survived cancer, her show Life Sentence will not live to see a second season. Lucy Hale broke the news on Twitter today, "I was emotionally attached to this story and to everyone involved so I am a little shell shocked right now, but I feel fortunate that we got to tell a really beautiful story."

It really is a beautiful story that, like her, I wish could have continued. Sadly though, people were not watching this heartwarming family drama. That is what made this show so wonderful, it was about a family who truly loved each other during the good times and the bad ones. I guess people would rather watch the murder of the week, than a well-written heartfelt drama. Their loss and ours too.

At least we have a few more episodes, Fridays at 9p, to enjoy before it goes to TV heaven

UPDATE: The CW has also cancelled the military drama Valor after one short season.

---