Lucy Hale is a Pretty Little Blonde
March 21st, 2022 under Lucy Hale. [ Comments: none ]
Lucy Hale's hair has gone through many different transformations throughout her career. However, her newest hairdo might be her best one yet.
The actress has a shaggy dirty blonde bob with bangs, and it highlights her facial features. She is gorgeous no matter what, but she is even more stunning with this cut. She should keep it.
Do you think she is pretty, or am I a liar?

---
Lucy Hale is seeing red
September 29th, 2020 under Lucy Hale. [ Comments: none ]

Lucy Hale was born with jet black hair, and she has no problems changing up the shade of it. Now the Pretty Little Liar is seeing A's favorite color, and that is red like in blood.
The actress can make any hair color work, whether it is dark as night or as light as the sun. However, I think this is the best one yet.
What do you think of her locks that are now the same color as a beautiful sunset?

---
Lucy Hale tearfully reveals that Katy Keene was cancelled
July 3rd, 2020 under Lucy Hale. [ Comments: 3 ]

Lucy Hale had some news to share yesterday, her show Katy Keene was not picked up for a second season by The CW. She broke the news on her Instagram, and she couldn't help but to tear up as she told her fans the sad news. You can tell she enjoyed working on the darling Riverdale spinoff.
This is her third consecutive show to be cancelled by The CW after just one season. The first one was Priviliged, the second Life Sentence and now Katy Keene. I think she finds to a new network because all of those shows deserved more than one go-around.
Hale is going to get another hit like Pretty Liars, and I cannot wait to watch all of the seasons it gets.

---
Katy Keene has designs on your future
February 6th, 2020 under Archie Comics, Lucy Hale. [ Comments: none ]

Tonight at 8p, Riverdale gets its second spinoff, the first on The CW. Katy Keene (Lucy Hale) is a woman in her 20's who is so close to living her dream.
Ever since she was a little girl, she wanted to be a dress designer who worked at Lacy's in Manhattan. Well, she got half of her wish. She works for the head of personal shopping, Gloria Grandbilt (Katherine LaNasa), as one of her girls. There is a promotion coming up, and Katy wants it more than anything. Gloria tells her if she gets the job, she cannot be a designer while she has the job. It is all about putting Lacy's clothes and accessories on the clients.
Nothing is going to stop he, not even her perfect boyfriend, KO (Zane Holtz). His dream is to be a fighter, and the couple does not fight over anything. They have been together for the good times and the bad ones. As in when her mother died. After she lost her mother, his family accepted her as one of their own. Now, they are just waiting for her officially become one of the family.
While KO is part of her family, she has also formed a family with her roommate Jorge (Jonny Beauchamp), who also goes as Ginger. By day, he is auditioning to be on Broadway, at night he is performing as Ginger. He wants to be on the Great White Way, but they don't want him because they think he is too gay. He is at the point where he is starting to lose hope.
Who is not losing hope is Josie from the Pussycats in Riverdale and Katy and Ginger's new roomie. She left her hometown to be a singer in the big city. While she is singing in a park, she is discovered by Alexander Calbot (Lucien Laviscount). He wants to revive his father's record label, and he thinks Josie will be perfect for it. The only problem is that his sister Alexandra (Camille Hyde), does not.
Katy Keene is about the transition period we go through when we are fresh out of school. You have stars in your eyes that everything is possible. However, achieving what you want is not as easy as you thought it was going to be. This show is about achieving enjoyment, so watch it every Thursday at 8p.

---
Lucy Hale is the new Jenny McCarthy
November 26th, 2019 under Billy Porter, Lucy Hale, Ryan Seacrest. [ Comments: none ]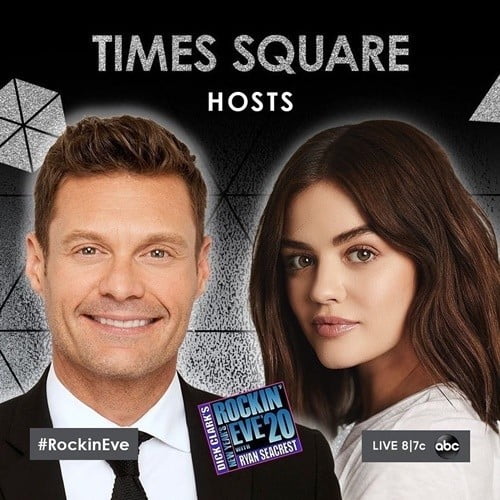 New Year's Eve got a little bit happier this year because we will not have to listen to Jenny McCarthy's annoying voice on New Year's Rockin' Eve. Who is going to be standing next to Ryan Seacrest on December 31st? Lucy Hale will be freezing her pretty little a$$ off with him at Times Square.
While they will be in NY, the epitome of NYE, Billy Porter, will be welcoming in 2020 in New Orleans for ABC as Ciara does the same in Los Angeles.
The musical acts are yet to be announced but do they really need anyone else but Porter? I can watch him for four hours straight. He is a quadruple threat!

---