Ariel Winter calls out her TV family for not inviting to their picnic
June 24th, 2021 under Ariel Winter, Modern Family, Sarah Hyland. [ Comments:

none

]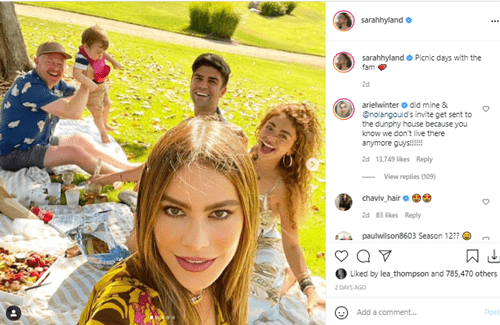 Over the weekend, Jesse Tyler Ferguson, Sofia Vergara, and Sarah Hyland all got together for a picnic. Where were the other cast members from Modern Family?
It seems like we got an answer. Ariel Winter posted this comment to her TV sister, "did mine & @nolangould's invite get sent to the dunphy house because you know we don't live there anymore guys!!!!!!" Me and ow.
It sounds like we are not going to have a friendly reunion with this cast anytime soon.

---
A mini-Modern Family reunion
June 21st, 2021 under Joe Manganiello, Modern Family, Sarah Hyland, Sofia Vergara. [ Comments:

1

]
There were three Pritchett houses on Modern Family. Over the weekend, one member from each house met up in an undisclosed location and broke bread.
Sofia Vergara brought her husband, Joe Manganiello, to the picnic instead of Jay. Jesse Tyler Ferguson who cheated on his husband Cam with his real-life husband, Justin Mikita. And finally, they were joined by Sarah Hyland and her fiance' Wells Adams. He is a lot smaller than I remember. That could be because he is off filming Bachelor in Paradise, and she is stuck holding her TV uncle's baby, Beckett. Would that make him her cousin?
Anyways, it is nice to see that not only did they play a family on TV, but they also became one who likes to spend time together.
Now back to the nearly one-year-baby, how awwwwdorable is he? He looks just like his fathers.

---
Joe Manganiello is a bleached blonde
October 24th, 2020 under Joe Manganiello, Modern Family, Sarah Hyland, Sofia Vergara. [ Comments:

5

]

Julie Bowen, Sofia Vergara, and Sarah Hyland reunited yesterday to celebrate their Modern Family co-star Jessie Tyler Ferguson's birthday. As cool as that is, that is not what caught my eye in this photo.

I was like, who is that bleached blonde man? Is it Nolan Gould? Nope, it is Vergara's husband, Joe Manganiello. I didn't recognize him with the blonde mohawk. However, I should've because who else wears their dog like he does. He and Baguette are inseparable, which is so arfdorable.

What do you think of his new look that I assume is for Deathstroke?

---
Sarah Hyland shows people why you don't brush dry curly hair
September 27th, 2020 under Sarah Hyland. [ Comments:

none

]

I have long, thick curly hair, so I never brush it outside of the shower. Why? Take a look at Sarah Hyland's hair after she did just that. It is as big as the petite actress.

Thankfully, as soon as she washes her locks, the curls will be back, and the mane will be tamed.

---
Celebrity Game Face leaves four couples with more than egg on their faces
July 1st, 2020 under E!, Kevin Hart, Sarah Hyland, Terry Crews. [ Comments:

none

]

This Monday at 10p on E!, four celebrity couples are going to go face to face on Celebrity Game Face. Kevin and Eniko Hart, Terry and Rebecca King Crews, Sarah Hyland and her fiancé Wells Adams, and Joel and Sarah McHale will all play the games from the comfort of their own homes, and that is the only thing that is comfortable for them.
The four couples will compete in several embarrassing challenges for a good cause. At the end of the night, a charity of their choice will be a little richer thanks to them. One couple even wins the coveted Hart of a Champion trophy, which is a gold statue of baby Kevin Hart. I am assuming it is the same size as he is now.
Before a winner is named, they are going to play several games and diss each other throughout the night. That should be a lot of fun. I wouldn't be surprised if Adams, the Bachelor's bartender, wins it all like he won Worst Cooks In America: Celebrity Edition. He is funnier than you think. However, is he funnier than the two comedians and a comedic actor? We will find out on Monday.
Hopefully, if it does well, E! will pick up as a series. Who doesn't like watching celebrities make fools of themselves? I know I do!

---