Sarah Hyland is having a bad hair day
June 10th, 2019 under Bad Hair, Sarah Hyland. [ Comments:

none

]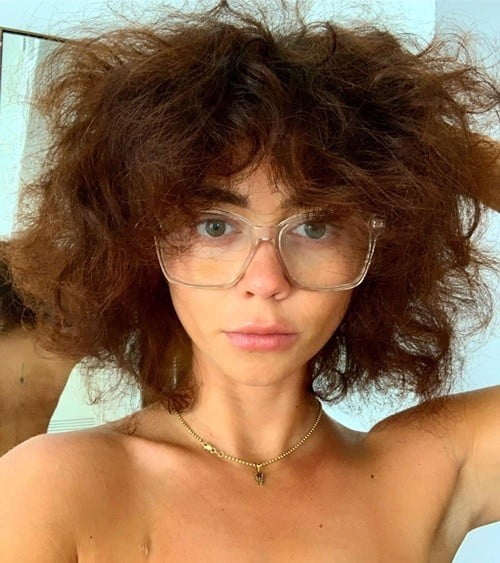 If you have seen Sarah Hyland on Modern Family, then you would think she has silky smooth straight hair. In reality, she has curly hair which is not always easy to tame. Here she is looking like a lion who put their finger in an electrical socket.
Her friends all told her to brush her hair and she likes it the way it is. It's her hair and she'll brush if she wants to.
Since I have hair like the actresses, I will suggest to her to use African Pride Olive Miracle Anti-Breakage Formula Leave-In Conditioner. It makes a world of difference on curls. It is the one thing that can tame the unruly beast.
---
Sarah Hyland shows off her Olay skin!
May 28th, 2019 under Sarah Hyland, Taking a bath. [ Comments:

none

]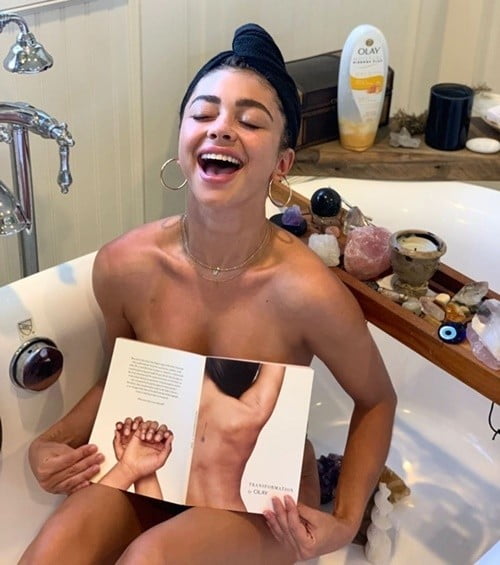 Sarah Hyland took the Olay Two Week Ribbons Body Wash Challenge and her skin changed drastically for the better. Her transformation was documented in a waterproof book, and she got a copy of it in the mail today. What did she do after she opened the package? The actress took a bath with the body wash and showed off her glowing skin. Forget Calgon, let Olay take me away!
Hyland talked about how the challenge changed more than her epidermis. She said, "This bath book captures my #SkinTransformed story and how amazing my skin looked after the #OlayBodyWashChallenge. It will be my daily reminder to pause and take time for myself even though I'm done with the challenge. The book celebrates owning skin transformation, not feeling guilty about fitting time in for yourself and also indulging in a one-of-a-kind bath with @Olay Ribbons."
How many of you are off to the store to try the challenge now?
---
Sarah Hyland shows off her baby bump!
November 8th, 2018 under Modern Family, Sarah Hyland. [ Comments:

none

]

Sarah Hyland is modeling her growing belly, but it is not hers per se. It is actually her character's baby bump because Haley is pregnant on Modern Family. Since the actress is not pregnant in real life, she has to wear a fake one.

While it might not look real without clothes on, with them on you would think she was really with child.
---
Is Sarah Hyland pregnant?
October 10th, 2018 under Sarah Hyland. [ Comments:

none

]

Sarah Hyland posted the above photo wearing loose sweats and said, "Caught prego by paps." Does that mean the Modern Family is expecting her first child with boyfriend Wells Adams? Probably not, but if she was, it would be easy to write into the ABC sitcom because she is dating two men on it.
Do you think she is having a baby or it is just a baggy clothes pregnancy?
---
Does Sarah Hyland's chest look bigger to you?
September 17th, 2018 under Sarah Hyland. [ Comments:

none

]

Sarah Hyland walked the red carpet at a pre-Emmys event, and the actress looked different. Can you spot how?

You got it, her chest seems like it is bigger. Did she get Ariel Winter's leftovers? Nope. Here's her secret, "I was wearing two pairs of spanx and chicken cutlets in my bra."

I wonder if she will be wearing them when Modern Family returns for season 10 on September 26th. I am sure it would perk up the ratings. Get it?
---