Lucy Hale is the new Jenny McCarthy
November 26th, 2019 under Billy Porter, Lucy Hale, Ryan Seacrest. [ Comments:

none

]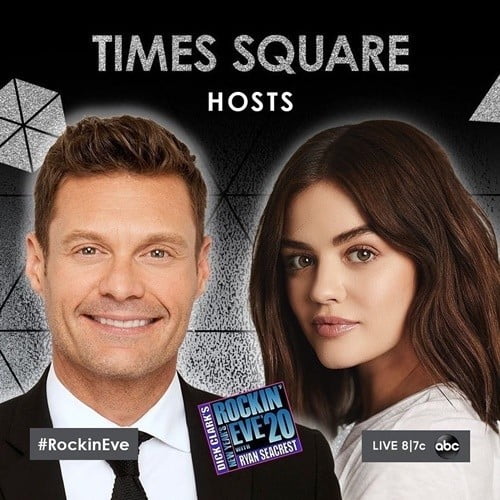 New Year's Eve got a little bit happier this year because we will not have to listen to Jenny McCarthy's annoying voice on New Year's Rockin' Eve. Who is going to be standing next to Ryan Seacrest on December 31st? Lucy Hale will be freezing her pretty little a$$ off with him at Times Square.
While they will be in NY, the epitome of NYE, Billy Porter, will be welcoming in 2020 in New Orleans for ABC as Ciara does the same in Los Angeles.
The musical acts are yet to be announced but do they really need anyone else but Porter? I can watch him for four hours straight. He is a quadruple threat!
---
Billy Porter will survive getting kicked off of the show by James Corden
September 19th, 2019 under Billy Porter, James Corden, Kirsten Dunst. [ Comments:

none

]

Billy Porter was a guest on The Late Late Show yesterday, and he made quite an entrance. He came down one side of the stage with a golden cape stretched out that make it look like he has wings. Then he went behind the curtain, did a costume change, and greeted the audience on the other side. He was not done; he then joined the band and played the tambourine. The actor had one more trick; he had several guys bring out a magic carpet and carry him like he was Aladdin to James Corden. While everyone, including Kirsten Dunst, who was the other guest, was thrilled by his entrance, the CBS host was not.
He was so upset; he threw Porter off the show. Did the Pose just leave? Of course not. He did another costume change and sang Gloria Gaynor's I Will Survive in his own special way. Pissing Corden even more. Proving that Porter will always survive.
When it comes to Dunst, I do not think she knew that it was all set up before the show started. I mean, Corden knew what he was in for after he asked Porter to sing Karaoke at the Tonys and he belted out Gypsy's Everything Is Coming Up Roses. It was the show stopper of that night. Even though it happened during a commercial break.
Back to his LLS song choice, I think he should have gone with another Gaynor song, I'm Coming Out. Seemed more fitting for the situation, but that is me.
---
It's Salma Hayek vs Tiffany Haddish in Like a Boss
September 12th, 2019 under Billy Porter, Salma Hayek, Tiffany Haddish. [ Comments:

none

]

We know that Tiffany Haddish can be over the top high-larious. However, we are going to find out if Salma Hayek can match her in their new movie Like a Boss that comes out January 10th.
The film is described as, "Best friends Mia and Mel (Haddish and Rose Byrne) are living their best lives running their own cosmetics company they've built from the ground up. Unfortunately, they're in over their heads financially, and the prospect of a big buyout offer from a notorious titan of the cosmetics industry Claire Luna (Hayek) proves too tempting to pass up, putting Mel and Mia's lifelong friendship in jeopardy. The beauty business is about to get ugly."
Those are just a bunch of words, the trailer speaks volumes about how funny it is going to be. Plus, there are two very important reasons to see this film. They are Billy and Porter. He is a reason enough to see anything he is in. Pray tell.
---
BTWF: Billy Porter in Shake, Rattle and Roll: An American Love Story
June 11th, 2019 under Before They Were Famous, Billy Porter. [ Comments:

none

]



(starts at 19:00 in)


Before Billy Porter was a living legend, he was playing one (Little Richard) in Shake, Rattle and Roll: An American Love Story. How much fun is it to watch the 29-year-old shake, rattle and role in that 1999 movie?
---
Everything's coming up roses for Billy Porter!
June 10th, 2019 under Billy Porter. [ Comments:

none

]

We saw a lot at the Tonys, but we did not the best part of Broadway's magical night. During commercial breaks, James Corden asked the people in the audience to sing some of Broadway's biggest numbers. Ben Platt sang Tomorrow from Annie and Billy Porter belted out Everything's Coming up Roses from Gypsy with his own special flair.
While he has had a grandiose career on the Great White Way, his career had a new spotlight shined on it when he was cast in Pose. Since then he has been posing for the cameras at several events and standing out with his one-of-a-kind looks. His fashion style was the most talked about at the Oscars and the Met Gala. Yesterday, the curtain literally came down on him when he wore a cape made from the Kinky Boots' curtain with his Celestino Couture suit. He won the Tony for playing Lola in that musical, so the accessory was fitting for the big awards show.
What was even more fitting is his impromptu performance of Everything's Coming up Roses, which it is for him. Listening to the improved jokes he made during the song, CBS better have taken notice. He is what the Tonys need to make them so Broadway again and he should be asked to host next year. Who wouldn't tune in for his pizzazz?
Until then we can watch him on Pose which is back for season 2 tomorrow of FX.
---