An '80s music fan's wet dream: Limahl and Samantha Fox
November 26th, 2019 under 80s, Limahl, Wet dream. [ Comments:

none

]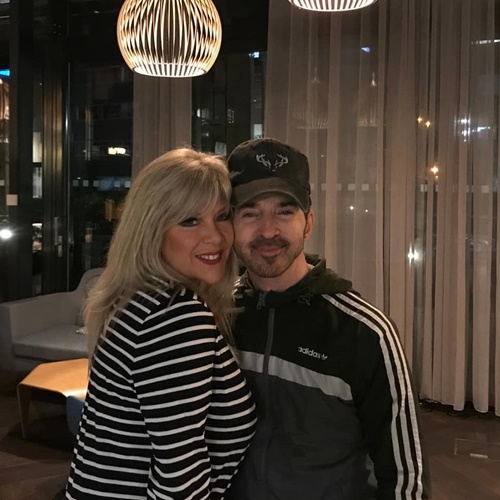 Back in the '80s, Limahl was singing Too Shy with Kajagoogoo. While Samantha Fox was belting out the opposite with Touch Me (I Want Your Body) and Naughty Girls (Need Love Too).
The two singers were never seen together, but that Never Ending Story ends now. The two were photographed in Brno, Czech Republic and I cannot help to think of the beautiful music they can make as a duet. They can call themselves naughty and nice.
---
Jimmy Fallon and Stephen Colbert's NeverEnding Story!
July 16th, 2019 under Jimmy Fallon, Limahl, Netflix, Stephen Colbert. [ Comments:

none

]

I will admit, I am one of the few people who has not seen Stranger Things season 3 yet. I am still stuck on season 2. However, I have heard about the NeverEnding Story scene. Since I have been a neverending fan of Limahl's, I have been curious about that scene.
Then last night late night competitors Jimmy Fallon and Stephen Colbert went from their shared love of Ben & Jerry's ice cream to '80s soundtrack songs that are bigger than the movies they are from. In other words, they did that scene from the Netflix show, so now I get what all the fuss is about.
Even though The Tonight Show and The Late Show go head-to-head, the two hosts are in perfect harmony when they sing.
Now back to Limahl, personally, NeverEnding Story is not one of my favorite songs of his. I prefer everything off of his album Colour All My Days and from Kajagoogoo over it. Which means you need to discover his tunes. He is becoming a huge hit again on Spotify, so start there.
Now, if you are like me and have not seen the scene that started all of this, then click here!
---
Limahl singing a happy birthday song to himself is all you need today!
December 19th, 2018 under Limahl. [ Comments:

none

]

Today is Limahl's birthday and the Kajagoogoo singer sang a song to himself for his big day. Highlighting his gorgeous voice. Thankfully, he was not too shy to share it.
Although, he was too shy to share his real age. Can you believe he is 60? He definitely does not look anywhere near that age.
Happy birthday, may your never ending story ever end! And may all your days be full of colour!
BTW if you have never heard any songs from his album Colour All My Days, you shoul listen to them. It is still one my all-time favorite records.
---
An '80s teen girl's wet dream: Limahl, Martin Fry and Tony Hadley!
October 9th, 2018 under 80s, Limahl, Spandau Ballet, Wet dream. [ Comments:

none

]

Back in the '80s, girls were in love with the lead singers of Kajagoogoo, ABC and Spandau Ballet, but never the three should meet. Thirty years later, Limahl (in sneakers), Martin Fry and Tony Hadley (in the flip-flops) got together this weekend to play a private show at the wedding of Dina & Thomas in West London.

I wonder what songs they did from their catalogs. I am thinking it was Limahl's Never Ending Story, ABC's The Look of Love and Spandau Ballet's True. Three songs I would love to hear live from them. Especially since they all still look as good as they did when those tunes were climbing charts.

If you could have any living musician play your wedding, who would it be? I am going to have to sit on my choice, but I still want Air Supply's Making Love Out of Nothing at All as my first song as a married couple.
---
An '80s girl's wet dream, it's Limahl and Howard Jones!
June 7th, 2018 under 80s, Limahl, Wet dream. [ Comments:

1

]

Back in the '80s, girls just wanted to run their fingers through the spikes of Limahl and Howard Jones' hair and I am not too shy, shy to admit that! While we never got the chance to do that, their neverending story is not over quite yet. Like Jones said, "Things can only get better," and it did for both rockers who met up in Germany over the weekend on a show, that was dedicated to you guessed it, the '80s!

Seriously, how can you not have an everlasting love for these two? Don't they make you go all Kajagoogoo? So much so that you want to turn a dream into action?
---