Duran Duran's Nick Rhodes got Kajagoogoo their big break
June 8th, 2021 under Duran Duran, Limahl. [ Comments: none ]
I don't know about you, but I love to hear stories about how people got their big breaks. I especially enjoy hearing when another famous person believes in the future celebrity so much that they help them get their start.
Today, Limahl wished Duran Duran's Nick Rhodes a happy 59th birthday. In his post, he shared how the keyboardist changed his life.
"A BIG Happy birthday to NICK (Rhodes) today – I can't believe it's almost 40 years since I served you that drink at THE EMBASSY CLUB on London's Old Bond Street where I worked as a waiter," The singer wrote, "I enthused to you about my band KAJAGOOGOO. Amazingly you asked me to send you our demos and the rest as they say…you went on to co-produce (with Colin Thurston) our worldwide hit 'TOO SHY' 🥂🥂🥂"
To all you future musicians, who are working a day job wishing for your big break, you never where and when you will find it.
It is also nice to know that someone in a band, who just got their big break, was willing to help a stranger have the same opportunity. That is why Nick Rhodes was my favorite member of the band. I knew he had a huge heart to go with his huge you know what!!!

---
Limahl releases his first new song in eight years
June 4th, 2020 under Limahl. [ Comments: none ]

Last year was a good year for Limahl, and he didn't have to do anything to achieve that. First, the Netflix series Stranger Things used his song Neverending Story throughout the season. Then American Horror Story: Camp had a character based on him who they killed off. But it was not all bad, they resurrected him just like he is doing for his singing career.
The singer released a music video for his first song in eight years, and tomorrow Still in Love will be available to buy. Hopefully, all the people that discovered him and his former band Kajagoogoo won't be Too Shy to buy his new track and all of his other music.
If you only know his two biggest hits, then you should check out his 1985 album Colour All My Days. It is one of my favorite records of all-time. I can hear the same sound his newest tune as I did from that CD. However, it is updated because it has been a few years since it came out.
I can't wait to hear what other music he releases. I just adore his voice that gets better with time.

---
An '80s music fan's wet dream: Limahl and Samantha Fox
November 26th, 2019 under 80s, Limahl, Wet dream. [ Comments: none ]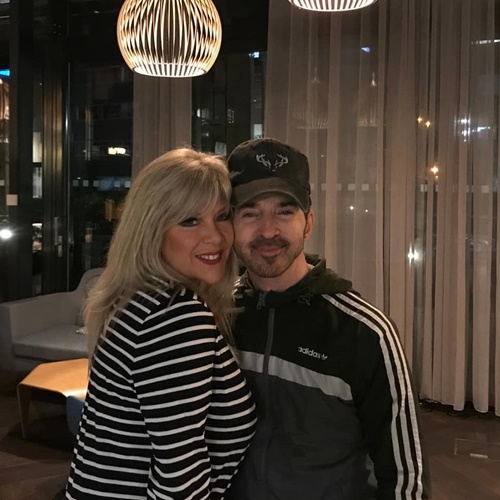 Back in the '80s, Limahl was singing Too Shy with Kajagoogoo. While Samantha Fox was belting out the opposite with Touch Me (I Want Your Body) and Naughty Girls (Need Love Too).
The two singers were never seen together, but that Never Ending Story ends now. The two were photographed in Brno, Czech Republic and I cannot help to think of the beautiful music they can make as a duet. They can call themselves naughty and nice.

---
Jimmy Fallon and Stephen Colbert's NeverEnding Story!
July 16th, 2019 under Jimmy Fallon, Limahl, Netflix, Stephen Colbert. [ Comments: none ]

I will admit, I am one of the few people who has not seen Stranger Things season 3 yet. I am still stuck on season 2. However, I have heard about the NeverEnding Story scene. Since I have been a neverending fan of Limahl's, I have been curious about that scene.
Then last night late night competitors Jimmy Fallon and Stephen Colbert went from their shared love of Ben & Jerry's ice cream to '80s soundtrack songs that are bigger than the movies they are from. In other words, they did that scene from the Netflix show, so now I get what all the fuss is about.
Even though The Tonight Show and The Late Show go head-to-head, the two hosts are in perfect harmony when they sing.
Now back to Limahl, personally, NeverEnding Story is not one of my favorite songs of his. I prefer everything off of his album Colour All My Days and from Kajagoogoo over it. Which means you need to discover his tunes. He is becoming a huge hit again on Spotify, so start there.
Now, if you are like me and have not seen the scene that started all of this, then click here!

---
Limahl singing a happy birthday song to himself is all you need today!
December 19th, 2018 under Limahl. [ Comments: none ]

Today is Limahl's birthday and the Kajagoogoo singer sang a song to himself for his big day. Highlighting his gorgeous voice. Thankfully, he was not too shy to share it.
Although, he was too shy to share his real age. Can you believe he is 60? He definitely does not look anywhere near that age.
Happy birthday, may your never ending story ever end! And may all your days be full of colour!
BTW if you have never heard any songs from his album Colour All My Days, you shoul listen to them. It is still one my all-time favorite records.

---