Lea Thompson goes back to the '80s
March 13th, 2020 under Lea Thompson, The Goldbergs. [ Comments: none ]

Back in the '80s, Lea Thompson traveled to our time in Back to the Future. Now, in our time, she is traveling back to '80s for The Goldbergs.

Which makes me wonder if she knows what year she is in. Especially because when she looks in the mirror, she still looks the same.

---
An '80s movie geek's wet dream: Back to the Future and The Goonies
May 7th, 2019 under Lea Thompson, Michael J Fox, The Two Coreys. [ Comments: none ]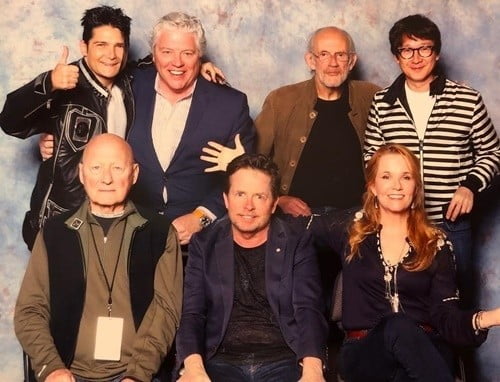 Back in the '80s, movie-going teenagers could not get enough of Back to the Future and The Goonies. However, those two movies were never to unite like Freddy vs Jason or Mega Python vs Gatoroid or Superman v. Batman.
That was then, this is 2019. Do the Truffle Shuffle dance because several cast members from both films posed for this photo at the Dallas Fan Expo over the weekend. Or Corey Feldman and Jonathan Ke Quan crashed Michael J. Fox, Christopher Lloyd, Lea Thompson, Thomas Wilson and James Tolkan's photo.
Giving us a glimpse of what it would be like if Back to the Future hopped into the DeLorean and helped The Goonies find out why we never got a sequel to their beloved movie.

---
Great Scott, did Christopher Lloyd just hint about Back to the Future IV?
April 17th, 2019 under Lea Thompson, Michael J Fox, Taxi. [ Comments: none ]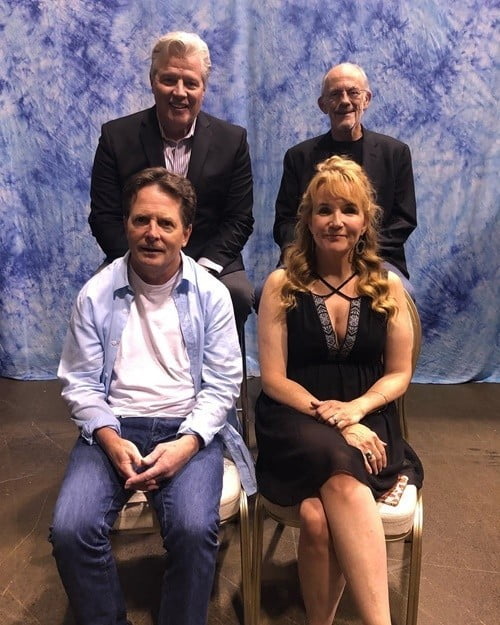 Christopher Lloyd posted a photo with his Back to the Future castmates Michael J. Fox, Tom Wilson and Lea Thompson, and captioned it "BTTF IV". Does that mean we might finally get a sequel after almost 20 years of waiting?
We don't know and his co-stars are no help. Biff chimed in with, "The power of love is a curious thing…" While Lorainne McFly wrote, "We look like the Adams Family….LOVE YOU"
If only we had a time machine or a DeLorean we could get into and find out the answer. Since we do not, then we are just left waiting to find out what Doc meant.
However, it would be interesting to see what they would and could do because we have already passed the date they went to into BTTF 2. As we know that October 21, 2015, did not look like how they imagined it would be back in the late '80s. Even that Burger King looks completely different because some cook destroyed the kitchen and they decided to renovate it. Just a little fun fact.

---
The Back to the Future cast reunites!
August 13th, 2018 under Lea Thompson, Michael J Fox, Reunions, Taxi. [ Comments: none ]

Over the weekend, the Fan Expo in Boston made a lot of fans happy when they reunited four of the cast members from Back to the Future. Even though everyone hated Biff (Thomas F. Wilson) on the big screen, in real life, Marty McFly (Michael J Fox), Doc (Christopher Lloyd) and Lorraine (Lea Thompson) actually like him.

In fact, the four of them look so close, I think it is time they did Back to the Future 4. Maybe they can take a page out of Cobra Kai and make it Biff's story.

BTW can you believe it has been 33 years since the first movie came out? It is as though they are stuck in 1985 because they have not aged a day.

---
Howard the Duck mashed up with the Duck Tales theme song
July 19th, 2018 under Awesome Videos, Lea Thompson. [ Comments: none ]

I am probably one of the very few people who loved Howard the Duck, but now I know I am not alone. That is because Darth Blender took several moments from the 1986 movies and placed them over the audio of the catchy Duck Tales theme song. Although, not as catchy as the film's self-titled theme song.
Back to the blended mixture, it works really well. You can say it will quack you up! So much so, I do not know why Marvel has not brought our little buddy back to life. What else are they working, the 98796956 remake of Spider-man? How many times are we going to see Peter Parker's origin story before they realize we don't care anymore?
Bring back Howard the Duck instead! He still looks good with his buddy Lea Thompson when the two of them recently met up at Atlanta's Comic-Con! Although a lot taller than I remember.

---