[ # ] An '80s movie geek's wet dream: Back to the Future and The Goonies
May 7th, 2019 under Lea Thompson, Michael J Fox, The Two Coreys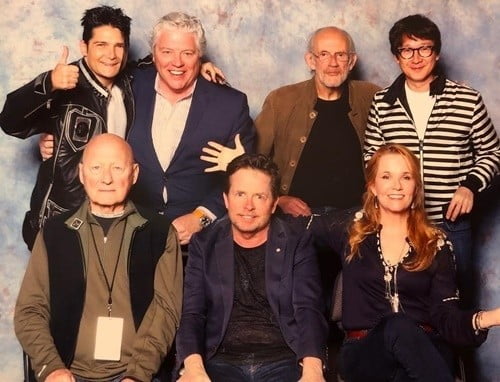 Back in the '80s, movie-going teenagers could not get enough of Back to the Future and The Goonies. However, those two movies were never to unite like Freddy vs Jason or Mega Python vs Gatoroid or Superman v. Batman.
That was then, this is 2019. Do the Truffle Shuffle dance because several cast members from both films posed for this photo at the Dallas Fan Expo over the weekend. Or Corey Feldman and Jonathan Ke Quan crashed Michael J. Fox, Christopher Lloyd, Lea Thompson, Thomas Wilson and James Tolkan's photo.
Giving us a glimpse of what it would be like if Back to the Future hopped into the DeLorean and helped The Goonies find out why we never got a sequel to their beloved movie.

---