How well did Mary Steenburgen do on a Back to the Future III test?
May 25th, 2020 under Michael J Fox, Taxi, Ted Danson Mary Steenburgen. [ Comments:

none

]

Thirty years ago today, the final Back to the Future film came out in theaters. In honor of the anniversary, Yahoo! Entertainment had a 14-question quiz asking questions about the 1990 movie that starred Michael J. Fox, Christopher Lloyd, and Mary Steenburgen.
As soon as I saw it, I asked the three stars on Twitter (something Back to the Future II didn't predict) how they would do if they took the test. The actress took it and revealed that she got a "9 out of 14 and I'm Clara! 😄"
In her defense it is a really hard test, I only got 3 out of 14 right. Which I guess is appropriate since it is Back to the Future III!
On a serious note, I am naming Mary Steenburgen as one of the nicest people in Hollywood, along with Henry Winkler, Jerry O'Connell, Tom Hanks, and Josh Groban. We need more people in this town like her.
---
BTWF: Mary Steenburgen and Christopher Lloyd in Goin' South
April 14th, 2020 under Before They Were Famous, Taxi, Ted Danson Mary Steenburgen. [ Comments:

none

]

Before Mary Steenburgen and Christopher Lloyd were in love in Back to the Future 3, she married Jack Nicholson to save him from Lloyd in Goin' South. They look the same now as they did when he was 39, and she was 24 in that 1978 movie.
As soon as I saw that the two actors, who went on to play lovers were in the same movie a decade earlier, I wondered if it was a coincidence that they worked together again in BTTF3. Therefore, I got on Twitter and asked the lovely and talented actress if that was the case. Mary Steenburgen told me, "Coincidence re BTF3, and yes, I think Jack loved working with Chris in OFOTCN. I loved working with them both so much. I owe Jack everything. He was a great mentor."
I also asked in that Tweet if Lloyd got his job on Goin' South because he worked with Nicholson in One Flew Over the Cuckoo's Nest.
As you can tell, my brain is filled with lots of useless information.
---
Marty McFly and Doc Brown together again
March 5th, 2020 under Michael J Fox, Reunions, Taxi. [ Comments:

none

]

It has been almost 35 years since Doc Brown took Marty McFly for the ride of a lifetime in Back to the Future. Yesterday, the two of them got into the DeLorean again to play some poker.

What we got is all aces as in the sweet photo of Michael J. Fox and Christopher Lloyd. You can tell they really care about each other in a really loving way, look at them. It is like a teacher and his prized student.
---
The cast of Taxi reunited!
February 19th, 2020 under Danny DeVito, Taxi. [ Comments:

none

]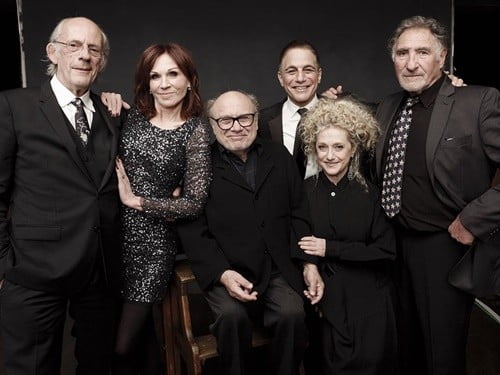 Tony Danza shared a few photos with his surviving castmates Christopher Lloyd, Marilu Henner, Danny DeVito, Carol Kane, and Judd Hirsch, and he did not say why the old gang got together. I don't care. I have not stopped crying happy tears since I saw them together again because Taxi is my all-time favorite show. I have been hoping for a revival of this show since they started bringing shows back.
Look at how great they look when they put on some nice threads! As good as they looked when Elaine sang Lullaby of Broadway from 42nd Street with them. You can watch that amazing number below. Not only that, you can see that they have not aged since that episode aired in 1980.
Since people don't take cabs anymore, why can't Alex bring them all together again to drive for his ridesharing company Sunshine? Since he was the only one who wanted to be a cab driver? Can you imagine what it would be like to see Louis and Reverend Jim still behind the wheel after 40 years? Gd help anyone crossing the street or walking on the sidewalk.
However, it was not about their driving skills; it was about their friendship and their antics. How I miss all the trouble, they got into. I have seen each episode over 100 times, and I still find something new to laugh at with each one.
If you have never seen Taxi, you can enjoy the series on Hulu and CBS All Access.
---
A mini Taxi reunion!
September 16th, 2019 under Taxi. [ Comments:

none

]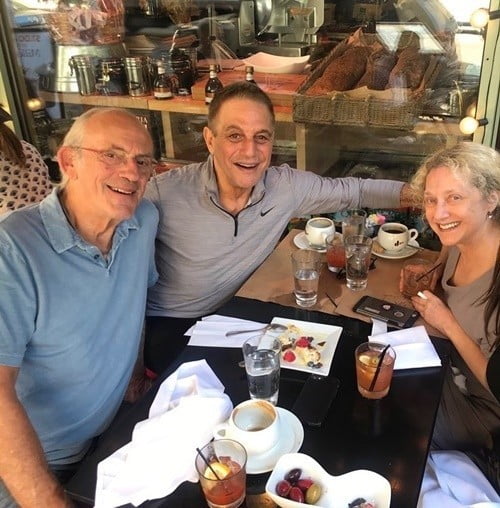 Yesterday was the 41st anniversary for the debut of (my favorite show) Taxi. To celebrate the show's birthday, Tony Danza, Christopher Lloyd and Carol Kane all got together for brunch.
Oh to be a fly on that fruit, so that I could hear what Tony Banta, Reverend Jim and Simka were talking about. I am sure they remembering the good times with their late friends and co-stars Andy Kaufman, Jeff Conaway and J. Alan Thomas along with the ones that are still with us Danny DeVito, Marilu Henner and Judd Hirsch.
Such fond memories they must have. Especially since they have been friends for over 40 years. Both Danza and Lloyd wrote, "41 years after Taxi premiered, we still hang whenever we can! Love the Taxi family. Friends for life." How many shows can say that?
And how many shows can answer, "What does a yellow light mean?"
If you have never seen Taxi, watch it on Hulu, CBS All Access and/or Tubi TV. I promise you will find yourself laughing hysterically with each episode. I still do that and I have seen each one more times than I count.
---