Marty McFly and Doc Brown together again
March 5th, 2020 under Michael J Fox, Reunions, Taxi. [ Comments:

none

]

It has been almost 35 years since Doc Brown took Marty McFly for the ride of a lifetime in Back to the Future. Yesterday, the two of them got into the DeLorean again to play some poker.

What we got is all aces as in the sweet photo of Michael J. Fox and Christopher Lloyd. You can tell they really care about each other in a really loving way, look at them. It is like a teacher and his prized student.
---
The cast of Taxi reunited!
February 19th, 2020 under Danny DeVito, Taxi. [ Comments:

none

]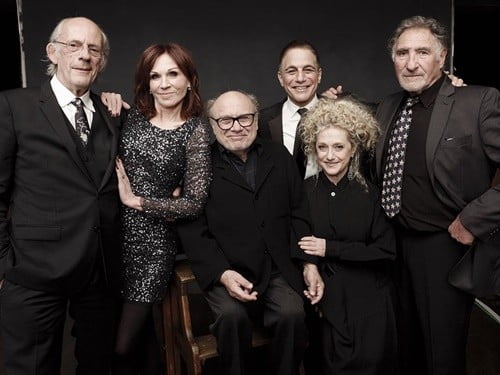 Tony Danza shared a few photos with his surviving castmates Christopher Lloyd, Marilu Henner, Danny DeVito, Carol Kane, and Judd Hirsch, and he did not say why the old gang got together. I don't care. I have not stopped crying happy tears since I saw them together again because Taxi is my all-time favorite show. I have been hoping for a revival of this show since they started bringing shows back.
Look at how great they look when they put on some nice threads! As good as they looked when Elaine sang Lullaby of Broadway from 42nd Street with them. You can watch that amazing number below. Not only that, you can see that they have not aged since that episode aired in 1980.
Since people don't take cabs anymore, why can't Alex bring them all together again to drive for his ridesharing company Sunshine? Since he was the only one who wanted to be a cab driver? Can you imagine what it would be like to see Louis and Reverend Jim still behind the wheel after 40 years? Gd help anyone crossing the street or walking on the sidewalk.
However, it was not about their driving skills; it was about their friendship and their antics. How I miss all the trouble, they got into. I have seen each episode over 100 times, and I still find something new to laugh at with each one.
If you have never seen Taxi, you can enjoy the series on Hulu and CBS All Access.
---
A mini Taxi reunion!
September 16th, 2019 under Taxi. [ Comments:

none

]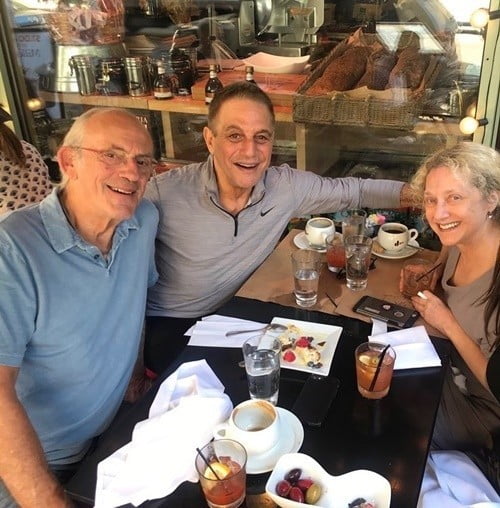 Yesterday was the 41st anniversary for the debut of (my favorite show) Taxi. To celebrate the show's birthday, Tony Danza, Christopher Lloyd and Carol Kane all got together for brunch.
Oh to be a fly on that fruit, so that I could hear what Tony Banta, Reverend Jim and Simka were talking about. I am sure they remembering the good times with their late friends and co-stars Andy Kaufman, Jeff Conaway and J. Alan Thomas along with the ones that are still with us Danny DeVito, Marilu Henner and Judd Hirsch.
Such fond memories they must have. Especially since they have been friends for over 40 years. Both Danza and Lloyd wrote, "41 years after Taxi premiered, we still hang whenever we can! Love the Taxi family. Friends for life." How many shows can say that?
And how many shows can answer, "What does a yellow light mean?"
If you have never seen Taxi, watch it on Hulu, CBS All Access and/or Tubi TV. I promise you will find yourself laughing hysterically with each episode. I still do that and I have seen each one more times than I count.
---
Andy Kaufman is finally getting a star on the Hollywood Walk of Fame
June 20th, 2019 under Taxi. [ Comments:

none

]

The Hollywood Walk of Fame announced today who will be getting stars next year and Andy Kaufman is finally getting one 35 years after he was taken away from us far too soon.
Ever since the first time I saw Taxi, I have loved the sitcom. In fact, it is still my all-time favorite show. The first time I saw Latka Gravas, I was in love. There was just something so endearing him. I was too young to know all about the Kaufman controversies. When I did learn about them, it just made me love him even more.
Therefore, on the day he gets his star, I will be there to see the ceremony in person. When it comes to the event, they have to get Tony Clifton to talk about his friend. If not him, then Jerry Lawler. The cast of Taxi can talk too, but Clifton would be the ultimate. Although I think Jim Carey might want to be the Man on the Moon, I mean the man behind the podium.
Kaufman and Muddy Waters are the only celebrities who are receiving stars posthumously. To see who else will be honored next year, then click here!
---
Great Scott, did Christopher Lloyd just hint about Back to the Future IV?
April 17th, 2019 under Lea Thompson, Michael J Fox, Taxi. [ Comments:

none

]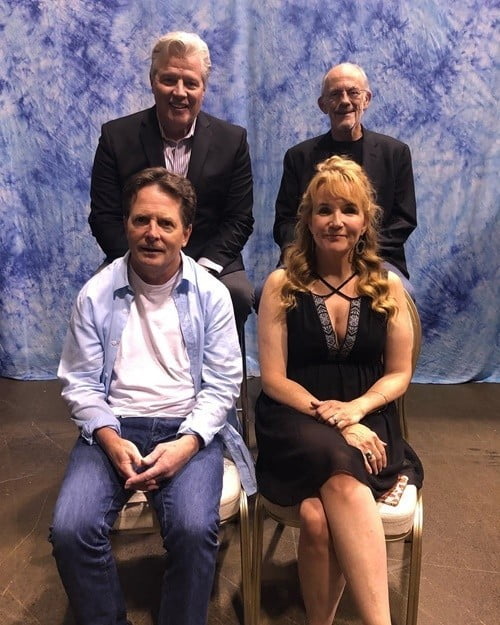 Christopher Lloyd posted a photo with his Back to the Future castmates Michael J. Fox, Tom Wilson and Lea Thompson, and captioned it "BTTF IV". Does that mean we might finally get a sequel after almost 20 years of waiting?
We don't know and his co-stars are no help. Biff chimed in with, "The power of love is a curious thing…" While Lorainne McFly wrote, "We look like the Adams Family….LOVE YOU"
If only we had a time machine or a DeLorean we could get into and find out the answer. Since we do not, then we are just left waiting to find out what Doc meant.
However, it would be interesting to see what they would and could do because we have already passed the date they went to into BTTF 2. As we know that October 21, 2015, did not look like how they imagined it would be back in the late '80s. Even that Burger King looks completely different because some cook destroyed the kitchen and they decided to renovate it. Just a little fun fact.
---