Marty McFly finally gets revenge on Biff Tannen!
May 20th, 2019 under Michael J Fox. [ Comments:

none

]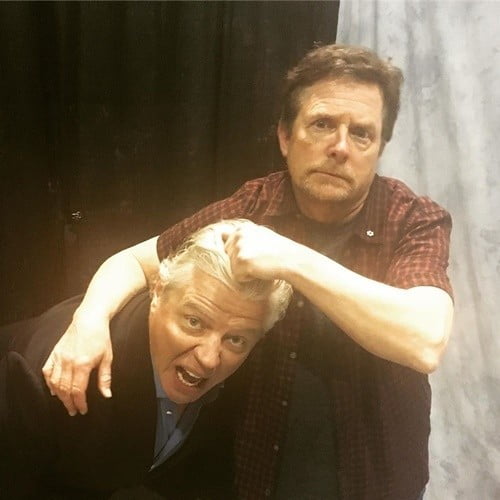 We all know that Back to the Future's Biff Tannen is a knucklehead (since he is based on Donald Trump), so it makes sense that Marty McFly would give him a knuckle to head.
Over the weekend, when Michael J. Fox and Tom Wilson met up at a convention that is exactly what happened. It might have taken a few decades but McFly finally got his revenge. I wonder how sweet it tasted, probably Pepsi sweet.
---
An '80s movie geek's wet dream: Back to the Future and The Goonies
May 7th, 2019 under Lea Thompson, Michael J Fox, The Two Coreys. [ Comments:

1

]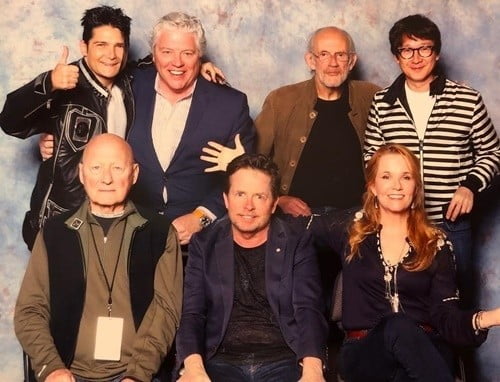 Back in the '80s, movie-going teenagers could not get enough of Back to the Future and The Goonies. However, those two movies were never to unite like Freddy vs Jason or Mega Python vs Gatoroid or Superman v. Batman.
That was then, this is 2019. Do the Truffle Shuffle dance because several cast members from both films posed for this photo at the Dallas Fan Expo over the weekend. Or Corey Feldman and Jonathan Ke Quan crashed Michael J. Fox, Christopher Lloyd, Lea Thompson, Thomas Wilson and James Tolkan's photo.
Giving us a glimpse of what it would be like if Back to the Future hopped into the DeLorean and helped The Goonies find out why we never got a sequel to their beloved movie.
---
Great Scott, did Christopher Lloyd just hint about Back to the Future IV?
April 17th, 2019 under Lea Thompson, Michael J Fox, Taxi. [ Comments:

none

]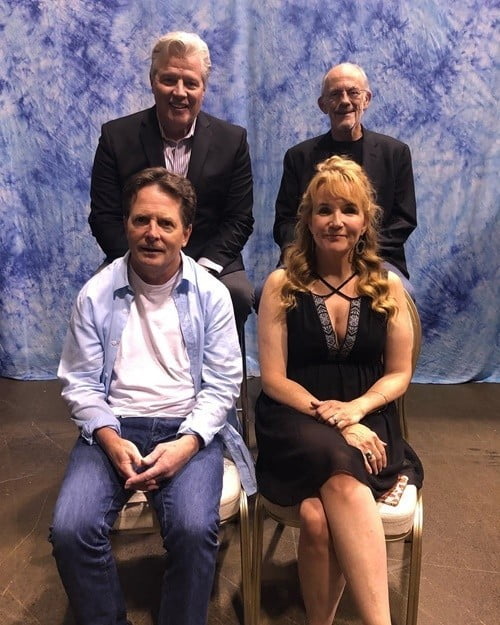 Christopher Lloyd posted a photo with his Back to the Future castmates Michael J. Fox, Tom Wilson and Lea Thompson, and captioned it "BTTF IV". Does that mean we might finally get a sequel after almost 20 years of waiting?
We don't know and his co-stars are no help. Biff chimed in with, "The power of love is a curious thing…" While Lorainne McFly wrote, "We look like the Adams Family….LOVE YOU"
If only we had a time machine or a DeLorean we could get into and find out the answer. Since we do not, then we are just left waiting to find out what Doc meant.
However, it would be interesting to see what they would and could do because we have already passed the date they went to into BTTF 2. As we know that October 21, 2015, did not look like how they imagined it would be back in the late '80s. Even that Burger King looks completely different because some cook destroyed the kitchen and they decided to renovate it. Just a little fun fact.
---
The Back to the Future cast reunites!
August 13th, 2018 under Lea Thompson, Michael J Fox, Reunions, Taxi. [ Comments:

none

]

Over the weekend, the Fan Expo in Boston made a lot of fans happy when they reunited four of the cast members from Back to the Future. Even though everyone hated Biff (Thomas F. Wilson) on the big screen, in real life, Marty McFly (Michael J Fox), Doc (Christopher Lloyd) and Lorraine (Lea Thompson) actually like him.

In fact, the four of them look so close, I think it is time they did Back to the Future 4. Maybe they can take a page out of Cobra Kai and make it Biff's story.

BTW can you believe it has been 33 years since the first movie came out? It is as though they are stuck in 1985 because they have not aged a day.
---
Great, Scott! OSU's Marching Band's tribute to Back to the Future!
November 9th, 2015 under Michael J Fox, Sports figures. [ Comments:

4

]

Ohio State University's Marching Band is the best one in the country, if not the world, and this Saturday they paid tribute to one of the greatest movie franchises of all the time. They marched to the beat of Back to the Future. Not only that, they lined up to generate some of the most iconic moments from the movie. They assembled to create the DeLorean, Marty McFly playing the guitar and also escaping on skateboard with the help of a pickup, and of course the clock tower with just their bodies.
There is something about watching them that just puts a huge smile on my face. How can you not watch their hard work turn into a human masterpiece and not feel good. It's truly is outstanding what they do. So sit back and watch the almost 10 minute performance, I promise you won't be disappointed.
---