BTWF: Michael J. Fox in Leo & Me
January 22nd, 2020 under Before They Were Famous, Michael J Fox. [ Comments:

none

]

Before Michael J. Fox had the perfect family on Family Ties. he was taken in by his scheming uncle on Leo & Me. How awwwdorable was the 15-year-old in that 1078 series?
---
BTWF: Michael J. Fox on Trapper John, M.D.
January 21st, 2020 under Before They Were Famous, Michael J Fox. [ Comments:

none

]

Before Michael J. Fox was all about money on Family Ties, he was all about medicine on Trapper John, M.D. He looks the same now as he did when he was 19 in that 1981 episode.
---
Marty McFly finally gets revenge on Biff Tannen!
May 20th, 2019 under Michael J Fox. [ Comments:

none

]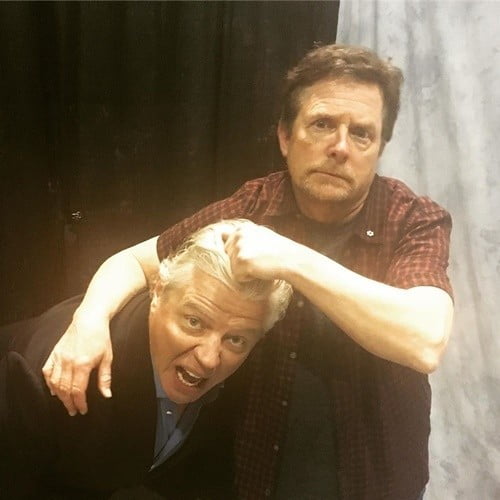 We all know that Back to the Future's Biff Tannen is a knucklehead (since he is based on Donald Trump), so it makes sense that Marty McFly would give him a knuckle to head.
Over the weekend, when Michael J. Fox and Tom Wilson met up at a convention that is exactly what happened. It might have taken a few decades but McFly finally got his revenge. I wonder how sweet it tasted, probably Pepsi sweet.
---
An '80s movie geek's wet dream: Back to the Future and The Goonies
May 7th, 2019 under Lea Thompson, Michael J Fox, The Two Coreys. [ Comments:

1

]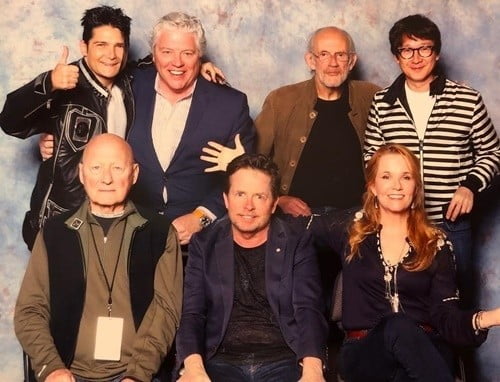 Back in the '80s, movie-going teenagers could not get enough of Back to the Future and The Goonies. However, those two movies were never to unite like Freddy vs Jason or Mega Python vs Gatoroid or Superman v. Batman.
That was then, this is 2019. Do the Truffle Shuffle dance because several cast members from both films posed for this photo at the Dallas Fan Expo over the weekend. Or Corey Feldman and Jonathan Ke Quan crashed Michael J. Fox, Christopher Lloyd, Lea Thompson, Thomas Wilson and James Tolkan's photo.
Giving us a glimpse of what it would be like if Back to the Future hopped into the DeLorean and helped The Goonies find out why we never got a sequel to their beloved movie.
---
Great Scott, did Christopher Lloyd just hint about Back to the Future IV?
April 17th, 2019 under Lea Thompson, Michael J Fox, Taxi. [ Comments:

none

]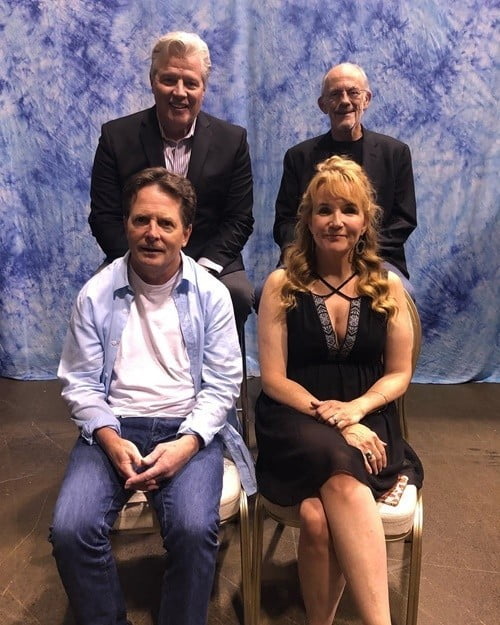 Christopher Lloyd posted a photo with his Back to the Future castmates Michael J. Fox, Tom Wilson and Lea Thompson, and captioned it "BTTF IV". Does that mean we might finally get a sequel after almost 20 years of waiting?
We don't know and his co-stars are no help. Biff chimed in with, "The power of love is a curious thing…" While Lorainne McFly wrote, "We look like the Adams Family….LOVE YOU"
If only we had a time machine or a DeLorean we could get into and find out the answer. Since we do not, then we are just left waiting to find out what Doc meant.
However, it would be interesting to see what they would and could do because we have already passed the date they went to into BTTF 2. As we know that October 21, 2015, did not look like how they imagined it would be back in the late '80s. Even that Burger King looks completely different because some cook destroyed the kitchen and they decided to renovate it. Just a little fun fact.
---