Great Scott, did Christopher Lloyd just hint about Back to the Future IV?
April 17th, 2019 under Lea Thompson, Michael J Fox, Taxi. [ Comments:

none

]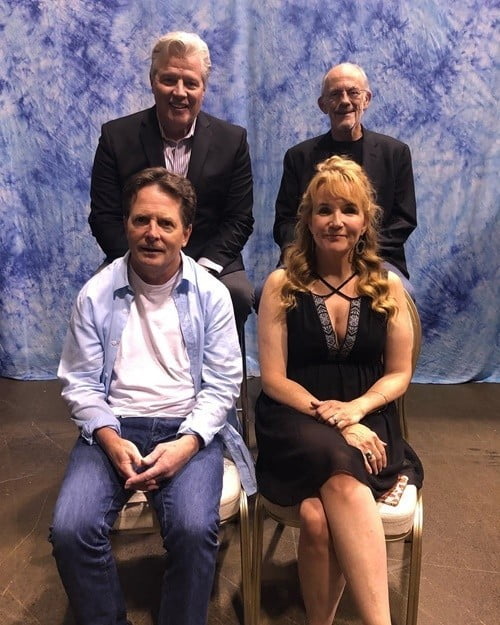 Christopher Lloyd posted a photo with his Back to the Future castmates Michael J. Fox, Tom Wilson and Lea Thompson, and captioned it "BTTF IV". Does that mean we might finally get a sequel after almost 20 years of waiting?
We don't know and his co-stars are no help. Biff chimed in with, "The power of love is a curious thing…" While Lorainne McFly wrote, "We look like the Adams Family….LOVE YOU"
If only we had a time machine or a DeLorean we could get into and find out the answer. Since we do not, then we are just left waiting to find out what Doc meant.
However, it would be interesting to see what they would and could do because we have already passed the date they went to into BTTF 2. As we know that October 21, 2015, did not look like how they imagined it would be back in the late '80s. Even that Burger King looks completely different because some cook destroyed the kitchen and they decided to renovate it. Just a little fun fact.
---
The Back to the Future cast reunites!
August 13th, 2018 under Lea Thompson, Michael J Fox, Reunions, Taxi. [ Comments:

none

]

Over the weekend, the Fan Expo in Boston made a lot of fans happy when they reunited four of the cast members from Back to the Future. Even though everyone hated Biff (Thomas F. Wilson) on the big screen, in real life, Marty McFly (Michael J Fox), Doc (Christopher Lloyd) and Lorraine (Lea Thompson) actually like him.

In fact, the four of them look so close, I think it is time they did Back to the Future 4. Maybe they can take a page out of Cobra Kai and make it Biff's story.

BTW can you believe it has been 33 years since the first movie came out? It is as though they are stuck in 1985 because they have not aged a day.
---
Great, Scott! OSU's Marching Band's tribute to Back to the Future!
November 9th, 2015 under Michael J Fox, Sports figures. [ Comments:

4

]

Ohio State University's Marching Band is the best one in the country, if not the world, and this Saturday they paid tribute to one of the greatest movie franchises of all the time. They marched to the beat of Back to the Future. Not only that, they lined up to generate some of the most iconic moments from the movie. They assembled to create the DeLorean, Marty McFly playing the guitar and also escaping on skateboard with the help of a pickup, and of course the clock tower with just their bodies.
There is something about watching them that just puts a huge smile on my face. How can you not watch their hard work turn into a human masterpiece and not feel good. It's truly is outstanding what they do. So sit back and watch the almost 10 minute performance, I promise you won't be disappointed.
---
Doc Brown tells Jimmy Kimmel how he's going to die!
October 22nd, 2015 under Jimmy Kimmel, Michael J Fox. [ Comments:

none

]

We have all seen Back to the Future 2. We remember Doc Brown and Marty McFly arriving on October 21, 2015 in Hill Valley. Well, turns out they also arrived on that date in Brooklyn, NY on Jimmy Kimmel Live. The ABC late night host was able to tell them how the 2015 we know is different than one they know. Leading McFly to admit our version sucks.
Doc Brown agreed and went back to 1985 correct his wrong. Before he left, Kimmel asked him how he is going to die. Brown told him, he will die next week by the hands of angry children who are mad at him for having their parents take their Halloween candy away. Something I don't think you have to have a time machine to know is coming.
---
Michael J Fox models the self-tying Nikes
October 21st, 2015 under Michael J Fox. [ Comments:

none

]

Back in 1989, Back to the Future 2 predicted that we would have self-tying sneakers by now and we thought they got it wrong. That all changed today, on Back to the Future Day, because Nike created a special pair of Nike Mag for the movie's star. Michael J Fox modeled his special kicks and they are cooler than Pepsi Perfect.
Only negative, is the sound it makes when they tie. It sounds like someone slowly letting the air out of a balloon or a baby crying when they are half asleep.
So what if the sound doesn't bother you like it bothers me, and you want to own a pair. They will be available next year. Before you get too excited, only a few pairs will be auctioned off. Before you get too mad at Nike, they are donating all the proceeds to Michael J. Fox Foundation for Parkinson's Research. You can't stay mad at them for long.
Plus, give it a year, someone will walk into the Shark Tank with their own version of the self-tying shoes and another person will pitch the Hooverboard.
---