Kenny Rogers is not on his deathbed, but he is in the hospital
May 31st, 2019 under Kenny Rogers. [ Comments:

2

]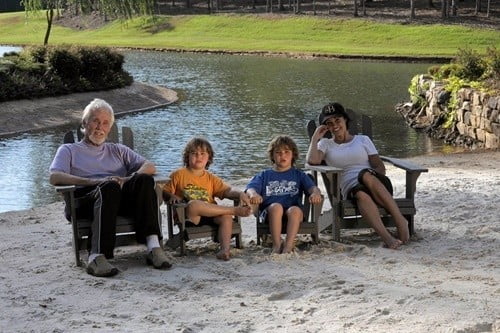 Kenny Rogers is the hospital and some places are reporting that he is on his deathbed with bladder cancer. The singer's people released a statement to let people that is not the case.
They wrote, "Kenny was recently admitted to a local Georgia hospital and treated for dehydration. He will remain there to complete some physical therapy to get his strength back prior to discharge. He appreciates the concern and well wishes he has received from his fans and can assure everyone he plans on sticking around through the years to come."
We all know the 80-year-old is a Gambler, and I am betting he will come out of this just fine. Until then, know we are praying for your speedy recovery.
---
Kenny Rogers cancels his final final tour dates
April 5th, 2018 under Kenny Rogers. [ Comments:

1

]

Kenny Rogers had 8 more dates to do for his final tour, but he is forced to cancel them per doctor orders. His first of the last dates broke the news on Twitter. Silver Lake Resort wrote, "Kenny Rogers has been working through a series of health challenges and has been advised to cancel all performances through the end of the year to focus on recuperation."

Hopefully the 79-year-old gambler will fell better soon and be able to do one last phenomenal show and record it for the whole wide world to see. He needs to go out like he has always been, BIG!
---
Jimmy Fallon and Miley Cyrus do their Dolly Parton and Kenny Rogers
October 5th, 2017 under Dolly Parton, Jimmy Fallon, Kenny Rogers, Miley Cyrus. [ Comments:

none

]

It is Miley Cryus week on The Tonight Show and yesterday Jimmy Fallon and the singer recreated Dolly Parton and Kenny Roger's iconic performance of Islands in the Stream. They were so believable as the Country duo, you would almost think it is 1983 all over again. But then again, Miley has an unfair advantage because after all Miss Dolly is her Godmother. That means she knows how she sings and dances better than most and it shows. Now, I am going to have that song stuck in my head all day long.
If you want to see just how gosh darn close the performances are to each other, then click here!
---
Thanks Geico for finally getting a commercial right!
July 15th, 2014 under Ads, Kenny Rogers. [ Comments:

1

]

This year we have seen some really horrible ads from the likes of Little Caesar's Pizza, DirectTV and Old Spice to name a few, but Geico will not be on the list. Their latest ad is so brilliant, that it reminded not all advertisers are bad. They did one of their "Did you know?" ads and this one made me take notice. One guy says to the other one, "Did you know that playing cards with Kenny Rogers gets old pretty fast?" Why is that case? Press play for a nice a surprise that will bring a smile to your face. I promise no strings are attached like that DirectTV ad that gives you nightmares.
---
Lionel Richie wrote Lady in the bathroom
April 5th, 2012 under Jimmy Kimmel, Kenny Rogers, Lionel Richie. [ Comments:

none

]

Lionel Richie was on Jimmy Kimmel Live yesterday to promote his #1 country album Tuskegee and he told the ABC late host a story about a song he wrote for one of the biggest country music stars of all time. Richie teamed with Kenny Rogers to write two songs for him and one of the songs he pitched to the bearded singer was Lady. When he pitched it, he had only a few lines ready and said if he liked it he would finish it. When the two met to record, he had another song ready and thought that would suffice. Well The Gambler wasn't playing and was ready the complete version of Lady. Only problem is that the Commodore had only written the first verse. Well push came to shove and he ran to the bathroom and dinished one of the most romantic love songs in music history. I guess you can say not everything that comes out of the bathroom is sh!1tty.
If you want to see if the lyrics sound like something that were written over a toilet, then click here!
---