Jimmy Kimmel and Howard Stern talk about their favorite guests
September 18th, 2020 under Howard Stern, Jimmy Kimmel. [ Comments:

none

]

Jimmy Kimmel once said that Jared Leto was his worst guest. The other day, Howard Stern asked the late night host who are some of his favorites.
The first two names that came to his mind are frenemies Charles Barkley and Shaquille O'Neal.
The rest of the list is pretty much comedians. Kimmel started with David Spade and said that he is a good storyteller. Spade is so good at it that Jimmy declared him as one of the ten best talk show interviews of all time.
Stern than mentioned that one of his favorites is Steve Martin. When the shock jock told him that, Martin said, "It is a lot of work, and you don't get paid for it. I am gotta go get a job where I get paid for it."
Then both guys agreed that Martin's friend Martin Short is also the greatest. After that they just went down the list with Wanda Sykes, Will Arnet, Jason Bateman, Norm MacDonald, Dave Chappell, and Bryan Cranston.
Quite an impressive list. Of course, they left out a few like Betty White, Blake Shelton, Henry Winkler, Terry Bradhsaw, Will Forte, Matthew Perry, and Josh Groban.
Who are some of your favorite people to watch on talk shows?
Finally, Jimmy Kimmel will return to the studio on September 21st. His first guest is…Charles Barkley. That puts a lot of pressure on the NBA legend to top himself. Will he score another slam dunk?

---
Joey King developed a blood condition while filming The Conjuring
August 13th, 2020 under Howard Stern, Joey King. [ Comments:

1

]

Back when Joey King was 12 years old, she made a little horror movie called The Conjuring. Something happened to her while she was making the film that was more of a horror than the feature itself.
The actress told Howard Stern the other day, that when Lili Taylor's character started to develop bruising, so did King in real life. She would find bruises in odd places like her chest and stomach. The makeup people thought she was stealing their bruising makeup and tried to remove them to no avail.
Eventually, she went to the doctor, and they thought she might have Leukemia. Thankfully, she didn't, but she wound up having something called Immune thrombocytopenia, which is a low platelet count. She had to go to the hospital twice a day, every day, to check her platelet levels and take iron pills to build it back up.
King never had a problem before filming the 2013 scary movie, and it went away as soon as she got home. In fact, she says she never had it again. Spooky.
Do you think The Conjuring was cursed?

---
Charlize Theron says she may never live with another man
June 23rd, 2020 under Charlize Theron, Howard Stern. [ Comments:

none

]

Charlize Theron was on Howard Stern's radio show, and she told him she never wanted to get married. It was not something that she ever aspired to do. Now that she has two kids, Jackson and August, she doesn't need a man to make her feel love. They keep her busy and give her all the love that she needs.
The Oscar winner has not sworn off of men. She likes to date, but that is probably as far as she will go. She doesn't think she can ever live with another man. She explained, "I don't know if I will be able to f*cking deal with that ever again. Like I am too old for that sh!t."
The 44-year-old is willing to compromise.. Her lover is free to buy the house next to her's. That seems fair!

---
Will Bon Jovi ever play the Super Bowl halftime show?
April 15th, 2020 under Bon Jovi, Howard Stern. [ Comments:

none

]

Every year, I ask myself the same question after the Super Bowl. When will Bon Jovi ever play the halftime show? If ever there was a band, who was made to do it, it is them.
I am not the only one who wants to know, so does Howard Stern. Therefore, today when the rocker was on the show, the shock jock asked him that very question.
The singer with the best a$$ in Rock'n'Roll told him, "No desire, I turned it down many many years ago."
Since Stern knows how to do an interview, he followed up with, "why?" JBJ explained, "I didn't like that you had to team up with other people. And you had these people come in on your stage. And all the demands and then the pressures on it."
Then he added, "It didn't appeal to me play at the New Jersey one. It seemed too obvious. The last time, honest to Gd, we were at all interested was back when they had it in Dallas. And we didn't get it. And I said, 'That's the end of it. I don't want it. I won't even talk about it again.'"
Sadly, we have our answer if they will ever play the SBHTS. They will never do it. Which is a shame because they could have brought down the house. The energy in the stands would have been like something we have not seen in a really long time at the annual football game.
BTW Who did the NFL get to play the halftime show in Dallas instead of Jovi? Back in 2011, Black Eyed Peas, Usher, and Slash rocked out on the field. I don't remember their performance, do you? The last good show, to me, was Bruno Mars in 2014.
Now that Jovi is out of contention, which band do you really want to see get the gig?

---
Howard Stern blows off the lovable Dick Van Dyke
October 10th, 2019 under Dick Van Dyke, Howard Stern. [ Comments:

none

]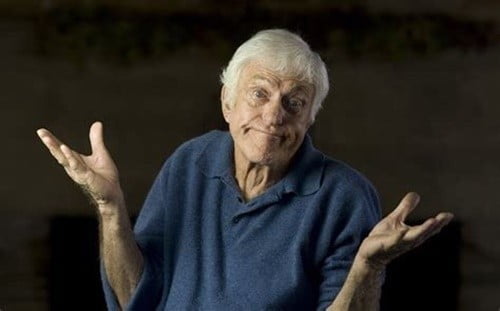 Dick Van Dyke is so beloved that you would think that anyone who could interview, would jump at the oppprtunity (I would do almost anything for the chance). You would be wrong.
The legendary actor tweeted, "Mrs. @speakyteeth a @HowardStern @sternshow fan since the 90's. Her only request since we met has been for me to be on the show. It's never happened because of opposite coasts. Last week, my agent called & was turned down. Did Howard ever get the request or is he afraid of me."
If Stern can interview boring Jennifer Aniston, then why can't he do a sit down with Van Dyke? Imagine all the juicy stories he has with all the amazing people (who we also adore) he worked with throughout the decades. I'd rather listen to him than Adam Levine saying the same thing he just said to everyone else in the last week.
We need to let Stern know, he has to book Van Dyke before he heads back to NYC!

---