Billy Idol teases a collaboration with Miley Cyrus
January 21st, 2020 under Billy Idol, Miley Cyrus. [ Comments:

none

]

Billy Idol and Miley Cyrus have performed his song Rebel Yell live a few times, and now he hinted they did something else together.
The rocker is in New Zealand on tour, and he sat down with The Project NZ to talk about it. One of the hosts asked him what is most proud of in his 40+ year career. He told them, "Just the fact that I've kept at it. I love Rock'n'Roll. I love playing with Steven Stevens. I'm still playing with Steve." Then he added, "We still have new things we are finding out like I just did a collaboration with Miley Cyrus. And I am still enjoying what I do. New things happening, that is the point."
Sadly, the anchor did not follow up, and to find out what he did with Miley, so we are left to assume they recorded a song together. Especially since she shared a photo of them, earlier this month, at what look likes Andrew Watt's studio.
I hope they did a new song together and not an updated version of Rebel Yell. Although, I like her take on Girls Just Want to Have Fun better than Cyndi Lauper's. Oh, the horror. You know which song of his I would like to see them do? Cradle of Love! Not that there is anything going on between them, but it would be fun if they could have a single like Aerosmith and Run DMC joint venture with Walk This Way.
---
Miley Cyrus gets an '80s punk do
November 27th, 2019 under Miley Cyrus. [ Comments:

none

]

Back in the '80s, Joan Jett, Chrissie Hynde and Pat Benatar all had shaggy layer bobs. It was style only the punk rockers kept because it was a hairstyle that needed to go away when that decade ended.
Or so we thought. Sally Hershberger, who gave Jennifer Aniston and Meg Ryan their famous dos, gave Miley Cyrus the retro haircut. It is very Miley, but that does not mean it is a good thing. It makes her fake blonde locks look damaged. Hopefully, when the singer starts styling it and letting her waves shine through, the cut will look a lot better.
Do you think it looks like a wrecking ball or would you party in the USA with that hairstyle?
---
Don't call Ariana Grande, Miley Cyrus and Lana Del Rey angels
September 13th, 2019 under Ariana Grande, Miley Cyrus. [ Comments:

none

]

Back in 2001, Christina Aguilera, Mýa, Pink and Lil' Kim recorded Lady Marmalade for the Moulin Rogue soundtrack. The collaboration of four artists, who you would not picture recording together, created one of the greatest soundtrack songs of this century.
The Charlie's Angels remake is trying to do the same thing with Ariana Grande, Miley Cyrus and Lana Del Rey. The three singers came together to sing Don't Call Me Angel for the movie's album.
Is going to be this decade's Lady Marmalade? Maybe to their fan base, but the rest of us will fall asleep listening to the snoozer. It is more like tinnitus than an earworm. They would have been better off doing a cover of Angel in the Morning because that is the tune stuck in my head right now and not the one the trio.
Is it ringing in your ears or causing them to bleed?
---
Miley Cyrus says she is a 'twerking, pot smoking, foul mouthed hillbilly'
August 22nd, 2019 under Miley Cyrus. [ Comments:

none

]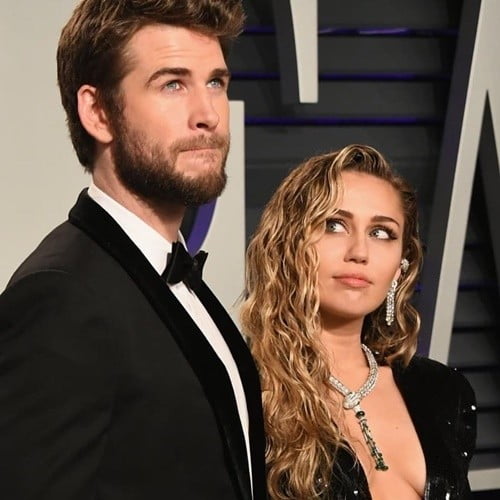 Ever since Miley Cyrus announced that she split from her husband Liam Hemsworth, there have been a lot of rumors of why their 8-month marriage ended. The latest one is that she cheated on him and today she wanted to let us know that is not the case in series of tweets.
I can accept that the life I've chosen means I must live completely open and transparent with my fans who I love, and the public, 100% of the time. What I cannot accept is being told I'm lying to cover up a crime I haven't committed. I have nothing to hide.

It is no secret that I was into partying in my teens and early 20's. I have not only smoked, but advocated for weed, I've experimented with drugs, my biggest song to date is about dancing on molly and snorting lines in the bathroom.

I f*cked up and cheated in relationships when I was young.

I lost a massive Walmart deal at 17 for ripping a bong.

I got kicked off hotel Transylvania for buying Liam a penis cake for his birthday and licking it.

I swung on a wrecking ball naked.

There are probably more nudes of me on the internet than maybe any woman in history.

But the truth is, once Liam & I reconciled,I meant it, & I was committed. There are NO secrets to uncover here. I've learned from every experience in my life. I'm not perfect, I don't want to be, it's boring. I've grown up in front of you, but the bottom line is, I HAVE GROWN UP.

I can admit to a lot of things but I refuse to admit that my marriage ended because of cheating. Liam and I have been together for a decade. I've said it before & it remains true, I love Liam and always will.

BUT at this point I had to make a healthy decision for myself to leave a previous life behind. I am the healthiest and happiest I have been in a long time. You can say I am a twerking, pot smoking , foul mouthed hillbilly but I am not a liar.

I am proud to say, I am simply in a different place from where i was when I was a younger.
Say what you want about Miley, but she knows who she is and she owns it. Most people can learn from her on how to be so open about the person that they are and not give two sh!ts about what people think about you.
---
Miley Cyrus released a breakup song about Liam Hemsworth
August 15th, 2019 under Chris and Liam Hemsworth, Miley Cyrus. [ Comments:

none

]

Over the weekend, Miley Cyrus and Liam Hemsworth announced that they had separated after 7 months of marriage. Now, less than 7 days after the announcement, the singer released a new single that gives us a hint of what might have gone wrong.
In Slide Away, she says that they met when they were 17 and they are not the same people now as they were then. They have changed because they grew up. She also tells him he can stay at the beach and she will go back to her city life.
There seems to be one line she wants to stand out because it is the image she used for the audio video on YouTube. That line is, "Don't want the whiskey and pills." What that means, we do not know. However, she wants us to know it.
At the end of the song, you think the reason for the split is just that they grew apart as they grew up. Something many couples do.
Having said all of that, Hemsworth needs to hire Taylor Swift to write him a breakup song.
---