Captain Marvel made Kevin Smith cry
March 9th, 2019 under Kevin Smith, Marvel Comics. [ Comments:

none

]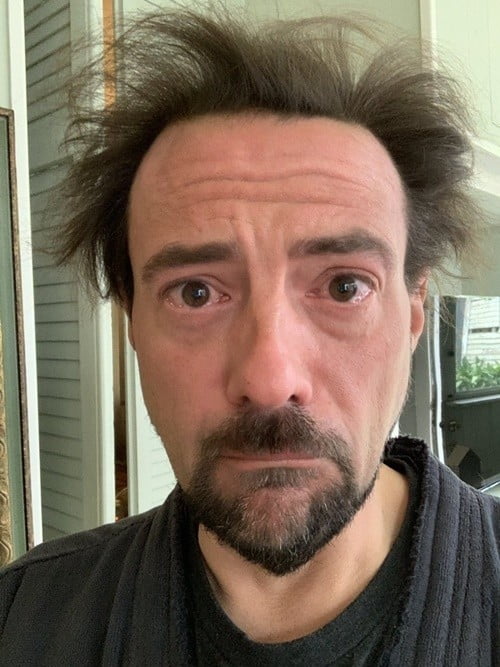 Kevin Smith has been through a lot in the last, you know like surviving a heart attack that should have killed him. Yet we never saw him shed a tear. That was until yesterday when he saw Captain Marvel and that made cry. Why?
He explained, "Just saw @captainmarvel. I am a blubbering mess. After a lifetime spent referencing the movies, the movies just referenced me! Many thanks to @MarvelStudios and to my friend @TheRealStanLee for the shout-out! But if I'm now part of the @Marvel Universe… Did I survive The Snap?"
I think we can all understand why he crying, I would cry too and it is not my party.
---
Tiffany Haddish auditioned for Flavor of Love
September 28th, 2018 under Kevin Smith, Tiffany Haddish. [ Comments:

none

]

We saw a lot of interesting characters on Flavor of Love and one of the women almost vying for Flavor Flav's love was Tiffany Haddish.
The actress made the confession when she and Kevin Hart answered the Web's Most Searched Questions for Wired. Someone asked if she was New York from the reality show? She was like, "Hell no, I got all my real t!tt!es and a$$." Then she added, "You know I auditioned for that show, Flavor Flav. When I found out, it was Flavor Flav, you had to be in a house with, I was like, oh no, thank you." Do you blame her?
Actually, I do because imagine how awesome she would have been on the show? But then again, she might not have done The Carmichael Show had she been on the reality dating series. That would have been a huge loss for just 15 seconds of fame.
---
Kevin Smith hits his goal weight!
August 27th, 2018 under Kevin Smith. [ Comments:

none

]

Six months ago, Kevin Smith nearly died from a widowmaker heart attack. That was then, now the director is healthier than ever. He is down the 51 pounds that the doctor told him to take off and that is not the only thing. So are all the important numbers like blood pressure and cholesterol.
He went from 256 to 205 pounds and he wants to lose 10 more. He says this is his lowest weight since he was in high school. Not only is he looking good on the scale, he is looking even better off of it. The former Fatman is even sexy! Who would have thought that Silent Bob would make us scream?
How did he do it? Weight Watchers and a change of lifestyle. He explained one major change, "I also wanna thank my kid @harleyquinnsmith – the little vegan astronaut who explored this meatless/milkless galaxy ahead of me, leading by example." Then he added, "Since I never wanted to see the inside of a hospital ever again, I simply copied the Kid. So this wasn't a diet: these results came from a total lifestyle change of eating solely plant-based foods (which is tough because I hate vegetables)."
He might hate vegetables, but we love having him around. Not as much as he loves having a second chance at life, but pretty close.
---
Jay and Silent Bob go to Weight Watchers
August 6th, 2018 under Kevin Smith. [ Comments:

none

]

Earlier this year, Kevin Smith suffered a major heart attack and lived. The doctors told him to lose 50 pounds so that he does not suffer another one. He did some of it with one diet, but he has been doing the rest with Weight Watchers.
Now that he is preparing to put on the trench coat to play Silent Bob again and he is skinnier than he has ever been in any of his movies, he wanted to make sure his partner in crime looks and feels as good as him. Therefore Smith had a talk with his friend, Jason Meyes, and now both of them are on Weight Watchers together.
I feel bad for the cast and crew on the set of their new movie because Craft Services will not be as good as it used to be. Although, there seems to be a lot of stuff you can still eat on the diet.
Now let's talk about that diet, let's hope it is not the theme for the next Jay and Silent Bob movie because that will be kind of boring! Or maybe not?
You know that how he has not only lost the weight but he has kept it off. I am beginning to think I should try Weight Watchers like the two of them.
---
Kevin Smith lost so much weight, he can't shop at his regular shop
June 21st, 2018 under Kevin Smith. [ Comments:

2

]

Kevin Smith, as we know, has been portly man. Not anymore thanks to getting a second lease on life and suffering a widowmaker in February. Since then, he has lost 43 pounds and several pants size. Enough weight that he needs to buy some new jorts. The only problem is that the store he has been going to for the last decade does not carry his size. He is too small for the big store.

When they told him that they did not have his size, he almost cried. Not because he is sad but because of he his weight loss accomplishment. To celebrate he bought some suit jackets to show off his new physique.

First, we had to get to used to a skinny Kevin Smith. Now we are going to have to get used to seeing him in suit jackets and without his signature hockey jerseys. That is a lot to handle. What is next, no beard? That will totally freak me out!

Seriously though, keep up the good work!
---