Clerks III comes with more weed
July 7th, 2022 under Kevin Smith. [ Comments: none ]
Kevin Smith released the first trailer for Clerks III , and it looks like it is going to be the charm of the franchise.
So much so, I can't wait to see their making of a movie in a movie on September 13th. Who is with me? If you are, then you reserve your tickets now!

---
When did Justin Timberlake turn into Kevin Smith?
September 22nd, 2021 under Justin Theroux, Kevin Smith. [ Comments: none ]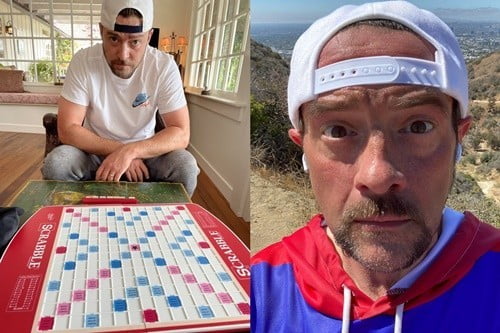 Jessica Biel posted a photo of her and her husband playing a mean game of Scrabble. When I saw the picture, I thought it was Kevin Smith as I was scrolling. Seriously, can you tell which one is which?
Now, I have to wonder, is that saying that the director got sexy when he lost the weight? Or does it say that the singer needs to bring his sexy back? So many questions, so little info?

---
Kevin Smith has the best reaction to Bennifer 1.0 meeting up
May 3rd, 2021 under Ben Affleck, J-Lo, Kevin Smith. [ Comments: none ]
Back in 2002, Ben Affleck and Jennifer Lopez took Hollywood by storm when they started dating. Then after two years and two horrendous movies, their engagement was off right before they walked down the aisle.
Now, almost two decades after they started dating, along with divorces, having kids, several breakups, and more failed movies, they were seen together. That got everyone wondering if they were dating again.
One of those people is Kevin Smith, who directed them in Jersey Girl, a movie I thought was worse than Gigli and I joined the Razzies because of their first film together.
Sorry, back to Smith. When he saw the news, he took social media to give his two cents. "I hope this is true. I was there at the beginning of their relationship and they were adorable and very in love. It'll be wonderful for both of them if they find their way back to each other now, years later," the director wrote. "Unrelated side note? Coming soon…JERSEY GIRL 2: NECRONOMICON!" The sequel is enough of a reason to make sure they don't reunite.
No one is happier about this news than Brad Pitt and Jennifer Aniston. That's because the pressure is temporarily off of them to get back together. I say both men can do better.
Do you want Bennifer 1.0 to be a thing again?

---
Toy Story 4 made Kevin Smith cry like a baby
October 7th, 2019 under Kevin Smith. [ Comments: none ]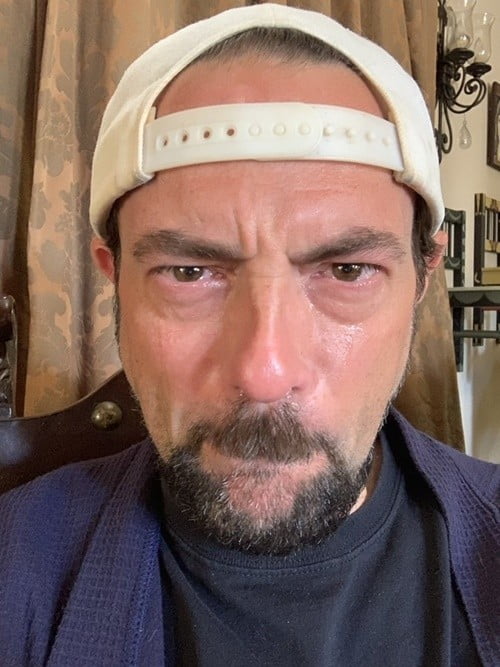 Kevin Smith makes movies that makes us laugh (Red State is not even worth a mention). However, he keeps watching films that make him cry. When he saw Captain Marvel, he was overwhelmed with emotion when they mentioned his name.
Yet, that is not why he lost it when he saw Toy Story 4. Silent Bob wrote, "F*ck you, @toystory 4! I'm dehydrated from bawling! For playing with my emotions like that, anybody who worked on this tearjerker has to go see #JayAndSilentBobReboot on 10/15 and 10/17! Payback tickets here: http://fathomevents.com/reboot"
I feel like a monster because I did not shed a single tear during the final Toy Story film. Am I the only one who was trying not to fall asleep when they saw it?
When it comes to Jay and Silent Bob Reboot, I cannot wait to see that sequel. I am still talking about the first movie and it was a long ago. A little secret about me, it was one of the first junkets I covered when I moved to LA back in 2001. But that is not why I love that film so much. It was just that funny.

---
Ashley Tisdale calls out Kevin Smith for scratching up her car
June 9th, 2019 under Ashley Tisdale, Kevin Smith. [ Comments: none ]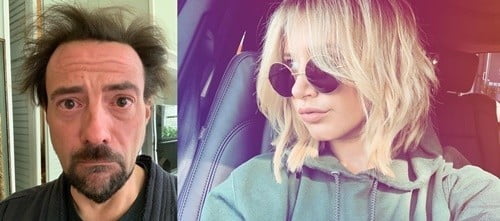 Did you know that Kevin Smith and Ashley Tisdale are neighbors? Well, they are and they are fighting it out on Twitter and then hugging it out in real life.
The actress wrote, "Thanks @ThatKevinSmith for scratching my mirror on my car and not stopping. Classy move neighbor!" He responded by saying, "Apologies – I drive like Cruella de Vil in the Hills! However, I *did* do a courtesy stop. Then when you pulled away first, I was like 'That's soooo Sharpay…'"
After people called her out for tweeting that and his tweet, she went over to his house to talk to him in person. He revealed what happened next, "So the incredibly sweet @ashleytisdale stopped by my house and tried to apologize. I assured her that *I'm* the one who was driving like a Wildcat. Also told her I'd sent my kid our Tweets. HQ's response: 'We saw Ashley in HighSchoolMusical Live!' Ashley was like 'Oh, maaan…'"
Too bad he didn't crash into her car before he wrapped Jay and Silent Bob because then maybe she could have been in it as an apology. Since that movie is done, I am sure she will be in his next one. That is if she is not busy filming Carol's Second Act as Patricia Heaton's daughter.

---