I think The Tonight Show staff might be mad at Jimmy Fallon
June 25th, 2019 under Chrissy Teigen, Jimmy Fallon. [ Comments:

none

]

Anyone, who watches The Tonight Show, knows that Jimmy Fallon is not, how do you put this nicely, the bravest of men. He is scared of all types of creatures, big and small.
A few months ago, the show added a new game called Can You Feel It. It is a simple game, where the NBC host or his guest stand behind a fish tank with a mystery item in it. They have to put their hands inside of it to find out what it is.
Normally, it is stuff like fake snakes, but yesterday they changed it up. They gave him a live lungfish (no one knows what it is) and crawling cockroaches. Which makes you wonder, what did he to his staff that they are finding ways to torture him on camera? It had to be something.
When it comes to Chrissy Teigen, she had the best line of the night. She said to him, "Once you feel the top, you will want to go down." I wonder if she has used the line before… I have!
---
John Legend is 482 months old
February 25th, 2019 under Chrissy Teigen, John Legend. [ Comments:

none

]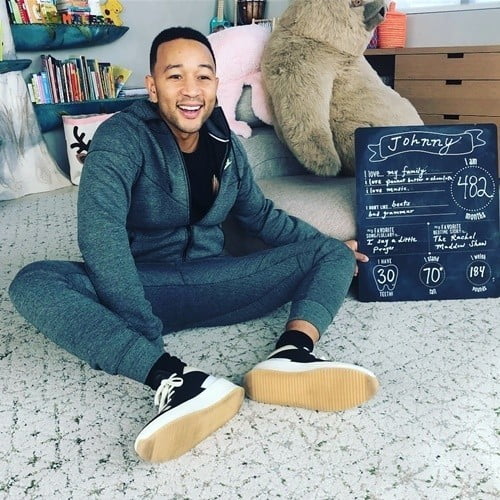 Chrissy Teigen took one of those photos telling us her son Milo reached his 9-month milestone and then she did one with her biggest baby. Not Luna, but her husband.
John Legend is 482 months or just over 40 years old. His favorite song is Say a Little Prayer. His favorite show is The Rachel Maddow Show. He hates grammar and loves his family. Just like we love him.
I thought the photo of the youngest Legend was awwwdorable, but I think I like the one of the oldest one even more. Why don't more parents do that?
To see the photo of Johnny's mini-me, then click here!
---
Caption Chrissy Teigen, John Legend and Andy Cohen
January 17th, 2019 under Andy Cohen, Caption the Celeb, Chrissy Teigen, John Legend. [ Comments:

none

]

This photo of Chrissy Teigen, John Legend and Andy Cohen has caption me written all over it, so go ahead and do it.
---
John Legend's son is his mini-me
January 12th, 2019 under Chrissy Teigen, John Legend. [ Comments:

none

]

Even though John Legend turned 40 last month, his birthday party is tonight. Everyone wants to look good for the EGOT winner including his son Miles. Although, the 7-month-old couldn't decide which tux to go with. He asked his mom, Chrissy Teigen, for advice, in turn, she asked her followers.

I can't decide, can you? So I say wear the black one before dinner and the white one for after.
---
Has Chrissy Teigen hit hard times?
December 4th, 2018 under Chrissy Teigen, Hard times. [ Comments:

1

]

Chrissy Teigen was seen wearing red and khaku at Target, so has she hit hard times? I mean, doesn't EGOT member John Legend earn enough millions to support her and their two kids?

Yes, he does. And yes she is working at Target as a team member to promote that for this week only you can get 10% of her Cravings line at the store.

You know what, Target colors look good on. Don't you agree?
---