Chrissy Teigen reveals how she and John Legend reacted to Presidont's tweet
September 11th, 2019 under Chrissy Teigen, Ellen DeGeneres. [ Comments:

none

]

On Sunday night, Donald Trump called EGOT winner John Legend boring and his Chrissy Teigen "his foul mouthed wife."
Today the host is on Ellen and she described what it was like when that happened. The couple was having a nice night and then their phones started to blow up. Their friends were like did you see what Presidont (thank you Tommy Lee for that nickname) said about you?
They ran to Twitter, but she could not see what he wrote. That is because he is still blocking her. Even though the courts told him he cannot block anyone. That is a whole other issue.
Anyways, she described how she felt at that moment, "It was a weird feeling. I was really angry. I think my eyes filled up with water just at the shock of it. That I can't believe this really happened right now."
Then she and her husband spent the rest of the night, writing tweets, checking to make sure what they said was OK, and laughing with friends and strangers. We are laughing with them because Pussy Ass Bitch President is pretty gosh darn perfect.
Is she done fighting with Presidon't? Probably not. We know in a Lip Sync Battle, she would win. She would also kick his ass in an all out Twitter war. He picked the wrong person to fight with.
---
Chrissy Teigen is courting you
August 30th, 2019 under Chrissy Teigen. [ Comments:

none

]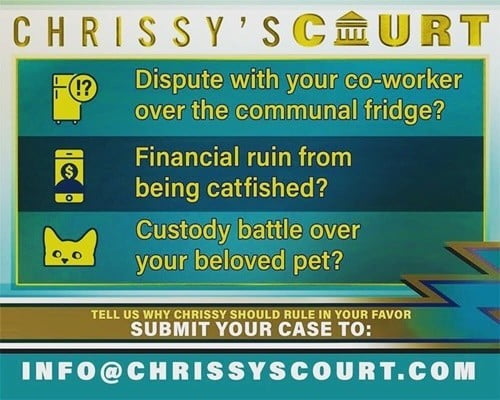 Chrissy Teigen is getting a court show and she wants you. If you, "Bought a bridesmaid dress for a wedding that never happened? Sh!tty roommate? Significant other watch a show without you? No claim is too small!!!! If it's Petty, We want you!
Submit your cases to info@Chrissyscourt.com"
It sounds People's Court without that legal stuff getting in the way. Which sounds like it could be a lot of fun.
Do you have a case for her? I wonder if anyone will be like, there is a supermodel/host, who is married to a famous singer, who drives me crazy with all the annoying she says and does. Sorry, had to go there.
---
I think The Tonight Show staff might be mad at Jimmy Fallon
June 25th, 2019 under Chrissy Teigen, Jimmy Fallon. [ Comments:

none

]

Anyone, who watches The Tonight Show, knows that Jimmy Fallon is not, how do you put this nicely, the bravest of men. He is scared of all types of creatures, big and small.
A few months ago, the show added a new game called Can You Feel It. It is a simple game, where the NBC host or his guest stand behind a fish tank with a mystery item in it. They have to put their hands inside of it to find out what it is.
Normally, it is stuff like fake snakes, but yesterday they changed it up. They gave him a live lungfish (no one knows what it is) and crawling cockroaches. Which makes you wonder, what did he to his staff that they are finding ways to torture him on camera? It had to be something.
When it comes to Chrissy Teigen, she had the best line of the night. She said to him, "Once you feel the top, you will want to go down." I wonder if she has used the line before… I have!
---
John Legend is 482 months old
February 25th, 2019 under Chrissy Teigen, John Legend. [ Comments:

none

]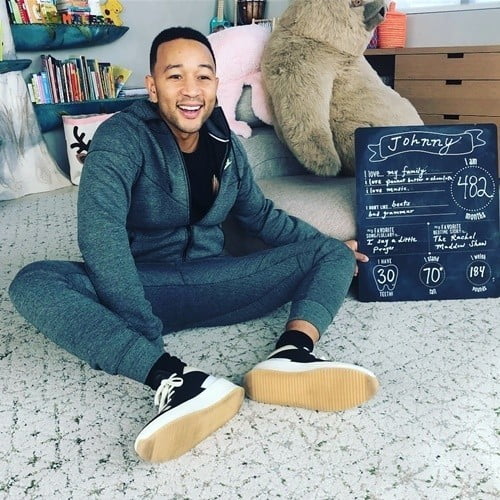 Chrissy Teigen took one of those photos telling us her son Milo reached his 9-month milestone and then she did one with her biggest baby. Not Luna, but her husband.
John Legend is 482 months or just over 40 years old. His favorite song is Say a Little Prayer. His favorite show is The Rachel Maddow Show. He hates grammar and loves his family. Just like we love him.
I thought the photo of the youngest Legend was awwwdorable, but I think I like the one of the oldest one even more. Why don't more parents do that?
To see the photo of Johnny's mini-me, then click here!
---
Caption Chrissy Teigen, John Legend and Andy Cohen
January 17th, 2019 under Andy Cohen, Caption the Celeb, Chrissy Teigen, John Legend. [ Comments:

none

]

This photo of Chrissy Teigen, John Legend and Andy Cohen has caption me written all over it, so go ahead and do it.
---