John Legend is 482 months old
February 25th, 2019 under Chrissy Teigen, John Legend. [ Comments:

none

]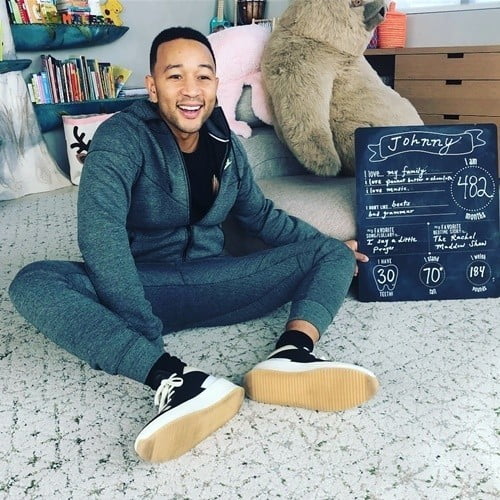 Chrissy Teigen took one of those photos telling us her son Milo reached his 9-month milestone and then she did one with her biggest baby. Not Luna, but her husband.
John Legend is 482 months or just over 40 years old. His favorite song is Say a Little Prayer. His favorite show is The Rachel Maddow Show. He hates grammar and loves his family. Just like we love him.
I thought the photo of the youngest Legend was awwwdorable, but I think I like the one of the oldest one even more. Why don't more parents do that?
To see the photo of Johnny's mini-me, then click here!
---
Caption Chrissy Teigen, John Legend and Andy Cohen
January 17th, 2019 under Andy Cohen, Caption the Celeb, Chrissy Teigen, John Legend. [ Comments:

none

]

This photo of Chrissy Teigen, John Legend and Andy Cohen has caption me written all over it, so go ahead and do it.
---
John Legend's son is his mini-me
January 12th, 2019 under Chrissy Teigen, John Legend. [ Comments:

none

]

Even though John Legend turned 40 last month, his birthday party is tonight. Everyone wants to look good for the EGOT winner including his son Miles. Although, the 7-month-old couldn't decide which tux to go with. He asked his mom, Chrissy Teigen, for advice, in turn, she asked her followers.

I can't decide, can you? So I say wear the black one before dinner and the white one for after.
---
Has Chrissy Teigen hit hard times?
December 4th, 2018 under Chrissy Teigen, Hard times. [ Comments:

1

]

Chrissy Teigen was seen wearing red and khaku at Target, so has she hit hard times? I mean, doesn't EGOT member John Legend earn enough millions to support her and their two kids?

Yes, he does. And yes she is working at Target as a team member to promote that for this week only you can get 10% of her Cravings line at the store.

You know what, Target colors look good on. Don't you agree?
---
We've been saying Chrissy Teigen's name wrong
September 17th, 2018 under Chrissy Teigen. [ Comments:

none

]

I don't know about you, but I have been pronouncing Chrissy Teigen's name Tea-gen. Turns out I was wrong. Yesterday, she revealed that it actually pronounced Tie-gen like tiger. Her mother even backed her up, and I believe her mother.
I am blown away. It would be like finding out that it is Ariana Grand-ee, Judd Apa-tow like towel, Jeff Zucker like hooker or George Takei like gay. Who is next?
When it comes to Tie-gen, how does she feel about it? She said, "I don't correct people, ever. They can call me Janet and I won't. Wrong order? I'll eat it. Taxi going to the wrong airport? I'll change my flight." In fact, she says she even correct people if they say Tie-gen.
---