Imagine the movie these four could make!
August 30th, 2019 under Jeff Goldblum, John Travolta, Saved by the Bell/City Guys, The Two Coreys. [ Comments: none ]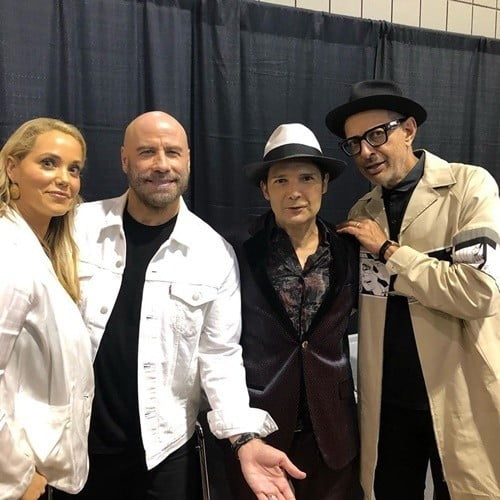 Over the weekend, several celebrities from all walks of Hollywood attended Fan Expo Canada. Like their fans fangirl over them, they fangirl over each other and pose together in photos.
Corey Feldman (Puppet Master vs Demonic Toys) did just that with Elizabeth Berkley (Showgirls), John Travolta (Battlefield Earth) and Jeff Goldblum (Transylvania 6-5000).
Seeing these four grouped together, I wonder what type of movie they could make. I could totally see Jeff Goldblum and John Travolta have a contest to see who is the suavest one of them all. Feldman is the son of one of them. While Berkley divorced one of them and is about to marry the other one. This causes even more tension between the men. Therefore, they are both plotting to destroy the other one. Only to find out in the end that they really like each other. They become BFFs, and Berkley winds up with Feldman. Would you go to see that film?
I would see anything these four did together for one project. I love mismatched casts, they create the most fun movies because of their odd chemistry.

---
A '70s girl's wet dream: Henry Winkler and John Travolta!
August 26th, 2019 under Henry Winkler, John Travolta, Wet dream. [ Comments: none ]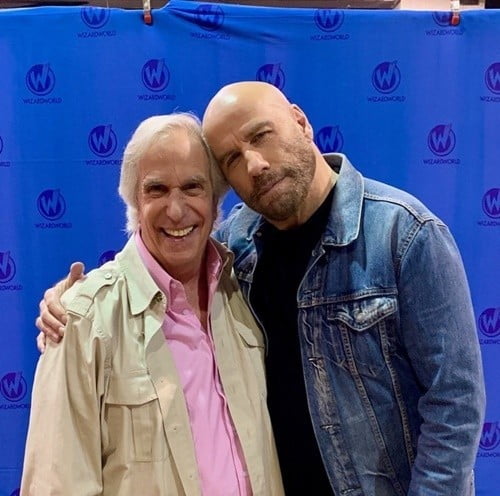 Back in the '70s, women were in love with The Fonz and Vinnie Barbino. Even though both of them shared many magazine covers, we never saw them in the same photo.
That is until now. The two men met over the weekend, and we got this smile-inducing photo as a present. It might be over 40 since we fell in love with Henry Winkler on Happy Days and John Travolta on Welcome Back, Kotter, however, we still adore them as much now as we did then. They both get better with age. And I still would not tell them to "Sit on it" or say to them "Up your nose with a rubber hose." Yet, I would love to scream "Ayyyy" with them. If you know what I mean.
Seriously, doesn't this picture bring you so much joy? It made my day!
They should do a project together. Maybe they both can compete to be Danny Zuko in a sequel to Grease. Since Winkler turned it down and Travolta, as we know, got the role. I wonder if they talked about that when they met up?
I can honestly just see the two of them talking to each other with huge smiles on their faces. They both are some of the nicest guys in Hollywood.

---
John Travolta can still do the Vinnie Barbarino dance!
August 16th, 2019 under Jimmy Fallon, John Travolta. [ Comments: none ]

Before John Travolta was dancing the night away in Grease, Saturday Night Fever and Pulp Fiction, to name a few of his movies, he was swinging his hips on Welcome Back, Kotter. Can he still move like he did when he was in his early 20's?
Yesterday, when he was on The Tonight Show, Jimmy Fallon challenged him to a Travolta-off. Basically, the two men went head-to-head to see who could do the better Travolta. Of course, Travolta won. I mean, how could he lose since he is the OG.
Anyways, for the last imitation, they both did Vinnie Barbarino together and ended with his character's signature number. Even though Travolta is a brand new senior citizen at 65, he can still boogie like he did 40 years ago. Which brings me so much joy.
Actually, the actor is just pure joy. It is hard not to smile when you watch him do his thing. If he did not turn your frown upside down, then up your nose with a rubber hose!
To see him do the Barbarino back in the '70s, then click here!

---
Kirstie Alley and John Travolta are pitching a Look Who's Talking sequel
July 11th, 2019 under John Travolta, Kirstie Alley. [ Comments: none ]

Earlier this week, it was revealed that Hollywood is looking into remaking Look Who's Talking? I said to my friend, why don't they just do a sequel with Kirstie Alley and John Travolta's grandchild as the talking baby?
Well, I am not the only who feels that way. When someone asked the actress if she will be in the reboot, she told them. "No idea.. we've tried to do a sequel for years with us as the grand parents..:) 🤷‍♀️🤷‍♀️🤷‍♀️"
What is wrong with Hollywood? I would rather see Look Who's Talking 4 (even though Abe Vigoda will not be part of it) than a crappy reboot. Wouldn't you?

---
Remember Ellen Travolta?
March 21st, 2019 under John Travolta. [ Comments: none ]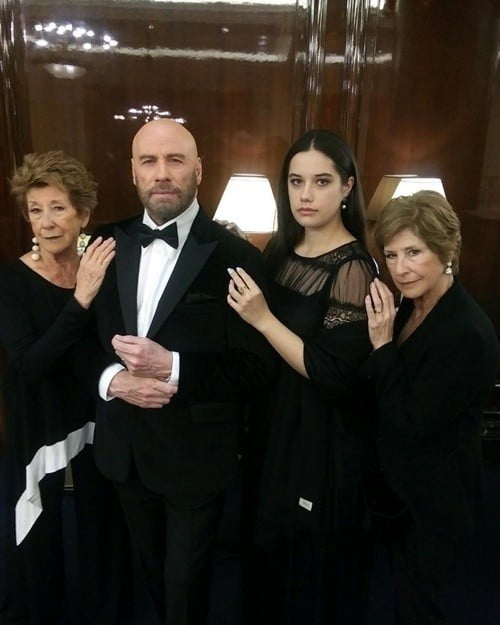 While we are used to seeing John Travolta all the time, we have not seen his sister, Ellen as much in recent years. This week the actor posted a photo of himself with her and their sister Margaret.
Even though the actress is 78, she looks like she has not aged a day since she played Scott Baio's mom on Happy Days, Joanie Loves Chachi and Charles in Charge. That family really ages well, I want to know their secret.

---