Betty White turned the big 9-9 today!
January 17th, 2021 under Betty White. [ Comments:

none

]

Today should be a national holiday because it is American treasure Betty White's birthday. Her 99th, to be exact.
How is she going to celebrate? She is going to feed her ducks and then feed herself hot dogs and french fries. The best part is, as she told the Associated Press, "Since I am turning 99, I can stay up as late as I want without asking permission!" You go, Golden Girl!
You know they say, "this is the best thing since sliced bread." Since White came before that, I think we should change it "this is the best thing since Betty White." She is a million times better than sliced bread.
Who doesn't love her? She is the most lovable and witty woman for several generations and counting. We all want to be her or with her, depending on your preference. Well, everyone but that dick Robert Redford.
Today, let's lift 99 Luft Balloons in her honor! And hope for at least 99 more years with the actress who will never stop working!

---
Want to crochet the Golden Girls?
September 22nd, 2020 under Betty White. [ Comments:

none

]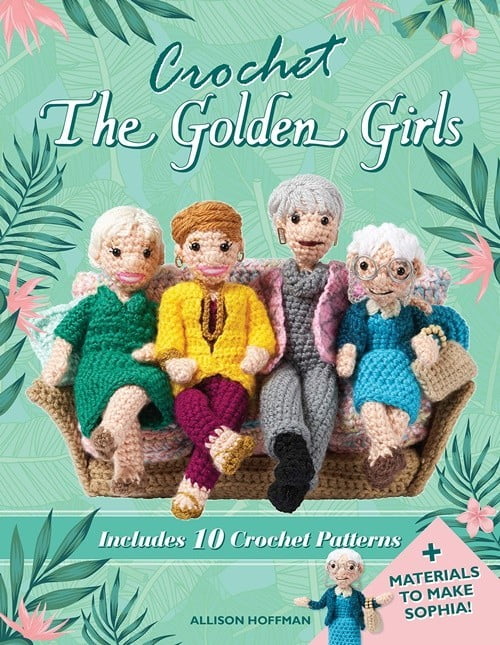 Have you ever wanted to make crochet versions of Rose, Dorothy, Sophia, and Blanche? Then you can learn how to do it with the help of Allison Hoffman's Crochet The Golden Girls. The how-to book comes with patterns for the four Golden Girls plus the wicker couch they sat on, Fernando Rose's teddy bear, two versions of cheesecake (because one is never enough), a functional coin purse for Sophia, and a palm leaf brooch.
To get you started, you get all the materials to make the Sophia, including six colors of yarn, crochet hook, embroidery floss, embroidery needle, safety eyes, beads for her purse, armature wire, and fiberfill stuffing. All for $22.49 on Amazon.
Since, I don't know how to crochet, then I need someone to make them for me. Who wants to do that? If you do, then I will sing Thank You for Being a Friend to you since you are a friend.

---
Hallmark adds a Rose Nylund ornament to its Christmas Keepsake Collection
August 25th, 2020 under Betty White, Christmas Music, Hallmark. [ Comments:

none

]

Christmas is coming early this year because Hallmark added a Christmas Keepsake Ornament we will want to hang on our trees. They are adding a talking Rose Nylund ornament to their collection. That's right. She says five of her best lines from The Golden Girls. Before you ask, yes, they are about St. Olaf.

While it does not look exactly like Betty White (more like Barbara Billingsley), it is close enough for me to need to hang her from the pine tree. Although, she is such an angel, I might put her on top.

The ornament is available to pre-order for $19.99 and will start shipping out on October 5th. Don't wait because it will be gone faster than a cheesecake in their kitchen.

---
Do you want to own the Golden Girls' house?
July 15th, 2020 under Betty White. [ Comments:

4

]

We all know the exterior of the Golden Girls' house. Did you know that it is not located in Miami, Florida? It is actually in Brentwood, California, and it is up for sale.

If you have $2,999,000, then the 4-bedroom, 3.5-bath house can be yours. However, not only does the exterior of the 1965 home look different now, so does the inside.

That makes me think HGTV is going to buy and give it the Brady Bunch treatment. Something I am all for them doing, especially since I don't have the $3 million to buy it.

---
Finally some happy news, Betty White is going to do a Lifetime Christmas movie!
May 7th, 2020 under Betty White, Lifetime. [ Comments:

none

]

There has not been a lot to look forward to in 2020, but that all changed today. Lifetime announced that Miss Betty White is going to be starring in one of their Christmas movies.
According to the network, "National treasure Betty White joins the Lifetime holiday family for an untitled Christmas movie in which she helps whip would-be Santa's into shape, spreading the true meaning of Christmas and leading everyone to wonder: is she secretly Mrs. Claus?"
Lifetime better cast some good looking young men to play Mrs. Claus' Santa wannabes. She might be 98 years young, but she is still the sexiest woman in any room. That means she needs to work with men that are equally as hot.
She is not the only big name coming to the network. Jamie Lee Curtis stars in How We Sleep at Night: The Sara Cunningham Story. Robin Roberts has another movie in the works with them. The channel can't enough of TAFKAP Harry and Meghan Markle, so they are getting a third movie. When it come to the other holiday movies, White's star power will be joined Kelly Rowland, Mario Lopez and Melissa Joan Hart in their own movies.
Normally, Lifetime makes me cry. Today they made me smile.

---