Susan Lucci finally wins her second Daytime Emmy
June 16th, 2023 under Emmys, Maury Povich, Susan Lucci. [ Comments: none ]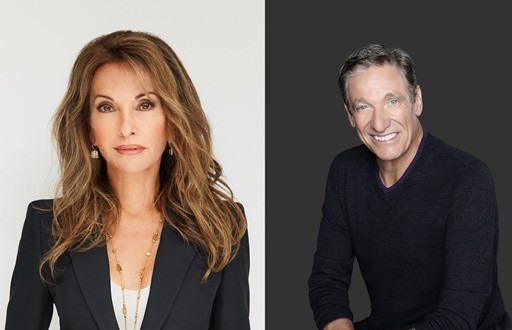 Susan Lucci is as known for losing Emmys as she is for her legendary career as the Soap Queen. And in the near future, those two things will come together for her.
That is because the woman who was nominated 21 times, and only one once in 1999, is going to get her second Daytime Emmy. But how? All My Children hasn't been on the air since 2011. That is because she is getting Lifetime Achievement Award at the 50th Daytime Emmys.
"I am truly humbled to receive this esteemed award from the Academy. Throughout my career, I have been incredibly fortunate to work alongside exceptional talents and embraced by my fans that have been with me every step of the way," the actress said. "This honor is not just a reflection of my journey, but a testament to the enduring power of storytelling and the profound connection we are so lucky to forge with audiences all over the world through television."
Lucci is not the only one getting the prestigious award this year. The recently retired Maury Povich is also getting it for his work with his daytime talk show, where many found out they are the father.
"I'm just blown away by this honor from the Academy," the host said. "I have always had great respect for its work as I served on the National Board and was President of the New York Chapter. I guess if you hang around long enough, some good things happen. It's been a 60+ year ride for me in this business, so I feel extremely blessed with this acknowledgment."
When will we see them get the awards? That date has yet to be decided due to the Writers Guild of America's strike. But when a date is set, I can't wait to see them get the honor they so richly deserve.

---
An '80s boy's wet dream: Susan Lucci and Christie Brinkley!
August 22nd, 2022 under Christie Brinkley, Susan Lucci. [ Comments: none ]
Back in the '80s, Susan Lucci was Soap Opera Queen and Christie Brinkley was the #1 Supermodel. However, we never saw Erica Kane and the Uptown Girl together, even though the boys wanted to recreate scenes from All My Children with them.
That was then, and here are the two ladies today. Can you believe that Lucci is 75 and Brinkley is 68 because they look younger now than they did when they were on the cover of all of the magazines 40 years ago?
Seriously, aren't they still gorgeous?

---
Nick Cannon is such a 'fertile fool,' he got Susan Lucci pregnant
November 5th, 2021 under Nick Cannon, Susan Lucci. [ Comments: none ]
Nick Cannon has so many children; he has one for every day of the week. I guess seven is not enough for him because today, we found out he expecting baby #8 with Susan Lucci.
That's right! The two of them revealed the news during the debut of their new show A Whole Lotta Children, which is a sequel to her soap opera All My Children. Soon Cannon won't be able to name all of his children at the rate he is going.
Of course, the Soap Queen isn't really pregnant; it was just a bit for his daytime talk show. However, she is still so sexy at 74, yes 74, she can still make men want to get her pregnant. And with Cannon's super sperm, it could happen. She would just have a lot of explaining to do to her husband of 52 years.

---
Is Susan Lucci really 74?
September 21st, 2021 under Are they really their age?, Susan Lucci. [ Comments: none ]
Susan Lucci shared an unretouched photo of her in a bathing suit, and I can't believe she is 74 years ago. Look at those legs. Those gams are sexier than those of a woman a 1/3rd her age.
That is why she is the Soap Queen, and no one will ever take that title from her.

---
Is Susan Lucci really 74?
March 2nd, 2021 under Are they really their age?, Susan Lucci. [ Comments: none ]

Susan Lucci shared a photo of herself wearing a one-piece bathing suit. Can you believe that the Soap Diva is 74 years old? She looks better laying out like that than people a 1/3 of her age. Therefore, I want to know her secret because she continues to get better with age.

---