Hey Nick Jonas, is that a banana in your yellow pants pocket?
March 25th, 2019 under In Your Pocket?, Jonas Brothers. [ Comments: none ]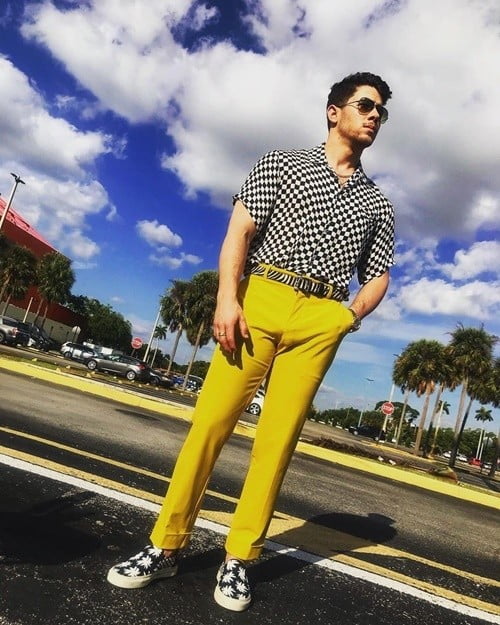 Nick Jonas does not shy away from wearing very tight pants. Perhaps too tight. Because in these banana yellow pants you can see the outline of his hand and something to the right of his fingers. Which makes you wonder what else he has in his pocket or is he just happy to see us?

---
Hey Ryan Reynolds, is that an elephant's trunk between your legs?
February 14th, 2018 under In Your Pocket?, Ryan Reynolds. [ Comments: none ]

Ryan Reynolds shared a photo of himself texting his mom with an imaginary phone, but I was not looking at his hands. That is because my eyes were focused on what is happening between his legs. It is like he has an elephant's head for a crotch which makes think that Blake Lively is a lucky woman.

Although in Deadpool, it did not look that way. Admit it, you paused that scene to see how big his Van Wilder is. I know I am not alone and there is nothing wrong with that.

---
Hey MC Hammer, is that a wad of cash in your pocket?
January 9th, 2018 under In Your Pocket?, MC Hammer. [ Comments: none ]

No matter where MC Hammer is, he is always 2 Legit 2 Quit. Even at gas station, he strikes a pose that we can't touch. By doing that pose in those pants, he might have revealed more than he wanted us to see. Like how he is going to pay for that gas.

---
Hey Justin Hartley, are you stuffing your boxers with dollar bills?
October 23rd, 2017 under Ellen DeGeneres, In Your Pocket?, This Is Us. [ Comments: none ]

Ellen DeGeneres has been coming up with interesting ways for celebrities to help her donate $10,000 each episode during October to the Breast Cancer Foundation. Her latest idea was to put Justin Hartley in a booth that blows air up and collect as much hard cash as he can in his boxers within :30 seconds. How did the This Is Us star? His crotch definitely caught my eye because he had more green in there than a male stripper on a good Saturday night.

Sorry, back to the money. Ellen was too lazy to count, so Ulta Beauty just rounded up to $10,000 like his boxers were rounding out in front and in back! It was very distracting!

To see him collect all that dough, then click here!

---
Hey Sterling K Brown, is that your hand in your pocket?
October 4th, 2017 under In Your Pocket?, This Is Us. [ Comments: none ]

Sterling K Brown posed in such a way that you cannot help but to look at his crotch. It is like the This Is Us star is saying this is me. Tell me I am not the only staring at his Emmy?

---