BTWF: Vin Diesel in How to Break Dance
June 24th, 2021 under Before They Were Famous, Jimmy Fallon, Vin Diesel. [ Comments:

none

]
Before Vin Diesel was Fast & Furious, he was slow breakdancing in How to Breakdance. How fresh was the 17-year-old in that 1984 in that instructional video?
To hear what Diesel said about working on that video to Jimmy Fallon on The Tonight Show the other night, then click here!

---
Do you feel like I do about Vin Diesel's new song
September 25th, 2020 under Vin Diesel. [ Comments:

none

]

So when I read that Vin Diesel released a single, I was totally prepared to be like this is the worst transition from acting to music since Eddie Murphy.
However, then I pressed play, and I didn't hate it. Granted, it could be because it is so over-produced by Kygo, you barely hear him singing. Just like Party All the Time, it is surprisingly catchy. Yet, not catchy enough for me to want to listen to whatever other music he releases. What do you think of it?

---
Vin Diesel is that a banana or are you happy to see me?
December 18th, 2019 under In Your Pocket?, Vin Diesel. [ Comments:

none

]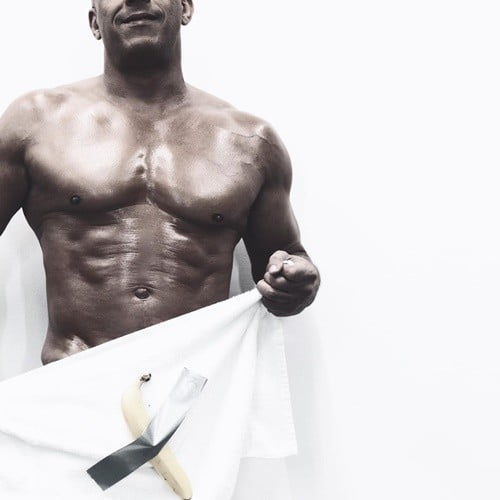 You know that stupid banana that that "artist" hung on a wall with duct tape? Well, it inspired Vin Diesel. He put one a towel over his crotch and it is the first thing he has done that I liked since he did my high school alum's (Ben Younger) movie Boiler Room. So we are going back a long while.

---
Bloodshot looks like it will be indestructible at the box office
October 21st, 2019 under Sam Heughan, Vin Diesel. [ Comments:

none

]

The first trailer is out for Bloodshot. The movie stars Vin Diesel as a soldier who is turned into an indestructible machine. While that has been done before, this one has a twist. They are manipulating his memories to have him kill their targets. What will he do when he finds that out? That is what we will find out on February 21st, when the movie based on Kevin VanHook, Don Perlin and Bob Layton's popular comic book, comes out.
Dick Flicks are not normally my thing, but I want to see it because of how f*cked up it is that mess with his memories. That and it really looks bad a$$.

---
Dr. Ruth Westheimer is still a man magnet!
March 15th, 2019 under Dr Ruth, Vin Diesel. [ Comments:

none

]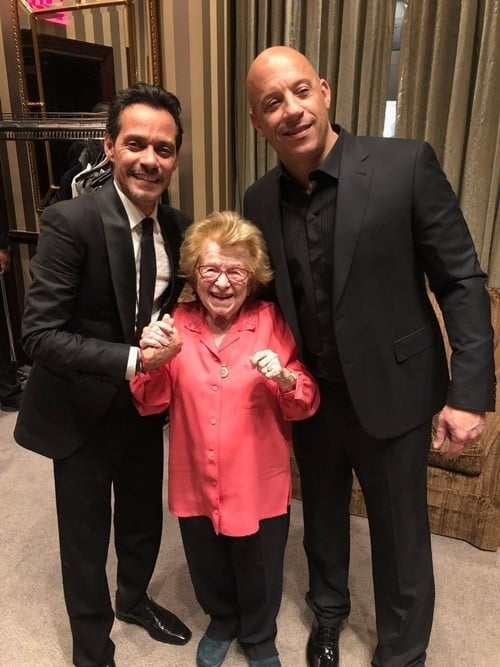 Dr. Ruth Westheimer might be 90, but that does not mean she is too old to go to a concert. Yesterday, the sex Guru went to see Marc Anthony sing and she shared a sweet story from the performance. She said, "Some nice gentleman helped me stand on a chair so I got a great view." That was the first man to be attracted to her.
After the show, she posed in a photo with the singer and Vin Diesel. Two men, who were also drawn to her. Can you blame them, she is the most vibrant 90-year-old out there. Who doesn't love the woman who knows all about lovemaking and doesn't mind sharing her vast knowledge on the topic? I am sure she gave them some tips about how to use their tips.

---