Watch Nick Cannon pull a truck with just his strength
January 20th, 2022 under Nick Cannon. [ Comments: none ]
How strong is Nick Cannon? He is so strong that he can push and pull a truck with just his body. The only way I can do that is if I call AAA and have them attach my car to a tow truck.

---
Nick Cannon and Wendy Williams delay their shows' January returns due to COVID-19
December 21st, 2021 under Nick Cannon, Wendy Williams. [ Comments: 6 ]
The Nick Cannon Show and The Wendy Williams Show, without Williams, were expected to return to production on January 3rd. However, due to the rising cases of COVID-19, they will be back on January 10th.
Personally, I think they won't return with live episodes until at least February because I expect to see a jump in cases due to Christmas and New Year's Eve gatherings. It will be just like last year. Hopefully, it won't be, but it will be.
I also expect all of the other live talk shows to do the same.
Get the vaccine, wear a mask, wash your hands, and social distance.

---
Nick Cannon's youngest son passed away this weekend
December 7th, 2021 under Nick Cannon. [ Comments: none ]
Nick Cannon announced on his show today that his 4-month-old son Zen passed away on Sunday from a malignant brain tumor.
Cannon then went on to say that he noticed Zen had breathing issues, so he took him to the doctor. At some point, the baby was diagnosed with brain cancer. At first, they treated him by draining the fluid from his head, and it seemed to be working.
But then, around Thanksgiving, doctors informed Cannon and Alyssa Scott that the tumor was growing rapidly.
This weekend, Cannon spent as much time with his son in California before flying back to do his show in NYC. On Sunday morning, he and Scott took Zen to the beach to see the sunrise. It would be his last one because he died sometime after the sunset that day.
Cannon took yesterday off and returned to his show today. I hope the daytime talk show lets him take some time off if he needs it, which I am sure he will.
My condolences to Cannon and Scott. It is an unimaginable loss that no parent should ever have to suffer.

---
Hey Nick Cannon, is that a microphone in your pocket?
December 6th, 2021 under In Your Pocket?, Nick Cannon. [ Comments: none ]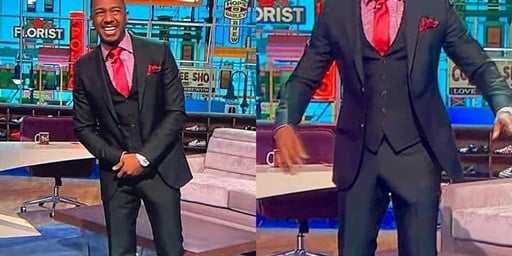 OK Sis/Twitter
Nick Cannon was trending on Twitter today. And it is not because he is expecting another baby. However, it is baby related. As in, his baby maker. Who knew Cannon has a cannon in his pants? But he does. No wonder women like Mariah Carey are getting impregnated by him. He sticks it in, and the sperm is already at the cervix. It doesn't have to travel anywhere with that long stick.
Well, I am assuming that it is his penis and not his friend Kevin Hart hiding out in his pants.
What do you have?

---
Caption Nick Cannon and Christie Brinkley!
December 3rd, 2021 under Caption the Celeb, Christie Brinkley, Nick Cannon. [ Comments: none ]
This photo of Nick Cannon and Christie Brinkley has caption me written all over it, so go ahead and do it.

---