Demi Lovato proudly shows off her cellulite
September 5th, 2019 under Demi Lovato. [ Comments:

none

]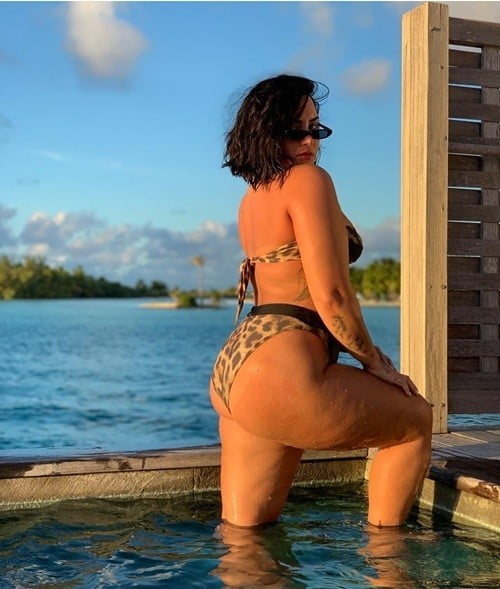 Demi Lovato has been through a lot in the last 13 months since she ODed. Now that she is healthier person, she has a healthier body to go with it. She did not want to have her new curves on diaplay at first. However she is finally ready to show it off as it and she explained why.
This is my biggest fear. A photo of me in a bikini unedited. And guess what, it's CELLULIT!!!! I'm just literally sooooo tired of being ashamed of my body, editing it (yes the other bikini pics were edited – and I hate that I did that but it's the truth) so that others think I'm THEIR idea of what beautiful is, but it's just not me. This is what I got. I want this new chapter in my life to be about being authentic to who I am rather than trying to meet someone else's standards. So here's me, unashamed, unafraid and proud to own a body that has fought through so much and will continue to amaze me when I hopefully give birth one day. It's such a great feeling to be back in tv/film while not stressing myself with a strenuous workout schedule before 14 hour days, or depriving myself from a real birthday cake rather than opting for watermelon & whip cream with candles because I was terrified of REAL cake and was miserable on some crazy diet shit. Anyway, here's me, RAW, REAL! And I love me. And you should love you too! Now back to the studio.. I'm working on an anthem.. 🙏🏼🙌🏼🤷🏻‍♀️ also. Just so everyone's clear.. I'm not stoked on my appearance BUT I am appreciative of it and sometimes that's the best I can do. I hope to inspire someone to appreciate their body today too. 💗 #nationalcelulliteday #celluLIT 🔥🔥🔥
Good for her. We are not all a size 0 and we should be happy in our bodies no matter what size dress we wear.
---
Demi Lovato does not want you to believe what is written about her!
December 21st, 2018 under Demi Lovato. [ Comments:

none

]

Back in July, Demi Lovato was hospitalized for an overdose and went to rehab to get clean. Now she wants to come clean about what the press is reporting about her.

She took to social media and said, "I love my fans, and hate tabloids. Don't believe what you read.

"People will literally make up stuff to sell a story. Sickening. If I feel like the world needs to know something, I will tell them MYSELF. Otherwise people stop writing about my recovery, because it's no one's business but mine. I am sober and grateful to be alive and taking care of ME.

"Someday I'll tell the world what exactly happened, why it happened and what my life is like today.. but until I'm ready to share that with people please stop prying and making up shit that you know nothing about. I still need space and time to heal..

"Any 'source' out there that is willing to talk and sell stories to blogs and tabloids about my life isn't actually a part of my life because most of the shit I see is soooooo inaccurate. So newsflash: your 'sources' are wrong.

"I would love to set the record straight on all the rumors out there but I literally don't owe anyone anything so I'm not going to. All my fans need to know is I'm working hard on myself, I'm happy and clean and I'm SO grateful for their support. 💕

"I'm so blessed I get to take this time to be with family, relax, work on my mind, body and soul and come back when I'm ready. I have my fans to thank for that. I'm so grateful, truly. I love you guys so fucking much 💗 thank you 🙏🏼"

I kind of feel bad for her because even though she is a public figure, she deserves some privacy during this time. But then again, she made her battle with addiction public. She is walking a thin line of what she wants.
---
Demi Lovato will keep fighting her addiction
August 5th, 2018 under Demi Lovato. [ Comments:

none

]

Nearly two weeks after Demi Lovato overdosed, she broke her silence in an Instagram post. She said, "I have always been transparent about my journey with addiction. What I've learned is that this illness is not something that disappears or fades with time. It is something I must continue to overcome and have not done yet."

She then went on to thank everyone who has been supporting and taking care of her during this trying time. When it comes to time, she is going to take some to focus on her recovery and getting and hopefully staying sober.

I wish I her the best. Addiction is a disease that a pill does not make better, but some drugs make so much worse.
---
Demi Lovato reportedly rushed to the hospital for a suspected heroin overdose
July 24th, 2018 under Demi Lovato. [ Comments:

none

]

Last month, Demi Lovato released her song Sober admitting that she had relapsed after several years of sobriety. Since the song's release, she played several dates in Europe and one in California on Sunday night. There are rumors, that she relapsed sometime during spring. Which means she probably did not have time to get help for her addiction.
Which could be why TMZ is reporting that she was rushed to the hospital just before noon today for a suspected heroin overdose. While The Blast says the "exact nature of the emergency is still unclear." Sources were "adamant" to them that it was not due to heroin.
Since this just happened within the last two hours, little much else is known at this time.
What is known is that she is slated to play Atlantic City on Thursday night, and then Latin America in September and November. Hopefully, she will take some time off to get herself better. And realize that after today that she is not alone and does not need to feel lonely again.
UPDATE: TMZ is now reporting that she was unconscious when paramedics got there and they gave her Narcan, a drug to treat narcotic overdoses, when she was treated at her Hollywood Hills this morning before being taken to the hospital. They are also reporting that she spent yesterday celebrating a friend's birthday in West Hollywood.
UPDATE: Her aunt Kerissa Webb Dunn posted this positive update on Facebook, "Demi is awake and responsive- Thank God!! Thank you for your prayers and please continue praying for her full recovery both short and long term."
---
Demi Lovato, is that you?
July 20th, 2017 under Demi Lovato. [ Comments:

1

]

We are used to seeing Demi Lovato with wavy hair, but in this photo it is stick straight. Because of the new hairstyle, she looks like Cher circa the Sonny & Cher years. Which is a good thing because it makes her appear like the sex symbol that she is. What do you think of the sleek hair?
---