Demi Lovato ate her way to boobs
October 12th, 2020 under Demi Lovato. [ Comments:

none

]

Demi Lovato has been looking rounder these days, especially in the boob area. This weekend, she explained why.

"Fun fact: I never had boobs until I started eating what I wanted. My whole life I hated my small tittaayyys and then when I finally let go of my eating issues, I GOT THE BOOBS I WANTED!!! 😂😂 this is no push-up bra or boob-job y'all!!! IT'S ALL ME!! And you know what, they're gonna change too!!! AND I'LL BE OKAY WITH THAT AS WELL!!" She added, "But let this be a lesson y'all.. our bodies will do what they are SUPPOSED to when we let go of trying to control what it does for us. Oh the irony…. 💞 Did you have a similar experience when making peace with your eating issues?? I'd love to hear!!!"

Now you know her secret. I wonder which foods induce boobs? Obviously, whatever it is, is magical.

---
Demi Lovato's days are Sonny with a Chance of getting married
July 23rd, 2020 under Demi Lovato. [ Comments:

none

]

Demi Lovato has some big news share about her personal life, and she wrote all about it on social media.
When I was a little girl, my birth dad always called me his "little partner" – something that might've sounded strange without his southern cowboy like accent. To me it made perfect sense. And today that word makes perfect sense again but today I'm officially going to be someone else's partner.

@maxehrich – I knew I loved you the moment I met you.
It was something I can't describe to anyone who hasn't experienced it firsthand but luckily you did too.. I've never felt so unconditionally loved by someone in my life (other than my parents) flaws and all. You never pressure me to be anything other than myself. And you make me want to be the best version of myself. I'm honored to accept your hand in marriage. I love you more than a caption could express but I'm ecstatic to start a family and life with you. I love you forever my baby. My partner. Here's to our future!!!! 😩😭❤️🥰😍

Ps. THANK YOU @angelokritikos FOR HIDING BEHIND ROCKS AND CAPTURING THE ENTIRE THING!!! I love you boo!!!
Lovato and the Under the Dome star were first rumored to be dating back in March. Hopefully, their love will last longer than the coronavirus pandemic.

---
Demi Lovato reveals who she is still friends with from her Disney years
April 14th, 2020 under Demi Lovato. [ Comments:

none

]

Back in the 2000s, Demi Lovato was friends with all of the Disney stars because she was one of them. She starred in a telemovie with Jonas Brothers and series with Selena Gomez. Is she still friends with her high school buddies today?
She told Harper's Bazaar that she still talks to Miley Cyrus, "She's awesome, and I love her to death and always will, always have. But I think she's kind of the only one from that era that I still stay in touch with."
What about Gomez who praised Lovato's Grammy performance earlier this year on Instagram? She said "When you grow up with somebody, you're always going to have love for them. But I'm not friends with her, so it felt…" The magazine says she paused before adding, "I will always have love for her, and I wish everybody nothing but the best."
I am sure the feeling is mutual for Nick, Joe, Kevin, and Selena. No love lost for them either.

---
Why is Demi Lovato singing the National Anthem at the Super Bowl
January 16th, 2020 under Demi Lovato. [ Comments:

none

]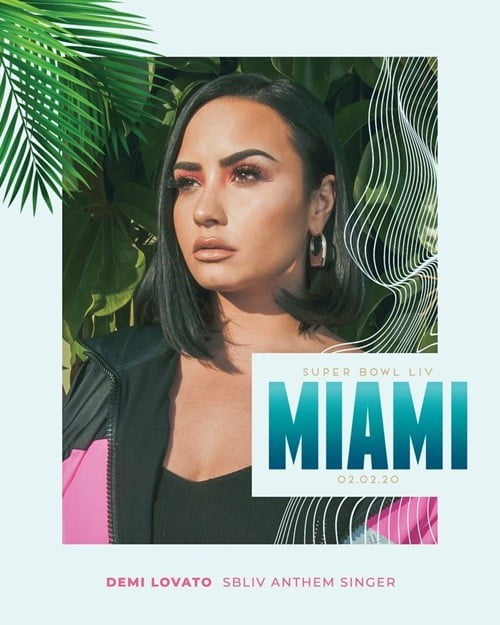 There are lots and lots of singers, who can sing, that would be perfect to sing the National Anthem at the Super Bowl, but they asked Demi Lovato to do it instead.
Why her and not Gloria Estefan. The latter is so Miami and that is where the game is being played. If not her, what about Mr. 305 aka Pitbull. But Demi Lovato. Can she even sing without being produced in a studio? I guess we will find out on February 2nd.

---
Can the Good Place save humanity? Demi Lovato joins Will & Grace
January 9th, 2020 under Demi Lovato, Jameela Jamil, NBC. [ Comments:

1

]

The Good Place is back tonight at 8:30p on NBC, but will it be the end of all humanity? When we last off the Judge (Maya Rudolph) decided that she wants to erase all that has happened on Earth and start over again. That is right, she wants to wipe us out. Will Michael (Ted Danson), Eleanor (Kristen Bell), Chidi (William Jackson Harper), Jason (Manny Jacinto), Tahani (Jameela Jamil), and the Janets (D'Arcy Carden) be able to stop her before she hits the button?
They will do everything they can to come up with a plan that will also convince the Bad Place that our World needs to be saved. Shawn (Marc Evan Jackson), the latter's Michael, will be harder to convince than the Judge because Janet has a secret weapon that might change her mind. A weapon that would be enough for me to say we need to live on. What is it? You will have to tune into the fourth last episode of the show's run to find out. Now I am sad.

Then at 9p, Will & Grace gives birth to a new character. Well, not quite yet. Will (Eric McCormack) finds Jenny (Demi Lovato), a woman who is willing to be his surrogate. That is if he can convince her to do it and not screw it up while trying to win her over.
Will needed a lift and he got one from Karen (Megan Mullally). She stays at Jenny's place and meets her brother. The two will exchange some jokes that will make you feel guilty for laughing at them.
Finally, Grace (Debra Messing) and Jack (Sean Hayes) go to a Little Orphan AnnieCon. Need I say more?
I love NBC, but why are the shows I watch ending? Actually, I watch most of their shows, but my two favorites are the ones that are saying goodbye. Maybe they can reboot them next season?

---