Corey Hart explains why he is not charging for VIP Meet & Greets
March 29th, 2019 under Corey Hart. [ Comments:

none

]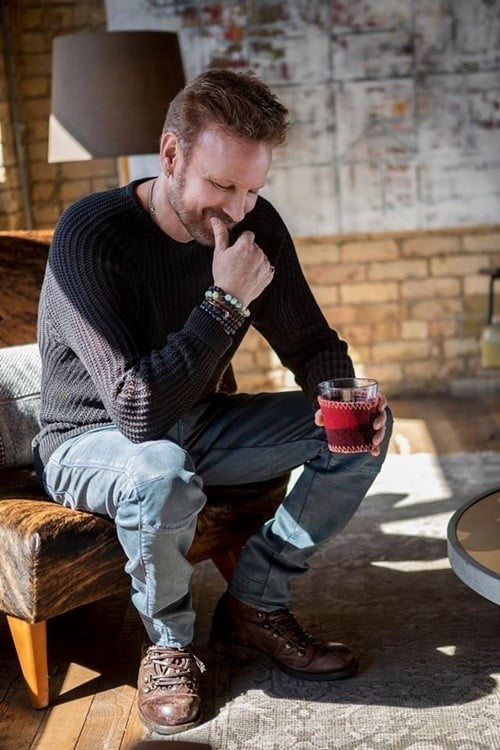 Corey Hart is going on tour again, this summer, for the first time in a really long time and things have changed since the last time he was on the road. Now, artists offer meet & greets and they cost the fans hundreds of dollars extra for the opportunity. Something the Sunglasses at Night singer does not agree with. Therefore, he took to Facebook to explain why he will not be doing it like they do.
Many of you have been asking about a VIP package for my upcoming Canadian Tour -Thanks for the enthusiasm.
Ive given the matter serious reflection & I keep coming back to the same conclusion.
I just dont feel comfortable charging fans $ in order for them to meet n greet.
Theres something kinda perverse about the entire concept –
It disproportionately favors the wealthy & ultimately leaves the majority of my fans sitting on the curb. Not what music is about – concert ticket prices are expensive enough.
I understand it has become normalized in the business & Im not casting aspersions on artists who do it – (live & let live) – but it just don't sit right with me anymore.
SO
I will offer various CH VIP opportunities over the coming weeks whereby ALL you need re eligibility is to own a pair (2) of tickets to any of the 16 shows on my Never Surrender tour. Thats it! – The rest will be up to the universe
I wish more artists considered their fans' wallets when they asked us to pay even more money than we are already paying. Who can afford concerts anymore, let alone the VIP experience?
This just makes me love Corey Hart even more than I already do. I would love him even more if he came to America with his tour.
---
Corey Hart auditioned for The Voice in Canada?
February 11th, 2019 under Corey Hart, The Voice. [ Comments:

none

]

It has been 20 years since Corey Hart released an album, so you have to wonder what the rocker is up to now. Well now we know, he auditioned to be on La Voix aka The Voice in Canada.
Wait, what? I thought he has a new album coming out in May? He does. Not only that, he is being inducted into Canadian Music Hall of Fame in March and going on tour starting in May. So what is he doing on La Voix? Playing a joke on the coaches. Besides all of the above, he is going be Coach Éric Lapointe's mentor this season
How does he have time to do that all? He took 20 years off to be a dad, so he is plenty relaxed! He might be relaxed but his voice is as sexy as ever.
Now, let's get back to his audition. He had this to say about it, "Lots of Fun @ Le Voix in Quebec – could've been utterly humiliating 😳😰if coaches didn't turn around ! But alls well." So well, he will be back to perform as Corey Hart the singer and not a contestant on the season finale in May. Although, if none of the coaches turned around, I doubt he would have come back for it!
BTW He is on been on my To-Do list ever since I heard him sing "Oh" on his song Komrade Kiev. After the audition, he talked to the coaches in French and I needed to take a very cold shower. He has one of the sexiest voices and it gives me more than an eargasm! If you don't know his music, get to know because you will understand what I mean.
To hear him talk in French, then click here!
---
Corey Hart releasing his first new album in 20 year this May
November 30th, 2018 under Corey Hart. [ Comments:

none

]

Corey Hart released one of the most iconic songs in the '80s. Then shortly before the new millennium, he took a break from music to raise his kids. Now they are grown up and he went back into the studio to record some new music of his own. His first studio album in 2 decades.
On January 14th, he will release his first single, Dreaming Time Again, from his upcoming album of the same name which due out on May 3rd. Then on his birthday (same one as one of my best friend's which is why I will never surrender to forgetting it), May 31st, he will launch a month-long Canadian tour.
I hope he travels down south to America because his voice does something to me. Sunglasses at Night is an eargasm in headphones, while Komrade Kiev causes me to have the other gasm!
This is not the only holiday gift from the Boy in the Box, he also released a holiday song called Another December. If this is a prelude to the new CD, then May cannot come soon enough for me.
---
Corey Hart is working on his first album in over 20 years
July 17th, 2018 under Corey Hart. [ Comments:

none

]

Ever since 1984, whenever we put our shades on after the sun goes does, we think of Corey Hart's Sunglasses at Night. He kept recording for almost 15 years, but then he took a break to enjoy being a father.

Well, the kids are all grown up and he is ready to record again. The Canadian singer announced the news on Facebook yesterday. He wrote, "Very honored to confirm that the legendary Bob Ezrin will be producing my first album in over 20 years – we start recording next month!" But that is not all, he also revealed, "The Live Nation Arena Tour will be @ summer 2019 – SO looking forward to this new adventure – If we keep believing, good things can happen😎"

I, for one, am so excited because his voice drives me wild. There is just something so sexy about it. His song Komrade Kiev does things to me that only Joe Cocker can also do. When it comes to his hugest hit, I always say it is an eargasm because of the way the beat plays tennis between your ears. Listen to it with headphones and you will understand what I mean.
---
Corey Hart still wears his sunglasses!
July 19th, 2017 under 80s, Corey Hart. [ Comments:

none

]

Corey Hart's biggest hit is 1984's Sunglasses at Night and here is a recent photo of him of wearing sunglasses during the day looking as sexy as ever. The singer who is slowly coming back into the spotlight, held a special town hall in Boston for his fans this week.

I hope he tours the US because I think he has one of the sexiest voices in music. There is something so erotic about it, and I would love to hear it live. I have waited a long time for that!

Also if you want to have an ear orgasm, listen to Sunglasses at Night in a good pair of headphones. The stereo effect will blow your mind and his voice will wake up another area.
---