Corey Hart wears his sunglasses at day too
April 3rd, 2023 under Corey Hart. [ Comments: none ]
In 1984, Corey Hart was all about wearing his Sunglasses at Night.
But, in 2023, he ditched the Raybans for Aviators, and he wears them during the day. However, he wears them on the top of his head and not over his eyes.
And I don't have a problem with that because the 60-year-old is still as sexy as his song that is a total eargasm! Listen to it with headphones, and don't tell me it doesn't do things to your body.
The melody for Sunglasses does it for me, but his "O" in Komarade Keiv has him on my To-Do list! I want to hear what he sounds like when he orgasms because that song drives me wild.
And now you know more about me than you ever wanted to know about me!

---
Corey Hart surrenders to COVID-19 for a second time
June 27th, 2022 under Corey Hart, Coronavirus. [ Comments: none ]
Last week, we finally found out what happened to Corey Hart after he went missing in 1986. The singer, along with The Go-Go's and Soft Cell, were slated to play Dorito's Music Fest '86, but they never made it. They were last seen in Hawkins, Indiana. With all the Stranger Things that happened there, we thought they were gone forever. They were not. And we finally got to see their concert and hear Hart sing two of his biggest hits, Sunglasses At Night and Never Surrender.
That was the good news. However, it hasn't been all good news for the Boy in the Box because now he is a boy in the box in quarantine.
"Last week I tested positive for Covid-19 in Spain," Hart wrote, "My first Omicron tango @ 01/05/22 was relatively easy but this latest variant is nasty & heavy footed – 😞 As we all continue trekking through a deeply divided universe – playing music somehow always makes my heart feel a little brighter. #InYourSoul Godspeed."
Hopefully, Hart will be better soon. I mean, he was finally released from the Upside Down World, and I have wanted to see him perform live for decades. Now is my chance, unless COVID-19 is as evil as Vecna.
Oh, and I posted this because I wanted y'all to watch his performance from the Dorito's special concert! So watch it, or I will tell Vecna on you.

---
Corey Hart reworks Never Surrender for today's world
May 29th, 2020 under Corey Hart. [ Comments: none ]

Back in 1985, Corey Hart was hot off the success of his #1 hit Sunglasses At Night, and he recorded the followup hit Never Surrender. A lot has happened to him and the World since then, so he decided to give the pop ballad a soulful modern update.
He explained why he chose to do this. "Aspirational dreams of youth coupled with naive, unaffected simplicity led me to write a song called 'Never Surrender' some 35 years ago.
"Today as I gaze out onto the uncertain sea of change, I'm reminded of the kind, resilient people in our world who keep moving forward with steely determination and steady stride – that yes indeed, 'just a little more time is all we're asking for'."
Since he is a little older, his voice has also matured over time, giving it more of a raspy sound. That makes the single even more haunting and beautiful.

---
An '80s girl's wet dream, Corey Hart and Paul Young!
July 3rd, 2019 under 80s, Corey Hart, Wet dream. [ Comments: none ]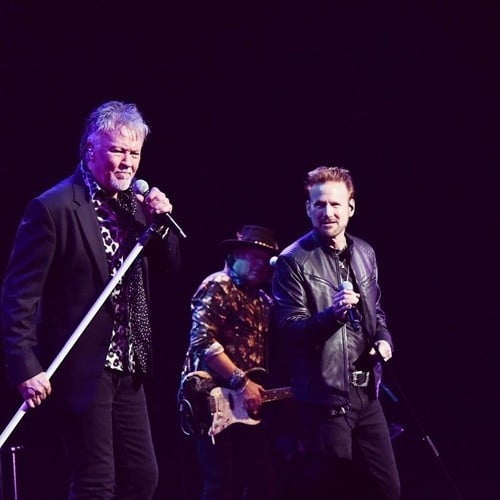 Back in the '80s, girls were singing Corey Hart's Never Surrender and Paul Young's Everytime You Go Away. However, they never performed on the stage together. That is until now.
Yesterday while both of them were in Tokyo, they became Young at Hart during the It Ain't Enough singer's concert. Much to the delight of their fans who could not get enough of the two singers.
You know what? They look so good together (and separately), I think they should iron out the rough spots and consider going on tour together as Young at Hart. I know I am not the girl who would wear their sunglasses at night to see them live on one stage.

---
Corey Hart still wears his sunglasses at night!
May 22nd, 2019 under Corey Hart. [ Comments: none ]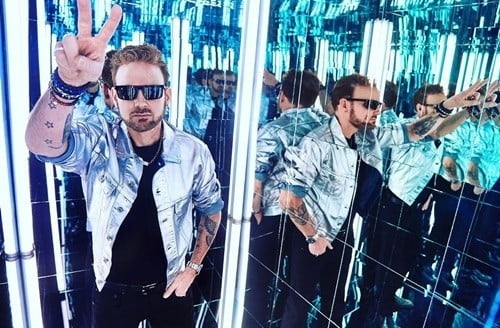 It has been 35 years since Corey Hart recorded Sunglasses at Night and not much has changed for the singer. Well, he got married, had four kids, took some time off to raise them and now he is finally ready to hit the road again to promote his new music. Starting on his birthday, May 31st, he will be touring his home country Canada. If his concerts are as good as he looks in the above photo, then his fans are in for a show of a lifetime. I just wish he would cross the border and play American. I have been waiting a long time to see him live and it is all about me.

---