Heidi Klum too sick to do America's Got Talent
March 11th, 2020 under America's Got Talent, Coronavirus, Heidi Klum, Howie Mandel, Simon Cowell, Sofia Vergara. [ Comments:

none

]

Even though, America's Got Talent doesn't air until the summer, they are filming the episodes now. Yesterday, all four of the judges showed up to work, but only three of them made it oot to stage.

According to TMZ, Heidi Klum went home sick with suspected food poisoning, and not the Coronavirus.

I wonder if maybe it wasn't food poising and she is instead pregnant with her fifth kid, her first with husband, Tom Kaulitz. That is something that only time will tell.

Since the show must go, it did with judges Simon Cowell, Howie Mandel and Sofia Vergara.
---
America's Got Talent once again doesn't have an American judge on the panel
February 27th, 2020 under America's Got Talent, Heidi Klum, Howie Mandel, Simon Cowell, Sofia Vergara. [ Comments:

none

]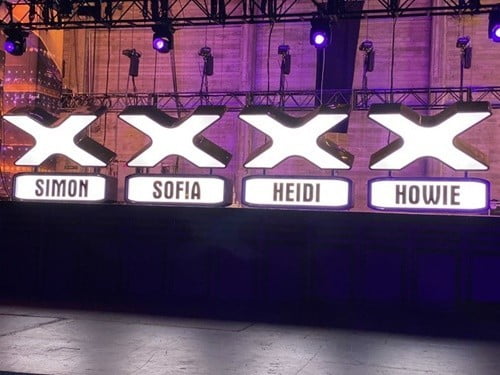 Last year, for the first time in a long time, America's Got Talent had two Americans sitting at the judges' table. Then, they decided not to ask Gabrielle Union and Julianne Hough back for another season.
Today, they announced who will be sitting in their seats. Germany's Heidi Klum is back for a seventh season, and Columbia's Sofia Vergara will be joining the show for her first one. She was rumored for being up for the job in December. Both women will be seated next to England's Simon Cowell and Candian Howie Mandel.
What is wrong with having an American judge on a show called America's Got Talent. We have talent, but we don't know how to judge it? I guess at least we have Terry Crews as a host, and he is American. I hope he is also there to translate because there are three very thick accents on that panel, and it might be hard for the American contestants to understand them.
Let's talk about the Modern Family actress. It is such a random hire. I don't really know if I think of her as someone who can identify talent. The same way I did not think Union would be able to do it. However, I thought that Mrs. Dwyane Wade did a good job on the show. Hopefully, Vergara will surprise us.
On that note, Mandel had a little welcome message for his new co-judge. He wrote, "Sofia, please don't try to shake my hand. Fist bumps only." I bet you he would not turn down a hug from her. Who would?
---
Heidi Klum got married again!
August 5th, 2019 under Heidi Klum. [ Comments:

none

]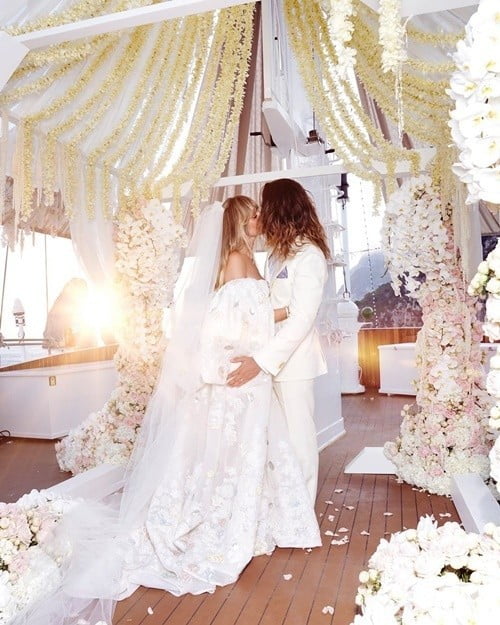 Remember when Heidi Klum was married to Seal, the then-couple kept renewing their vows every year. Well, the model is doing that again with her new husband, Tom Kaulitz.
Klum and the Tokio Hotel guitarist got married earlier this year and they did it again on Saturday in Italy. She shared a photo of their first kiss as Mr. & Mrs. Kaulitz for the second time. The bride wore more fabric than she has worn all year, combined.
This is the third person she has been married to and the second one he said I do to. When it comes to what number wedding it is for both of them, I will leave that up to someone else to figure out. Too much math for me.
Congrats to the two.
---
Heidi Klum's wardrobe malfunction
July 27th, 2019 under Heidi Klum. [ Comments:

none

]
https://www.instagram.com/p/B0b_TReH6e8/
Heidi Klum was wearing a flowy skirt. Yet somehow she found a way to rip the back of it just below the waistline. Revealing less than she normally does.
Where are the Project Runway designers when you need them? Oh yeah, she no longer works on that show.
---
Heidi Klum recreates the infamous Jayne Mansfield and Sophia Loren photo
April 29th, 2019 under Heidi Klum. [ Comments:

none

]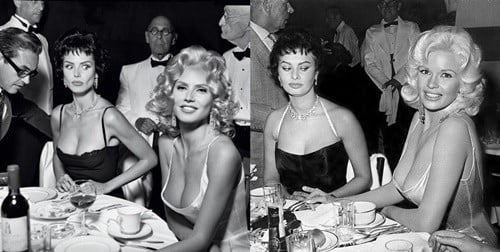 Back in April 1957, Sophia Loren and Jayne Mansfield sat down at a table together. The late gorgeous actress wore a low-cut dress that left very little to the imagination. The Italian actress could not help but to look at her breasts and luckily the photographers caught that amazing moment.
Now 62 years later, Heidi Klum recreated that iconic moment as Mansfield and added her own twist to the photo. While she is not as much of a knock out as Mansfield, she looks stunning in the photo. However, I was looking at the Loren double and the man doing a Loren to her.
When I look at Mansfield in this picture, I see how much her daughter Mariska Hargitay looks just like her mom. The camera does not do Hargitay justice, she is angelic in person.
Back to Klum, she also recreated other photos like Phoebe Cates in Fast Times at Ridgemont High, Jessica Rabbit, Raquel Welch in One Million Years B.C., Farrah Fawcett in a red bathing suit, Brigitte Bardot and Sharon Stone in Basic Instinct.
To see those photos, then click here!
---