BTWF: Gary Coleman for Hallmark
April 13th, 2022 under Before They Were Famous, Gary Coleman. [ Comments: none ]
Before Gary Coleman was stealing our hearts on Diff'rent Strokes, he was sending Hallmark Valentine's Day cards to the girls who stole his heart. How awwwwdorable was the 8-year-old in that 1974 commercial?

---
Whatcha talkin' bout, Jimmy Kimmel?
November 19th, 2021 under ABC, Gary Coleman, Jimmy Kimmel. [ Comments: 2 ]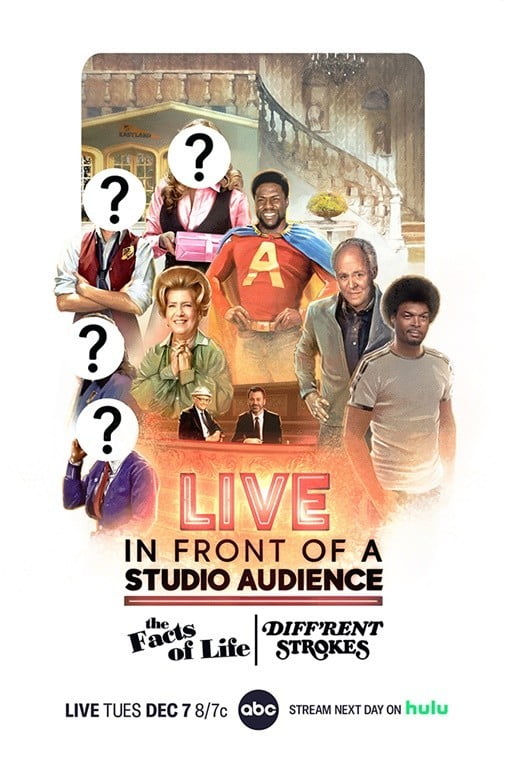 Jimmy Kimmel and Norman Lear are bringing back Live in Front of a Studio Audience on December 7th. However, this time, they are not doing one of Lear's shows. Instead, they are doing Diff'rent Strokes and The Facts of Life.
So far, ABC announced who will be starring in Diff'rent Strokes. Kevin Hart will be playing Arnold, Damon Wayans, Jr. will be his big brother Willis, John Lithgow is their adoptive dad Mr. Drummond, and Ann Dowd is starring as their maid Mrs. Garrett. There is no word if she will also be playing the part during The Facts of Life recreation.
They did not reveal what episode they are recreating, but I am assuming it is Willis' Privacy because of the costumes. Personally, out of all of the episodes to choose from, this is a very weak one to pick.
As is the casting choices of Hart and Wayans for the one-event. It is making a mockery of something they used to take seriously. Why not cast kids? Why go with adults? It turned this annual special into a joke for me. I just think it is a slap in Gary Coleman's face to have Kevin Hart do it.
But Kimmel doesn't take things seriously anyway, so why should he start now? Kimmel could redeem himself if he asks Todd Bridges to play Willis' friend in that episode.
If you want to see a clip from the original lame episode that they are doing, then click here!

---
Is Diff'rent Strokes the next show to get a reboot?
January 2nd, 2018 under Gary Coleman, Revivals-Reboots, Stupid Sequels/Remakes, The Facts of Life. [ Comments: none ]

TV has given several shows from the '90s reboots and revivals and now there could be one from the '70s which might be coming back to our televisions. Todd Bridges Tweeted, "We maybe doing a new one [Diff'rent Stokes] i will be Willis Drummond I will be adopting two kids of a different color giving them the same opportunity that we where we were giving and showing the world no matter what color you are love conquers all." I think that is something we need to be watching. The original normalized so much, I would love to see what a new version of it could do.
They obviously did something right the first time because it still airs in syndication on several channels after almost 40 years. Only a handful of shows can say that.
Diff'rent Strokes would also have to be a reboot because sadly Bridges and Charlotte Rae are the only surviving members from the original season. Who knows maybe if they ask nicely, they can get Janet Jackson to reprise her role as his girlfriend. What else is the youngest Jackson doing?

---
RIP Gary Coleman
May 28th, 2010 under Gary Coleman, Obits. [ Comments: 1 ]




Gary Coleman passed away today at the age 42 after suffering a brain hemorrhage two days ago from a fall at his house according to People. The hospital released this statement, "Family members and close friends were at his side when life support was terminated. Family members express their appreciation and gratitude for the support and prayers that have been expressed for Gary and for them." No word who exactly was at his side, but I am assuming his wife, Shannon Price of almost 3 years was with him.
Although it seemed like he had the future in his hands when he was on Diff'rent Strokes, as he got older he had a lot of issues and run-ins with the law. Let's not remember him for those, but remember him as that cute chubby cheeked actor who would said "What'choo talkin' 'bout, Willis?" and won our hearts.
Back when I was kid I had a huge crush on him, so his death is hitting me hard. Hopefully now he is finding happiness and standing 7′ tall in heaven!

---
Gary Coleman is on life support
May 28th, 2010 under Gary Coleman. [ Comments: none ]

(photo from WireImage)


Two days after reportedly falling in his home, KABC is reporting that Gary Coleman is in unconscious and on life support. His spokesperson said that he suffered severe bleeding in his skull. He added that when he arrived at the hospital he was lucid, but by yesterday afternoon he started slipping in and out of consciousness.
Hopefully the Diff'rent Strokes will be OK. Pray for him because he needs all of our prayers.

---