Coming 2 America is coming 2 Amazon Prime
October 13th, 2020 under Arsenio Hall, Coronavirus, Eddie Murphy, Prime Video. [ Comments: none ]

Most movie theaters are closed due to the coronavirus pandemic. They don't even know if and when they will open their doors again. Therefore, Bill & Ted: Face the Music, and Mulan skipped the theaters and opted to stream online. Now, Coming 2 America is doing the same thing.

The long-awaited and anticipated sequel will begin streaming on Amazon Prime, most likely on December 18th, according to Variety. The movie stars Eddie Murphy, Arsenio Hall, James Earl Jones, Tracy Morgan, and Jermaine Fowler.

I bet if it does well, then Wonder Woman: 1984 and James Bond: No Time to Die will probably skip the big screen too. Would you watch these movies from the comfort of your home, or do you have to see the movies at the movies??

---
Eddie Murphy talks Pam Grier's t!tties and shares an epic Rodney Dangerfield story
January 21st, 2020 under Eddie Murphy. [ Comments: none ]

Eddie Murphy shared some interesting stories with W Magazine, and he could not stop saying t!tties during the first question. That is because he told them that Pam Grier's t!tties were the first ones he saw. Not only that, he saw them over and over and over again in several different movies. Because of that, it made it awkward for him when they worked together on The Adventures of Pluto Nash. He never told her that he saw them, but he has a feeling she knew that he did. Mostly because he could not help but to look at them all wide-eyed.
That was not the only thing we learned about him; he talked about rightfully turning down advice from Rodney Dangerfield. Back in 1980, before Murphy did Saturday Night Live, he was on the lineup with Dangerfield in Fort Lauderdale. They asked who wanted to follow the legendary late comedian, and Murphy was so full of himself that he offered to do it. Not only that, Murphy asked him to watch his set. When it was over, Dangerfield told the teen that the race jokes and vulgarity was not going to work. Two years later, when Murphy, who was on SNL at the time, was in Vegas performing, and Dangerfield ran into him in the restroom. Rodney looked at him and said, "Who knew?" And you wonder why he got no respect?
For some reason, this interview reminds me of the old Eddie that we know and love. Almost enough to make me want to spend money and see him on tour with his act.

---
Looks like Beverly Hills Cop 4 is going to Netflix
November 15th, 2019 under Eddie Murphy, Netflix. [ Comments: none ]

Eddie Murphy's career is having a resurgence thanks to the success of Dolemite Is My Name on Netflix. Well, the streaming service is not stupid, so they spoke to Paramount and asked them if they can do Beverly Hills Cop 4 with Murphy. The studio agreed to not only give them the license for the fourth film, but also a 5th one.
Before you get too excited, unlike Coming to America 2 that is filming now, BHC does not have a script, a director or a release date according to JoBlo. All the movie has is a home, which is a start.

---
Bad Boys meets Coming to America
October 30th, 2019 under Eddie Murphy, Martin Lawrence, Strange Encounters, Tracy Morgan, Will Smith. [ Comments: none ]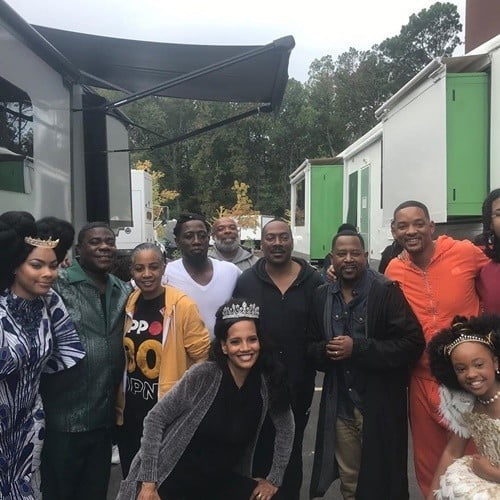 Bad Boys 3 and Coming to America 2 are both filming on the same lot, and both casts met up for this epic photo. Imagine the movie all of these actors could make together!
Seriously could you get a funnier cast than Eddie Murphy, Tracy Morgan, Will Smith, Martin Lawrence and Wesley Snipes? It would be the Avengers movie of comedy. Tyler Perry, since this is at your studios, make it happen!
BTW where is Arsenio Hall?

---
Does Eddie Murphy have a foot fetish?
October 3rd, 2019 under Eddie Murphy. [ Comments: none ]

When Eddie Murphy did Boomerangm, his character had a foot fetish. Hip Hollywood's Jasmine Simpkins wanted to know if he has one too. He let her know he does not.
Considering he has 10 children, I think we all knew the answer to that question.
Since we are talking about Murphy, he gave Collider an update on Beverly Hills Cop 4. He said, "Yeah that's what we're doing after Coming to America 2. We're doing Beverly Hills Cop and then the plan is to get back on stage and do standup. That's what I'll be doing mostly is standup. These movies and Saturday Night Live it's kind of like…I'm looking at it as a bookend. If I decided I wanted to stay on the couch forever, I ended it on a funny note."
Am I the only person who will miss his horrible movies like Pluto Nash. They were so awful, they were actually funny.

---