Beverly Hills Cop 4 brings back 4 originals
September 22nd, 2022 under Bronson Pinchot, Eddie Murphy, Judge Reinhold, Paul Reiser. [ Comments: 16 ]
Netflix teamed up with Eddie Murphy to give us a fourth Beverly Hills Cop movie. So, we knew that Axl Foley would be back, and now we know who else will be joining him in the sequel.
Judge Reinhold, John Ashton, Paul Reiser, and Bronson Pinchot are all going to make us laugh in Beverly Hills Cop: Axel Foley.
I don't know about you, but I can't wait for this film. It is nice having Eddie Murphy back!

---
Bronson Pinchot's TMI reveal to get people to wear masks
August 24th, 2021 under Bronson Pinchot, TMI. [ Comments: none ]
Bronson Pinchot did a video to reveal if he has been asked to be in Beverly Cop IV since they are getting ready to ramp up production. In the video, he shared something about himself that is a TMI.
"Some people don't believe in masks, but that's fine. Can't they wear one just to be nice," he asked. "Cause I don't believe in underwear, but I wear one when I have a costume fitting so that nobody has to, you know, handle or push my-away."
He is 100% right. I don't like wearing a bra. But I wear one because I don't want my heavy boobs distracting people. Do you want to see them hanging loose? Do you want them touching you if we get too close? Nope! So, I wear a bra for you. Now, please wear a mask for me, or the girls will go free.
Now, when it comes to, will Serge be in Beverly Hills Cop IV? It looks his character is only on the odd sequels like the first and third ones. Hopefully, Eddie Murphy will change his mind because we need Pinchot's commando-style in the action-comedy.

---
Who asked for a Perfect Strangers reboot?
June 14th, 2021 under Bronson Pinchot, HBO Max. [ Comments: none ]
If I were a network head and I was asked, would you rather do a Perfect Strangers reboot or revival, I would say a revival. Well, HBO Max said reboot, according to Deadline.
They have opted to do one with Robin Thede and London Hughes as two half-sisters who didn't know about each other until they inherit an apartment in Brooklyn.
That sounds nothing like the original. So why not say it is an original show than claiming to be a reboot? It isn't. Unless the sister is a cousin from the Greek island of Mypos, then it is not a reboot.
Stop saying it is a reboot when it isn't. HBO Max is extremely guilty of this.
Back to show, who else would rather watch Bronson Pinchot and Mark Linn-Baker reprise their roles than this crap.

---
Words of Wizdumb from Bronson Pinchot
January 27th, 2021 under Bronson Pinchot, Words of Wizdumb. [ Comments: none ]

There have been so many TV shows from the '80s and '90s that have been revived, and some people would like to see Perfect Strangers be one of them. Well, the sitcom's star has some thoughts about that.
"Remake…reboot? You can never recapture so just rewatch." Bronson Pinchot wrote. He's right. How many of them got it right? There was Will & Grace and Cobra Kai and Cobra Kai. Did I say, Cobra Kai?
Instead of me wanting a sequel for Perfect Strangers, I am just going to rewatch it. It still holds up because it was so sweet.

---
Bronson Pinchot woke up this way
June 14th, 2019 under Bronson Pinchot, In Bed. [ Comments: none ]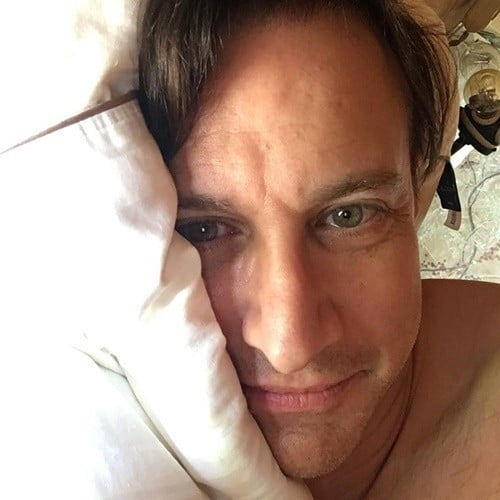 Bronson Pinchot woke up like that and he decided that today is going to be a day to just stay in bed. Seeing how comfortable he looks, can you blame him? We all need days like that.
Now let's talk how about sweet he looks in bed, when did he become so sexy? I still think of him as the goofy Balki Bartokomous. On that note, when are we going to get a Perfect Strangers revival? I think it could still work. I am sure he and Cousin Larry are up for it.

---